Good morning!
Congrats to Alexandre BILODEAU for winning the first Canadian Olympic GOLD in Men's Moguls!!! So exciting. :) We've been watching the Olympics non-stop!
Happy Family Day for those of us that are treated to a holiday Monday today. I will be working for most of the day today as I have about 230 Glo Bars on the agenda, but I hope to finish nice and early around 3pm.
Eric and I are super excited for the Canadian Men's Olympic Hockey that starts tonight tomorrow. We have been waiting for this forever now. It is also Jack night. I think today is going to be a wonderful day. :mrgreen:
So I guess I should rewind a bit and finish off my Valentine's Day recap!
After our Brunch yesterday, I had to get some paper work done! It actually worked out well because Eric was in the kitchen ALL afternoon!
These are Thursday and Friday orders below. What a crazy couple of days. I think I sold 700-800 Glo Bars in two days! I had to prepare all of the FDA Prior Notices for the US shipments.
After a couple hours of really boring work, I was starving at this point and wondering when I was going to be allowed back into the kitchen. ;) Then he told me he was making us an early Lupper that would be ready at 4pm. Nice! He did give me an apple and crackers to tie me over!
I came out to a beautifully set dining room table!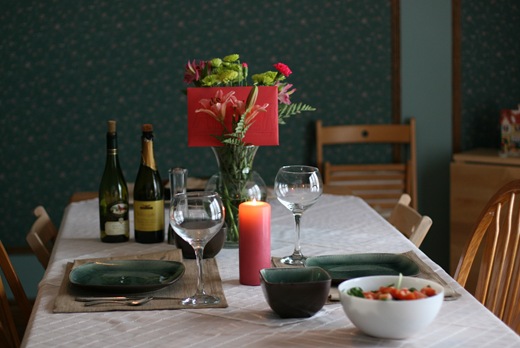 A blueberry-spinach-tomato salad with my favourite wine:
Susan's Vegan Green Bean Casserole:
Susan's Italian Layered Vegetable Casserole:
Did I mention Eric does NOT cook and doesn't like cooking??? I was seriously impressed he did all of this. He even dehydrated eggplant!
My plate:
I had two large servings of both plus my salad!! Plus more green bean casserole. ;)
I LOVED the Green Bean Casserole. We actually demolished it between the two of us!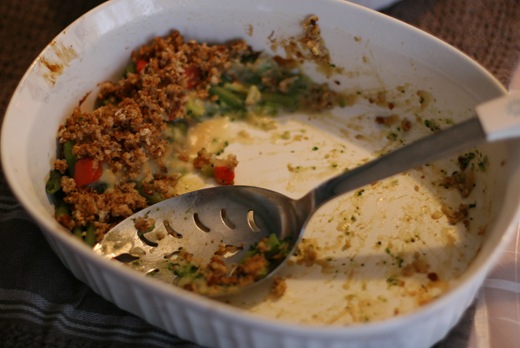 The Italian casserole was good, although Eric made a few modifications so it didn't turn out exactly as he planned. It was still really good though and I happily had two servings!
Sketchie joined us…he loves creeping behind the curtains (he thinks we can't see him!)
Guess what? Eric got INJURED while cooking!!!!! He burned himself on the pan! Ouch. :(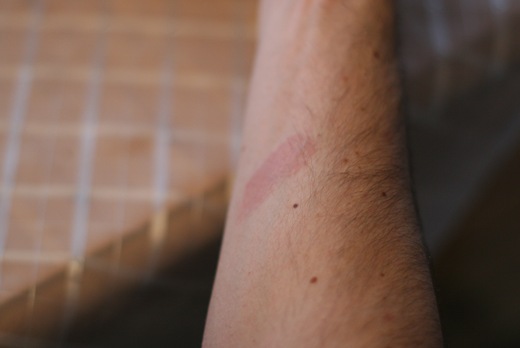 The card that he got me was soooo fitting:
He ALWAYS complains that I steal the blankets (not true!!! It's Sketchie!)
Then we exchanged gifts!
Guess what we both got each other?
PILLOWS!!!!!!!!!!!
Eric goes, 'Damn, we're OLD.' and lame. Oh well. We needed them and have been listening to each other complain about them for months now.
We tested them out: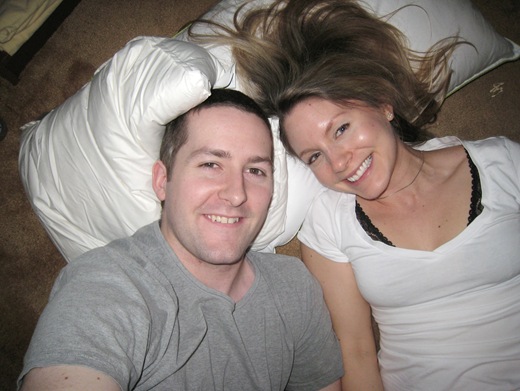 I also got him a sweater but it didn't fit right so we will take it back and exchange it!
After dinner, he did ALL the dishes again. I didn't know what to do with myself. It was fabulous. I felt bad because he was in the kitchen all day, but he said, 'I guess this is what it feels like to be YOU every day!!'
Then it was time for my surprise…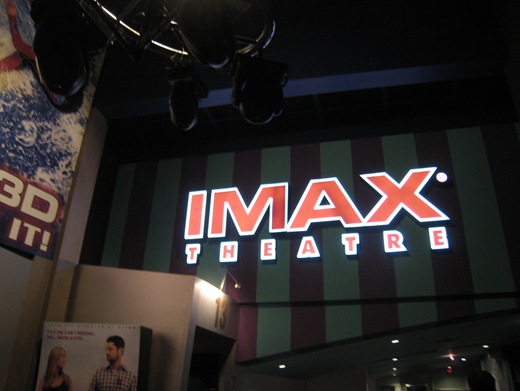 I got us tickets to see AVATAR at the IMAX- finally after weeks of it being sold out, I ordered the tickets 6 days in advance.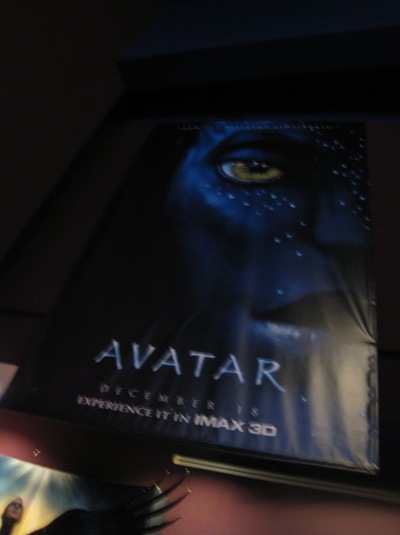 We got there a whopping 1 hour and 20 minutes EARLY.
There were only 10 people ahead of us in the line up (nerd alert!!!).
I snacked on some organic dried apricots- one of my favourite snacks (and very high in iron for us vegetarians/vegans!)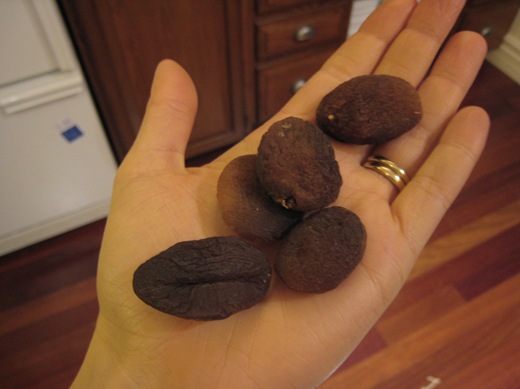 Soon enough we were in the theatre…
And this is when it got UGLY…
The show was sold out of course. Those of us who got there early all secured spots in the top row. There were two empty spots on our row- one at each end. This guy was walking back and forth along our row trying to find two seats for him and his date. Then he asked all of us to move down a seat to the left so that we could create 2 free seats next to each other at the other end. Sounds logical, right?
He asked us politely to move down and we did along with about 4 other people. Then this guy asked the man next to Eric and the man REFUSED to move down. He said, 'Why should I move down when we were here 2 hours ago to get these seats??'
Can you believe that? I felt like saying, Don't sweat the small stuff and move down 1 seat! Arghhhhhhhhh.
Then the guy got pretty upset and then he bent over right in the man's face (maybe 2 inches away) and he says loudly, 'WOW THANKS I REALLY APPRECIATE IT!'
Then the man proceeded to get up quickly, and he shoved this guy- get this- so much so that he toppled over onto the row below!!!!!!!!!!!!!!!! Eric and I could not believe what we were seeing.
Then this really old man got up and started yelling at the two men for their behaviours because the guy fell on his wife! Oh my, it was not cool. They yelled a bit and the guy and his date finally left.
About 20 minutes later, he came BACK- this time with security- and the man who shoved him got kicked out! So their entire party of 6 left and the back row, middle stayed empty the entire movie. Oh the irony!!!!!!!!!!!
Their wives must have been real impressed!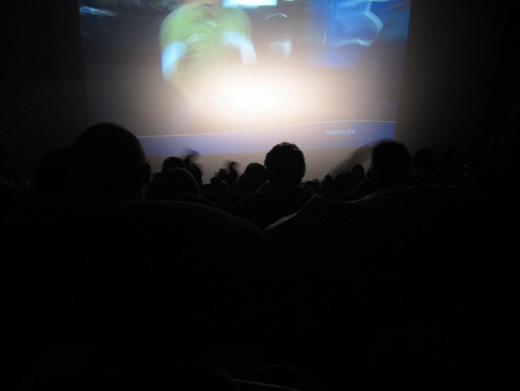 After the commotion, we had a great time!
I took care of dessert with two Adore bars for us! Yummy :)
I thought the movie was good, but not outstanding. I loved the special effects, 3D, and animation, but I found the story line was dull and boring. I thought the Avatar world was really creative, but I just wished that they had worked on a more creative plot to go along with such a fabulous idea. I said to Eric, 'For such an awesome 3D movie, the plot was really FLAT.'
The last hour dragged on and on and I almost fell asleep! Eric reminded me that it was a classic adventure story line so I guess I would have to agree on that point. I am NOT a fantasy lover, but if you are you would love this movie. Eric absolutely loved this movie and wants to see it again!!
It was a really fun day all around! :)
I slept in this morning so I need to get my butt in gear and get my work done.
Have a fabulous Monday!