Happy Chinese New Year!
One of my best girlfriends is Chinese so I always make sure to send her some special love at the start of the Chinese New Year! Did you know this year is the year of the Tiger? RAWR. Lots of ups and downs predicted.
Also…
Happy Valentine's Day!
This is our 10th Valentine's Day together. Times goes by so fast!
As I mentioned, I am banned from the kitchen today. :mrgreen:
I woke up and had a nice and easy 5 mile run on the treadmill at a 10 minute mile pace, incline 2%. My legs felt like LEAD after doing the Booty Camp Fitness Advanced Level yesterday so I just kept my pace steady today with no challenging miles. It was basically a maintenance run as I like to call them!
While I was running, Eric was busy in the kitchen doing mysterious things. After showering, I came into the kitchen (ravenous) and was surprised with some beautiful flowers and breakfast.
I am wearing the first piece of jewelry he ever gave me 10 years ago- a blue stone necklace: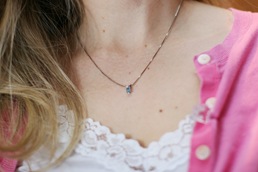 A fresh juice made for us with carrots, grapefruit, lemon, lime, and a cucumber: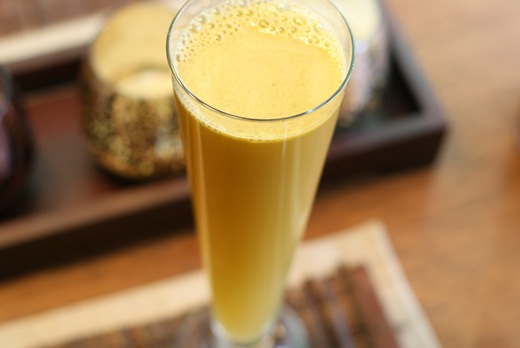 and Whole Wheat blueberry waffles! I couldn't believe it, but he got the recipe from one of my favourite websites- Fat Free Vegan.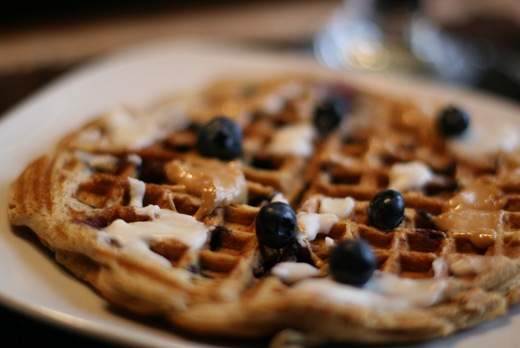 I spread mine with some Artisana Coconut Butter that I was sent to review. This was my first time trying coconut butter and I loved it. Imagine what coconut butter would taste like and it is about 10 times better! It is 100% Organic, Raw Coconut Meat (dehydrated at low temperature). I also had cashew butter on my waffle too.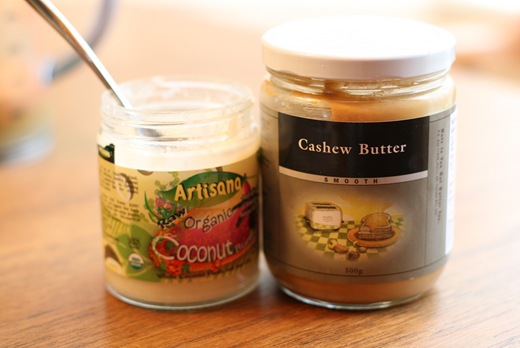 This was amazing!!!!!! Eric was so nervous that it wasn't going to taste good, but it tasted like a gourmet waffle. He did great :)
It was so cute, when I went into the kitchen he had waffle batter all over his foot and pant leg- apparently he dropped the whisk all over himself! lol.
Last year I made him heart-shaped pancakes, but I liked these better.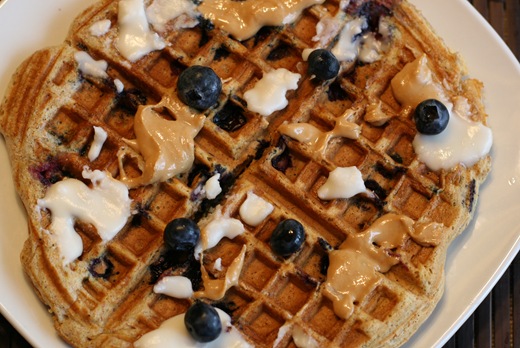 He had two waffles with pure maple syrup (in every square!!)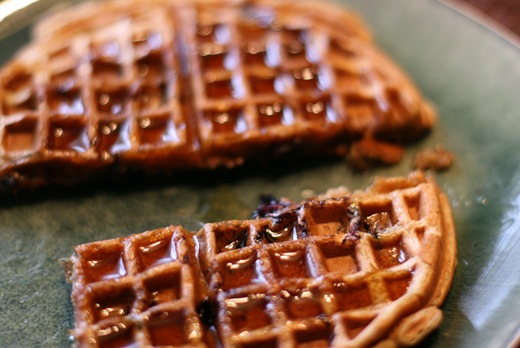 After eating he wouldn't even let me touch a dish.
I spend my life in the kitchen baking, cleaning, and doing mounds of dishes everyday so this was a really nice treat. :) I don't want the day to end!
Coming up today:
I need to finish Eric's homemade v-day card (I always make him cards when I can)
I have a couple hours of paperwork to get done (FDA Prior notices for shipments)
Olympic watching (we've been watching them non-stop- love it!!)
Eric has a second surprise for me late afternoon
I am taking him out for a surprise tonight
Tomorrow is a holiday for us- 'Family Day'…I am excited because we will likely be out late tonight.
PS- I washed the floors using vinegar and water that some of you suggested and it was wonderful! Thanks so much for the tip. I will likely do the Murphy's Oil once every 1-2 months still because the oil is supposed to be very moisturizing for the wood. However, I think using it once a week was way too much and that's why I had so much build up occurring!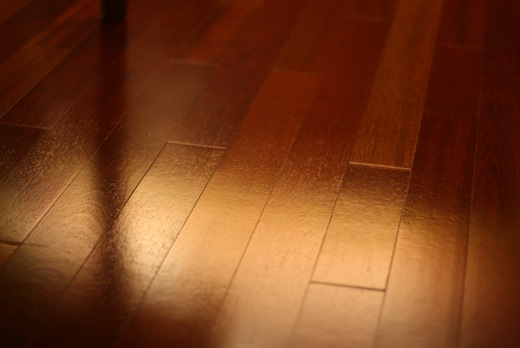 I still washed it on my hands and knees and hand dried it as I went. I used about 1/8 cup vinegar and 4 cups warm water and a damp cloth.
Enjoy your day!

   xoxo