Holla!
Anyone catch Ellen on Idol last night? Love her :)
We are in the middle of a snow storm so last night was the perfect time to bake!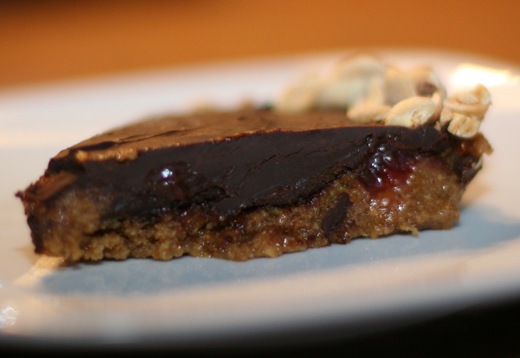 PB, J & Chocolate Love Pie
This is an adaptation of the Chocolate Peanut Butter Cups, which were adapted from The Kind Diet. I had a hard time cutting this pie without the chocolate cracking and the pie sticking to the pan, so I would probably stick to the cups in the future. This was still fun though and the added strawberry jam was a nice addition.
Ingredients:
1/2 cup butter or margarine (I used vegan margarine)
3/4 cup crunchy peanut butter (preferably unsalted)
3/4 cup graham cracker crumbs or 10 graham cracker squares
1/4 cup sugar (I used organic cane sugar)
1 cup chocolate chips (I used vegan dark chocolate chips)
1/4 cup milk (I used almond, unsweetened)
Strawberry jam (optional)
4-5 T chopped peanuts, for garnish (optional)
Directions: Grease an 8 inch pie pan. Melt the vegan margarine/butter in a medium saucepan over medium heat. Stir in the peanut butter, graham cracker crumbs, and sugar and mix well. Remove the mixture from the heat. Pour the mixture into the pie pan. Drop strawberry jam over top (see picture below). Combine the chocolate and milk in another pan. Stir over medium heat until the chocolate has melted. Spoon the chocolate evenly over top of the PB & J mixture. Top with chopped peanuts. Place in the freezer for 60-75 minutes until firm. Serve at room temperature.
After pouring the PB mixture into the pie pan and dropping strawberry jam over top: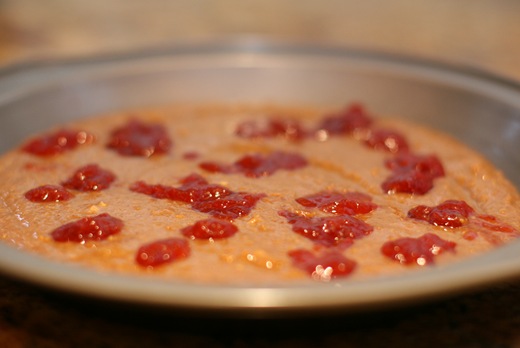 With the chocolate layer spread over top: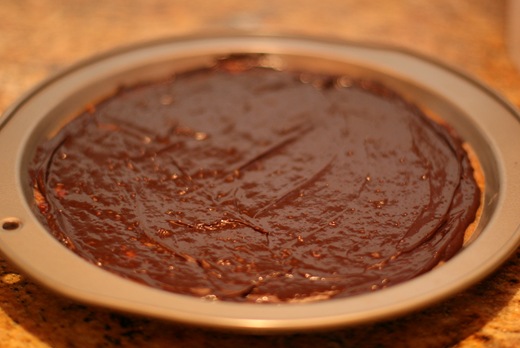 Garnish with PEANUTS!!!!!!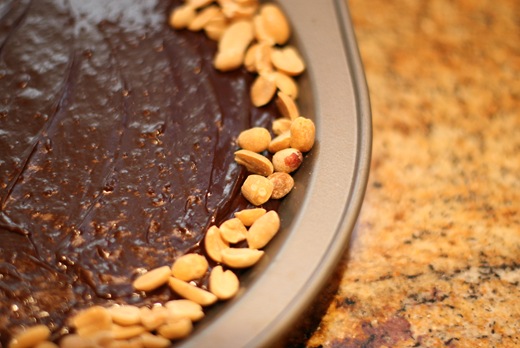 Just before popping into the FREEZER: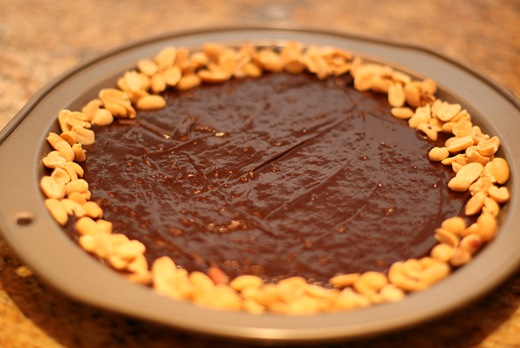 Tip: Soak the pots and utensils in very hot soapy water while the pie is setting in the freezer. Then when you come back to the kitchen the clean up is very easy and it slides right off.
After about an hour, this bad boy was set. The only problem I had with this pie is that when I cut it, the chocolate cracked and the pie stuck to the pan. I am going to stick to making the cups as they were much easier to remove.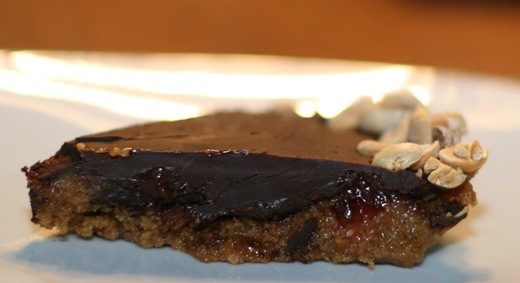 If you don't mind a 'messy' looking pie then you probably would be fine with this method. It would be great with a scoop of Gena's Banana Soft Serve…with a twist!
I don't think I need to say that it tasted delicious!! :mrgreen:
~~~
I'm off for my scheduled run!
Enjoy your hump-day…humpity-hump, hump.

The best index to a person's character is
a) how he treats people who can't do him any good and
b) how he treats people who can't fight back.
~ Abigail Van Buren ~