Hey guys and gals! :mrgreen:
Quick note about my websites (OSG, Glo Bakery, Our Crazy Bengal, and GMM)- as you may have noticed some or all of them have been SLOW as molasses lately. Or down. Or just plain old annoying to try and navigate. :(
This is due to my host not accommodating the traffic that the websites are getting (OSG hit 925,000 page views in January 2010). Blue Host has been spanking my websites on the bum by 'CPU throttling' them during busy times (see below).
What is CPU Throttling?
"When your website is using more CPU resources (execution time and load) than allowed, the CPU will freeze, or get a lower frequency so it does not disturb other website hosted on the same server (this is about shared hostings). At this time the website may not respond or may load very, very slowly."
[Source]
This is a snap shot of the past 24 hours on OSG: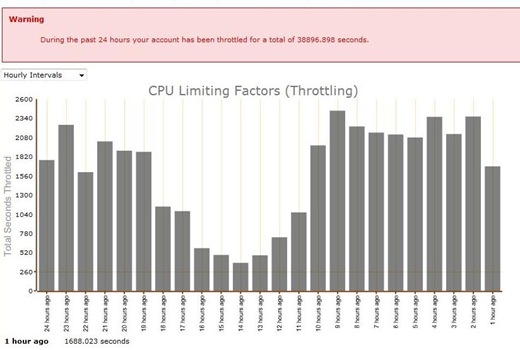 Not cool.
Eric is helping me around the clock to find a dedicated server to host the websites on! Thankfully Eric rocks at this kind of thing and I know the websites are in great hands!
The good news is once this is done, they will be running at mock speed. :mrgreen: The bad news is that there may be a few hiccups along the way, down time, and generally times when you want to pull out your hair (us included!). A dedicated server will also be costly, but it is all for a good cause of course. :)
We really appreciate your patience as we hopefully roll out a much more sophisticated and snazzy operating system in the near future! I am quite pumped and hopefully the transition is a quick and painless one.
I hope this helps explain what is going on for the time being. I will be back to my regular posting tomorrow AM.
Have a good one! :mrgreen: Now it's time to buckle down for the snow storm!!!!
Sketchie says hello