Happy Monday!
First up, check out this fun Adore giveaway going on at Eating Journey!
Did all of you have a fun Super bowl Sunday? I had this post ready to go up yesterday while in the car, but Eric's internet stick was out of range. We went to visit family yesterday up North and didn't get home until about 11pm or so.
Let me recap!
Sunday is supposed to be my rest day for exercise, but I ended up cleaning for 3 hours early Sunday morning. My exercise was scrubbing the hardwood and slate floors! My least favourite thing to do every week.
I mix a tiny bit of Murphy's oil into a bucket of warm water and then I wash a tiny portion of the floor by hand and then dry with a cloth by hand, and I inch my way across the entire hardwood on my hands and knees. I find that if I don't dry it by hand it streaks really bad. Does anyone have any tips on how to clean hardwood? There must be an easier way…
It looked nice though!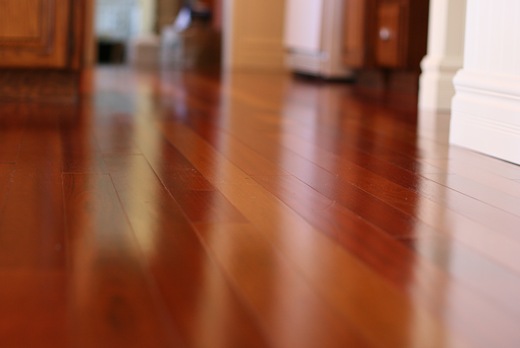 I also removed a ton of appliances off the countertops. I cleared out a bunch of room in the cupboards to store appliances like my stand mixer. I love a clear countertop! I also have 3 huge boxes to donate to goodwill now.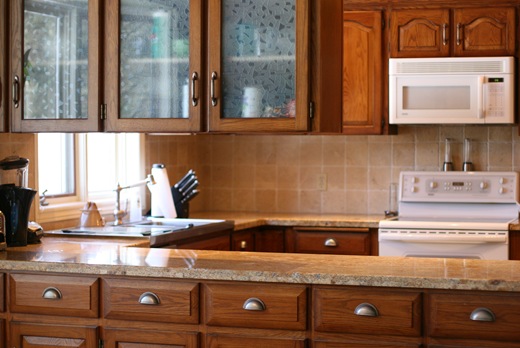 Then I made a stir-fry to bring for our visit. This one was similar to last Sunday's however I cooked the veggies this time and I sprinkled everything with sesame seeds: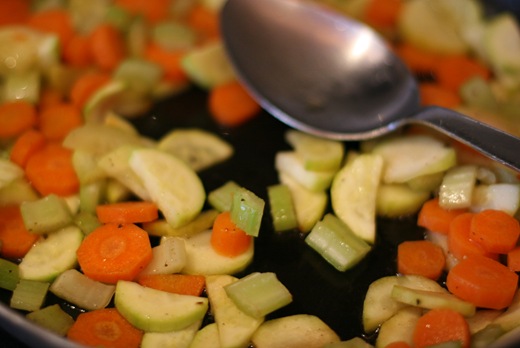 So easy: chickpeas, 1.5 zucchini, 3 carrots, celery, EVOO, seasonings, S&P, sesame seeds: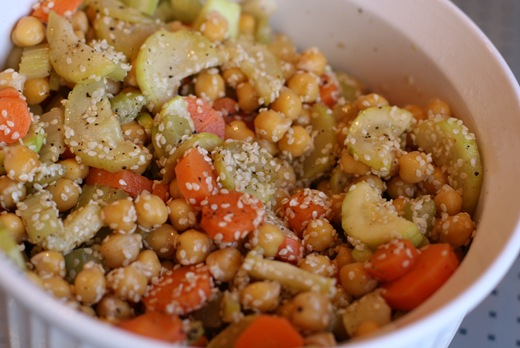 The sesame seeds made the entire dish! I need to do this more often.
My eats of the day included fresh juice:
2 carrots, 1 cuke, 1/2 lemon, 1 grapefruit, 1 piece ginger:
I made another batch of my homemade crunchy maple quinoa cereal: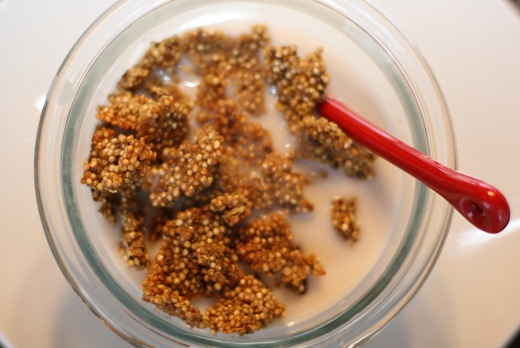 So in love with this cereal!
Lunch was a can of Amy's reduced sodium Split Pea Soup: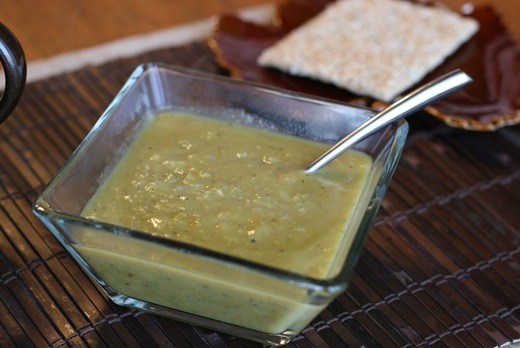 and Doctor Kracker x 2: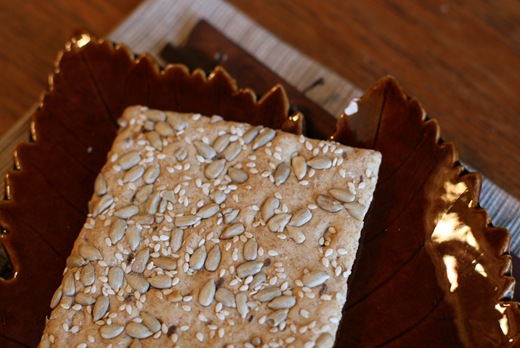 Then I decided to finally bring out my Kitchenaid food processor that has been sitting in the box for months!
I made a boo boo though :(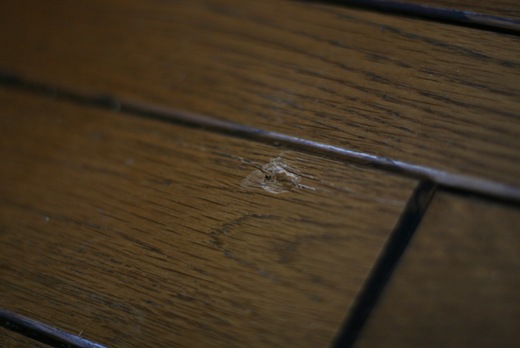 I dropped it :( and made a huge gash in the dining room floor. :(  
I swear this thing is cursed! If you recall I broke the first one and had to send it back…this is number two…and the beast is HEAVY. Hopefully I can figure this thing out!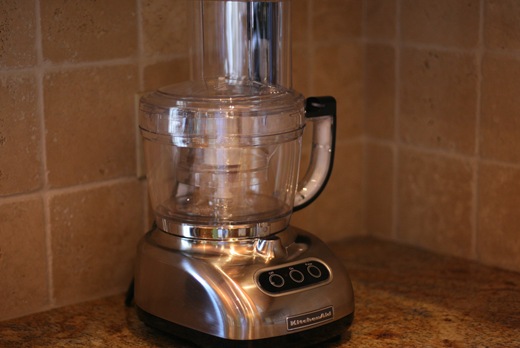 I got ready to head to our family get together and put on my new Lululemon jacket that I bought two weekends ago. I love this jacket! It is called the Stride II jacket and has fun thumb holes for staying warm. It is super comfy and functional.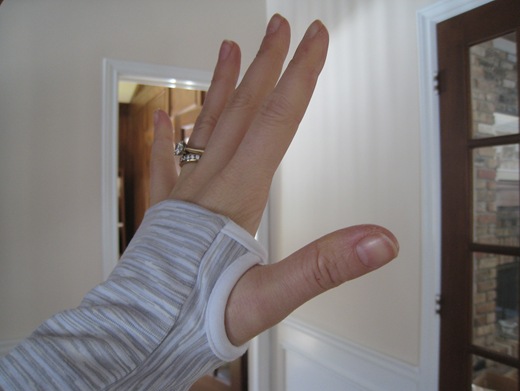 Is it weird that I use 90% of my lulu clothes for actual casual wear and not exercise? The only lulu stuff that I use for exercise are my shorts and workout tanks and the rest I treat like they are spun with gold silk, haha.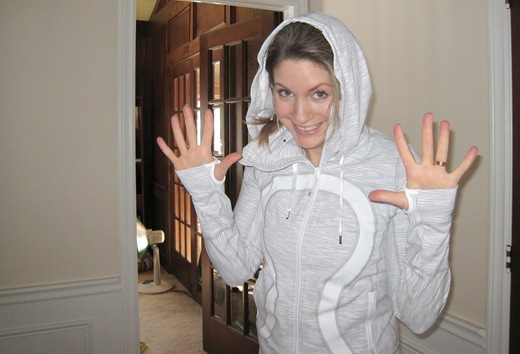 We are still experiencing a huge bout of cold & sun around Southern Ontario. I love the sun and will take cold and sun over clouds and snow any day.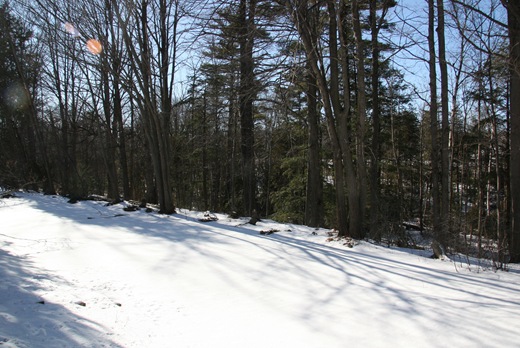 Brrrrr.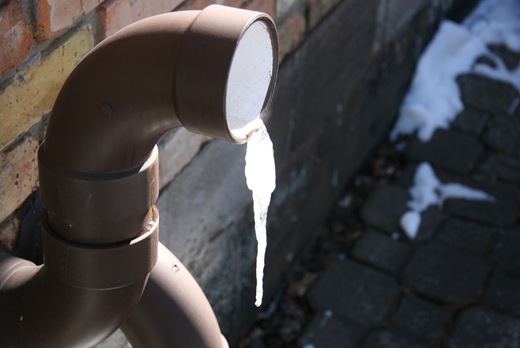 We had such a nice visit!
Harvey, Eric, and Diane (sorry the pic came out dark- was using my point and shoot)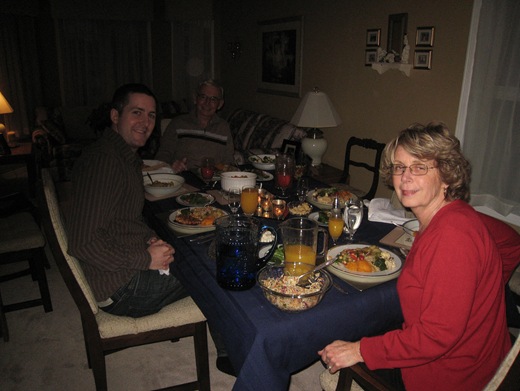 Diane cooked up a VEGAN feast!!!!!!!!!!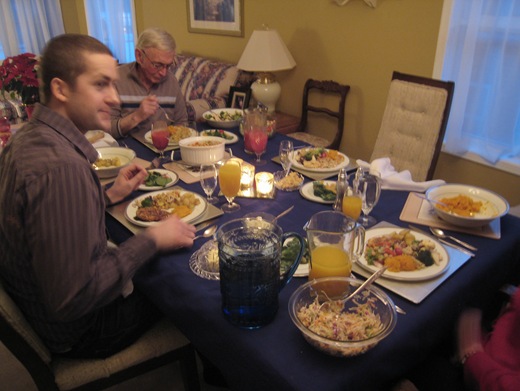 She made all of these wonderful vegan dishes and used all these different ingredients like grape seed oil! It was so nice of her and she certainly went out of her way for me!
Spinach and Clementine salad in balsamic: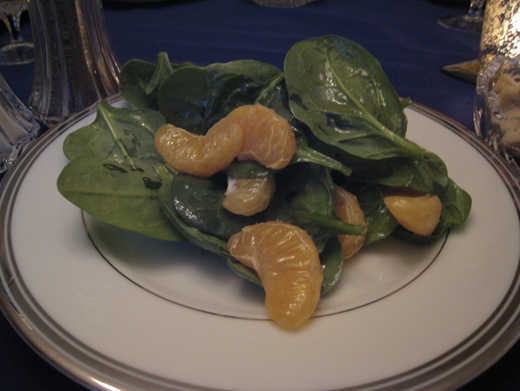 Squash: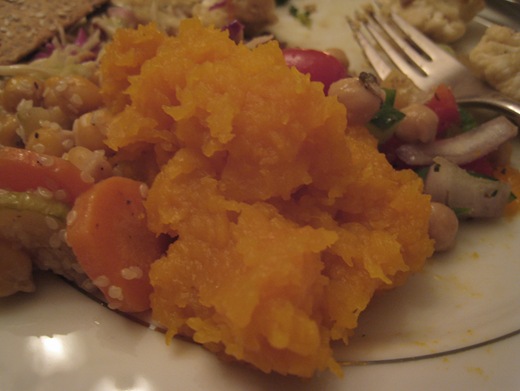 Homemade garlic infused hummus, flatbread, and vegan coleslaw: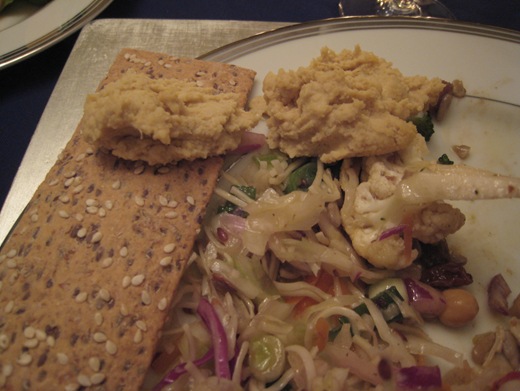 Top going clockwise: Broccoli stir-fry with raisins and sunflower seeds, roasted potatoes, Greek salad (minus the feta for me), squash, my stir fry, coleslaw, homemade hummus!
I felt like I died and went to vegan heaven. Everything was SO SO good. I am going to beg her for the recipes.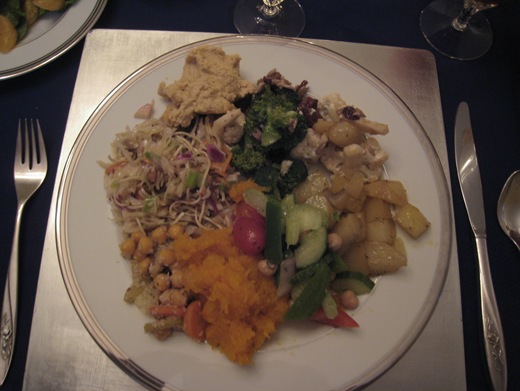 I had seconds of the squash.
Veggie juice :) My fav of course.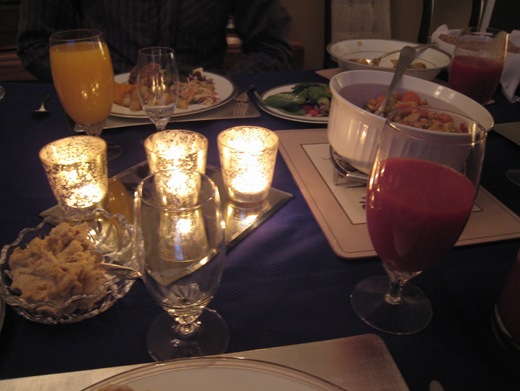 Dessert was a vegan apple crisp and tea.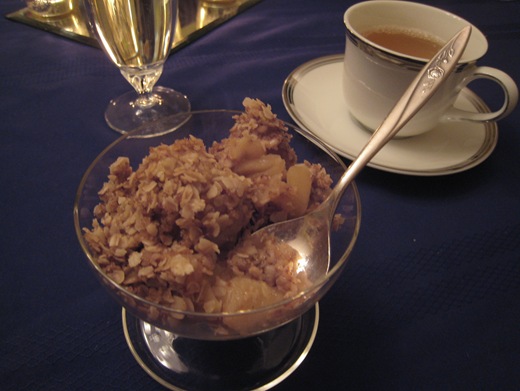 Instead of using butter she used grape seed oil…very good idea! It tasted delicious!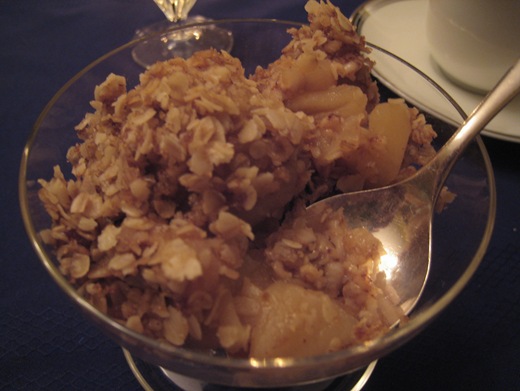 I was stuffed but in a good way. :mrgreen:
Updates:
I'm off for a long day of baking and going to squeeze in my workout over lunch.
Have a good one!