Big salads rule!
I love making salads in my huge Tupperware container. :)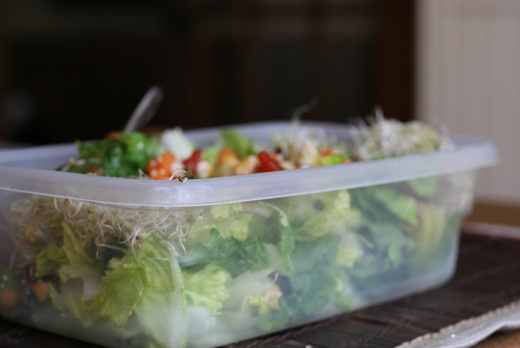 The Big Salad:
1 heart organic romaine
1 cup chickpea stir fry (with zucchini, carrots, celery, sesame seeds)
Vitality Sprouts (see below)
4-5 T salsa
1/2 red pepper
EVOO + Red wine vinegar (dressing)
Ground black pepper
handful sunflower seeds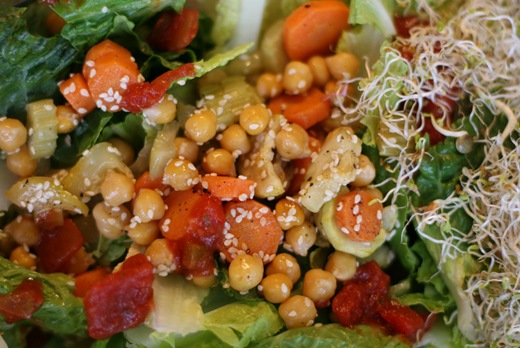 Nothing is better than a big salad!
The Vitality Sprouts from Whole Foods: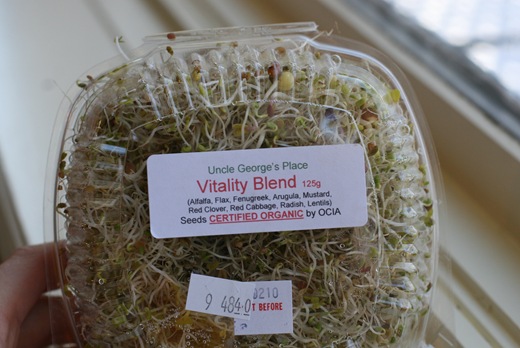 It dawned on me after I bought these that I could probably MAKE sprouts on my own…fairly easily? Anyone know how? :) What a fun little science experiment that would be.
Dessert: Organic dark chocolate chips x 2…or 3…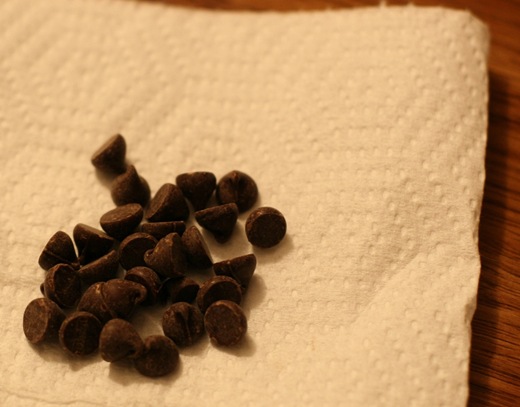 I am obsessed with chocolate lately. And Adore bars. Lock me up and throw away the key!
Valentine's Day: Who Is It For?
Eric and I got into a discussion on Sunday about Valentine's Day.
It is no secret that…
1) I love Valentine's Day. I'm a huge romantic and I start thinking about it in early January!
2) Eric does not like Valentine's Day and thinks it is a commercial holiday (I pout my lip when he says this!).
I agree about it being a commercial holiday, however I still love the fact that it is a day to devote entirely to your loved one. So many holidays are commercial now, but that doesn't mean I can't look forward to it anyways.
When I was single I would use the day as an excuse to spoil myself rotten. One single year I sent myself flowers and I smiled all week. It is all in the perspective.
Eric claims that Valentine's Day is for women. In other words, men just kind of go along with the motions of the gifts, roses, etc., but they don't really anticipate it as much as women do. Eric's male coworkers are his reference group for his scientific survey. ;)
While he does enjoy Valentine's Day, he thinks that we could celebrate our love on any day we wanted to. He is a person who likes to do things on his own terms and not feel outside pressure to do something. One rule we have is that I told him not to buy me flowers on V-Day. He did a couple times and I found out the price and we agreed to buy them when they were 1/4 the price (and in good shape!).
So the question remains…Is Valentine's Day for women, men (let's be real, they get something out of it too!), or both? How do you feel about it? If you are attached, how does your partner feel about it (honestly)?
I have found men who didn't know how to kiss.
I've always found time to teach them.
~ by Mae West ~