Hello :)
Remember last Saturday, when I had high hopes for my day off and the day ended up being kind of a dud? Well, today surely made up for it!
The stars must have aligned perfectly in the sky, because my day was Perfect with a capitol P.
After my amazing breakfast, I hit the treadmill for my planned 'long' Saturday run.
Mile 1 = 6 mph, incline 3%
Mile 2 = 6.1 mph, incline 3%
Mile 3 = 6.2 mph, incline 3%
I took a quick water break in between each mile. Immediately after the run I did the Booty Camp Fitness Booty Booster, which is 14 minutes of just GLUTE exercises. It is intense! I used to hate working out my butt, but I want to do it all the time now.
After the Booty was a burnin', I did 13 poses for runners. Felt good to stretch the tight limbs out.
I updated my Spring Training Plan, including some notes of how I felt after my first week.
Then I had a wonderful Epsom salt soak, a purifying face mask, and I even painted my toes (bright pink with light pink polka-dots). It was a 'spa on a budget' as I call it. :mrgreen:
By this time, I was starving for lunch! Eric asked me to make the Ezekiel vegan pizzas for lunch.
I made Eric the same one I made for myself the other day and then I decided to change mine up a bit. I made my sauce using salsa and nutritional yeast. It wasn't good like I hoped, so I spruced up my pizza with my favourite BBQ sauce: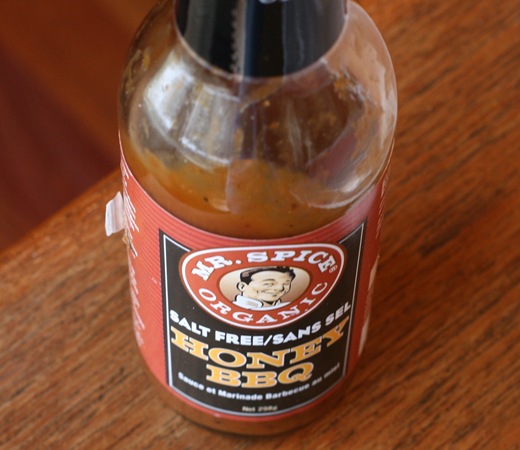 It was perfecto!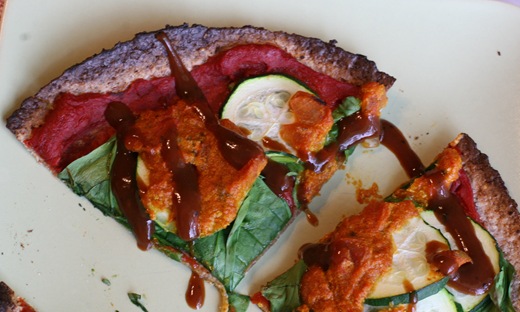 I had a huge salad, as filler: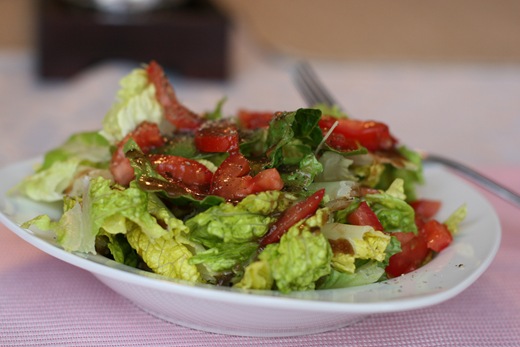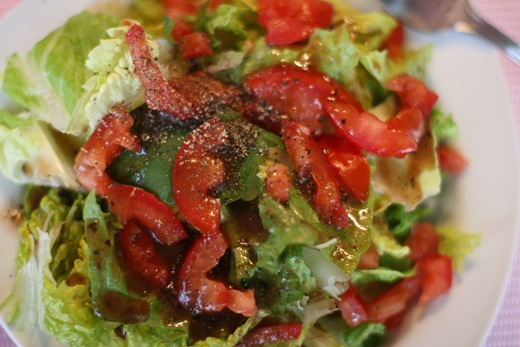 and a NEW (to me) apple: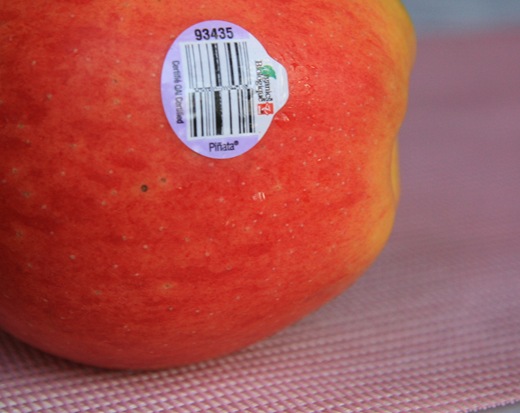 Ever had a Pinata apple? It was a very crisp apple and looked a lot like a Gala. The taste was a bit off at first bite, but I enjoyed it the more I ate it.
After lunch I did an insane amount of laundry, baked some pumpkin biscuits (and ate an insane amount!), and then Eric and I left for my favourite place in the world…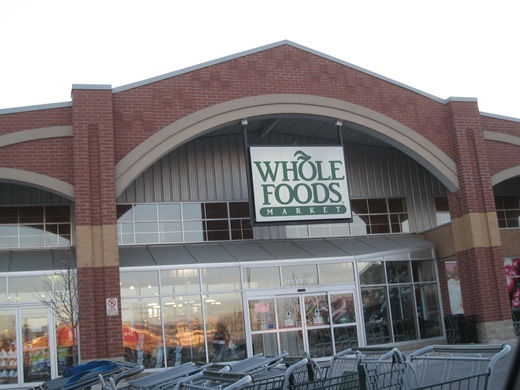 I got some exciting things: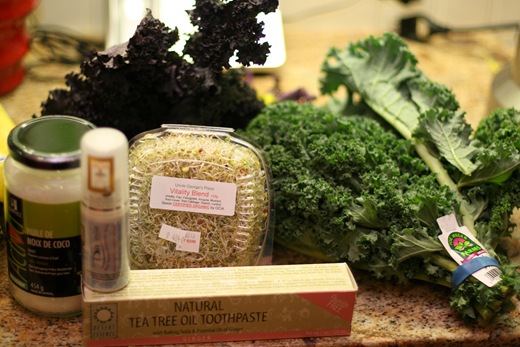 I have been wanting to try all natural toothpaste and deodorant for a long time now. I think the toothpaste will be fine, but I am worried about the deodorant not being as effective. I am going to try it during my next workout and see how it goes. The lady at Whole Foods also told me that you can put it on and it lasts for 3 days (!?!?!) what the heck? I am very skeptical…
Project Natural Glow Product reviews coming shortly!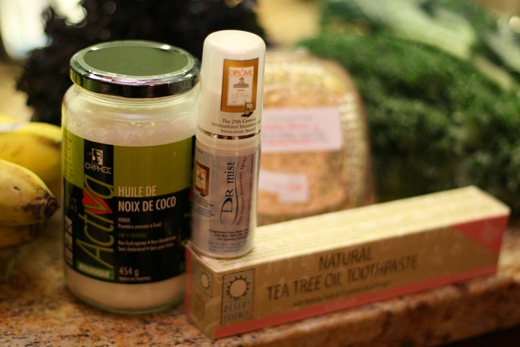 Organic Sucanat 
Doctor Kracker flatbreads ('treat of the week')
Bananas
Cabbage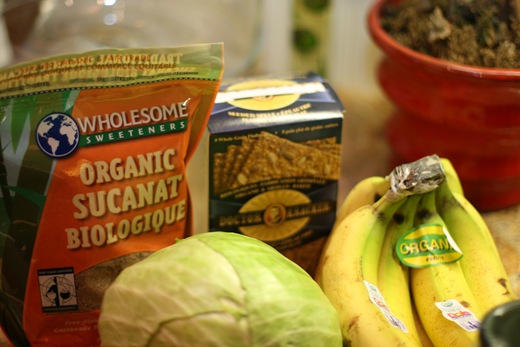 Kale (purple and green)
Vitality sprouts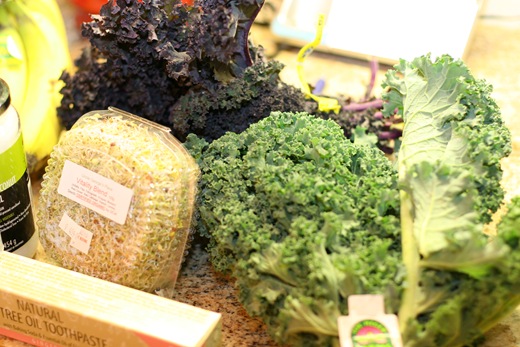 We couldn't decide what to do next. Then on the spur of the moment, Eric offered to teach me how to drive standard (stick!)!!!!!!!!!!!!!!!!!!
I have been wanting to learn forever now and was totally up for it, although very nervous!!!
He took us to an empty parking lot…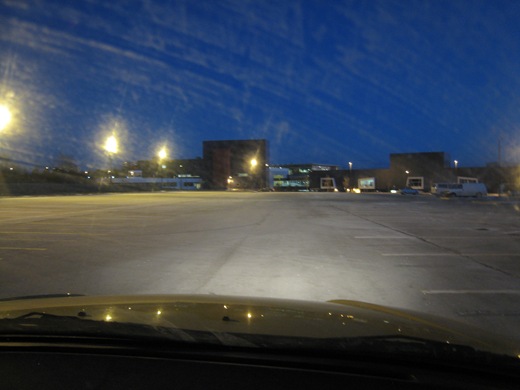 and we switched seats and the rest is history!
It was HILARIOUS. We could not stop laughing because I was stalling, the car was jolting forward, and I was screaming. Quite the sight. Once I accidently shifted into 5th gear instead of third and the car was not happy…I had a momentary freak out because I didn't know what was going wrong, and then Eric noticed it was in 5th! Don't worry his car is old and worn out, so we weren't too worried about doing much harm to it…
Despite the initial kinks, I was driving pretty smooth and changing into 2nd and 3rd gear after just 15 minutes or so. After about an hour of driving, we headed home, both quite proud of the first lesson.
I can't wait for the next lesson. I can totally see why people say driving standard is more fun! I am quite scared of learning hills though…and you know, being around other cars (eek). Baby steps…
Do you drive and if so, what do you drive: automatic or standard- or both? What do you prefer?