Q: How many creeks does my house make in one night?
A: That depends if Eric is home or not!
Yes, that's right folks. I made it a night…on my own, without the manly man. Eric stayed at his brothers last night as he was helping him with renos.
It was VERY scary.
Let me rewind a bit…before the part where I was quivering under the covers…
Dear John
Friday night was a fun girls night!
Krissy and I decided to go see Dear John, despite what all of the movie reviews were saying. I turned a huge blind eye to the poor reviews it received and chalked it up to critics being hard on a 'chick flick'. I was in HUGE DENIAL. :mrgreen:
It started off ok and I really tried to ignore the fact that the acting was just plain old bad and there was no chemistry between the leads. They were no Allie and Noah…
There was a horrible plot twist about two thirds into the movie and then it ended with a huge thud.
As I said last night on Twitter, 'Dear John was to the Notebook, as soy cheese is to cheddar- a pitiful attempt!'
However, Krissy and I are very excited for the Valentine's Day movie next week!!! I think it will be fun!
Nut 'n Budder Giveaway
Congrats to the winners of the Nut 'n Budder giveaway! Tons of great book suggestions!
#442: Cynthia said, "I'd love some of this! And you just gave me a quick and easy breakfast idea for my breakfast challenge."
#28: Billie said, "You should read Ana Karenina – and old classic! It is amazing each time I read it."
Please email me (angela [at] ohsheglows.com) with your mailing address!
Homemade Crunchy Maple Quinoa Cereal
So as I mentioned, I tossed and turned all night with the empty bed and creepy noises.
However, I did have good dreams…dreams of homemade cereal, that is. It dawned on me that I have never made my own homemade cereal before, so off I was to the kitchen to do some testing!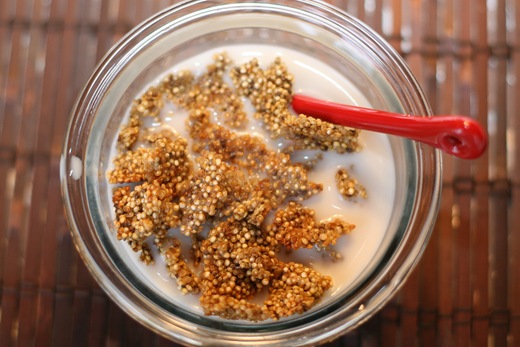 Ingredients:
1 1/2 cups cooked quinoa
1 T chia seeds
2 T pure maple syrup
1/2-3/4 t cinnamon
1 t vanilla
pinch or two sea salt
Directions: In a small bowl mix everything together. Pour onto a cookie sheet lined with parchment paper. Break up into chunks with a spoon and flatten with a hand as if you were making flatbread. Cook for 30-50 minutes at 325F, being sure to check half way through and adjust cooking time if necessary. Flip cereal around with a spatula for more even cooking. Cereal should be slightly golden brown when finished. Remove from oven and cool. Enjoy in a bowl with your favourite milk + toppings over top!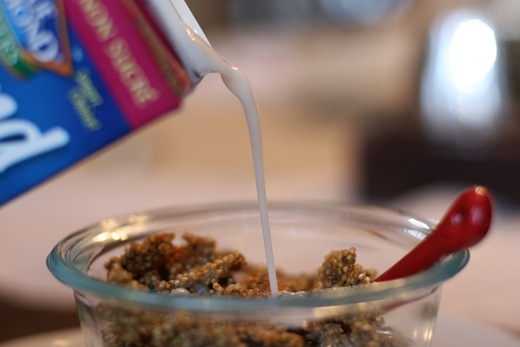 This cereal is amazing!!! High in protein and fibre too (approx 12 grams protein and 8 grams fibre for the entire recipe- without the chia seeds).
Slightly sweet, very crunchy, and it stays crunchy even when in milk.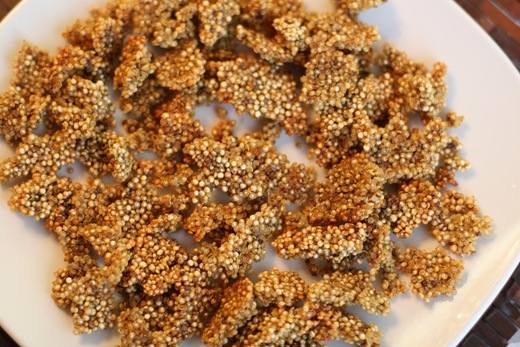 The best part about the recipe is that you can tailor the baking time to suit your needs- soft or crunchy. Personally, I love my cereal crunchy!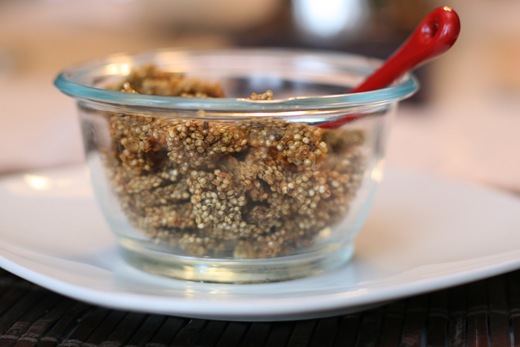 You can also make crackers: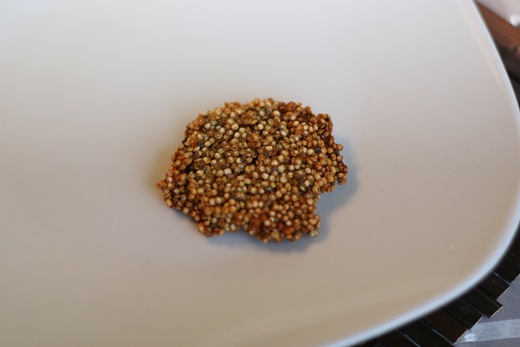 I also had a lovely GLOWING ORANGE fresh juice made with carrots, ginger, and grapefruit to go with it. I think this is my favourite juice.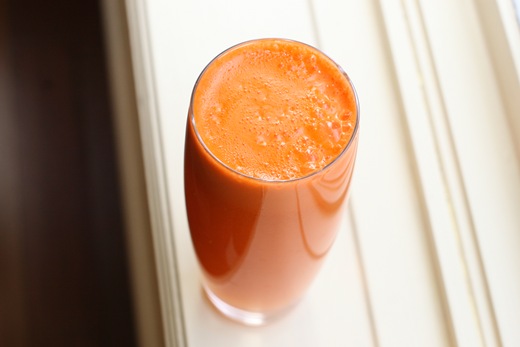 ZING!
I'm off for my scheduled 3 mile run and Booty Booster workout. Then, I have a house to clean. Not sure what is on the agenda for tonight yet.
I also added more Adore (S'more) Glo Bars and some X's and G'los Valentine's Day packs to the shopping cart. I am almost out of my S'more ingredients so if you want some, order them soon as I am not sure when the next order will be in.
Have a lovely Saturday!