Hellloooooo gorgeous.
Bake, pack, ship. Bake, pack, ship. Bake, pack, ship. Bake, pack, ship.
My 'workout' yesterday lasted 9 hours. A non-formal workout, but a workout none the less!
Unfortunately, fate did not have Avatar in our future last night. The only non sold out show was at 10:50pm. Seeing as the IMAX theatre is a 45 min. drive from us, we didn't feel like getting home at 3am so we didn't go.
We ended up just relaxing with a few friends and watching Conan's last episode of Late Night- (sniff, sniff). Can I just say that man has Class, with a capitol C?!
I created my 4th Baked Breakfast cake experiment this morning.
My previous Baked Breakfast Cakes:
Refreshing Orange-Mint Baked Breakfast Cake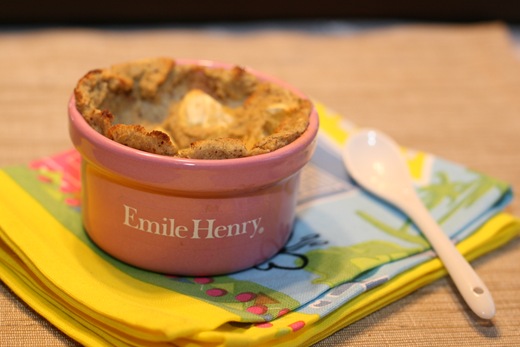 Ingredients:
1/2 cup lightly toasted hazelnuts (filberts)
1/4 cup ground almonds
3/4 cup old-fashioned rolled oats (not instant)
3/4 cup sweetened applesauce (or unsweetened + 1 T sweetener below)
2 t pure vanilla extract
4 fresh mint leaves
1 Tbsp agave nectar or maple syrup
Pinch fine sea salt
1 T chia seeds (optional)
1 and 1/4 cups unsweetened almond, soy, rice, hemp milk
1/4 t raw maca powder (optional)
1 orange, peeled and sliced into chunks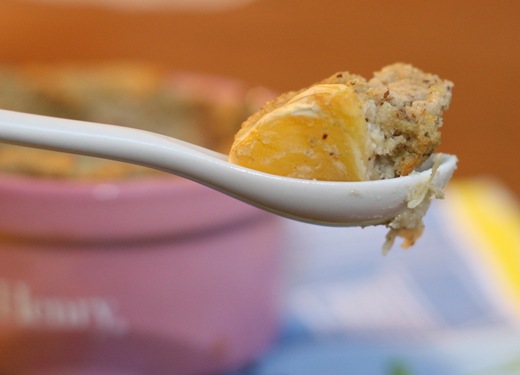 Directions: Preheat oven to 350F. Grease three small oven safe dishes. Throw all ingredients except the orange into the blender and blend until smooth. Evenly distribute the batter into the dishes and then garnish with orange chunks. Pop in the oven for about 35 minutes at 350F or until golden brown. You can refrigerate for 4 days and they apparently freeze well too!
[Recipe adapted from the fabulous Ricki over at Diet, Dessert, n Dogs]
Makes 4 servings (does not include chia seeds or chocolate chips)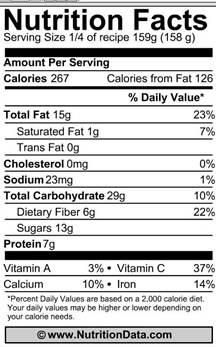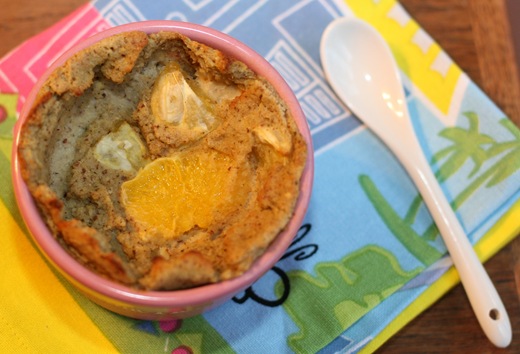 You know what goes well with orange?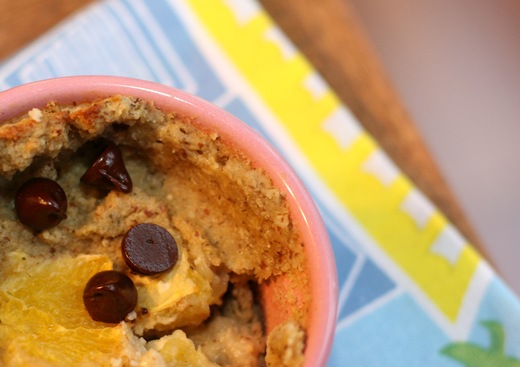 I have some fun news- I am applying to the Oakville Organic Farmer's Market this Summer! I spoke with the chair of the board yesterday and she thinks my Glo Bars would be a perfect fit for the market. This farmer's market is amazing– all vendors must be organic, sustainable, use non-GMO products, etc. Everyone knows the farmer's on a first name basis! It is just the market I have been looking for!!!
Should I be accepted I will need to move forward quite quickly with purchasing a tent, table, hiring help, and obtaining signage/marketing materials. It would be great to have a location for my customers in the GTA to purchase the bars and I would love to meet my customers in person too. It would be a fun change of pace!
Do you have a Farmer's Market in your town? What's it like?
I have another full day of baking ahead of me. I need to get caught up on the 1600+ Glo Bars that I sold last week. I don't see a day off in my future for a while!
Updates:
Have a great Sunday!! :D