The Early Rising Challenge has begun!
Last night I was in bed over 1 hour earlier than usual (around 11pm instead of after midnight), however I didn't end up falling asleep until 12:30am. My body is very much on a consistent schedule, so it is going to take me a while to adjust.
Some good did come of it. I got up just after 6:30am this morning, despite getting just 6 hours of sleep. I know I am going to be dragging today, but I think the only way I will be able to get my body on a new schedule is to have a few sleep deprived days. Everything will even out. :) My reward was Baked Breakfast Cake. Mmmmmm. So worth it. Plus, I just made a huge pot of Japanese Sencha and I am going to workout + WMM2, so I think that will have me feeling energized for a long baking day!
A Kitchen Appliance Confessional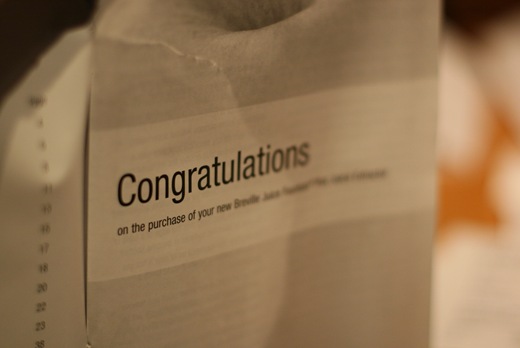 My name is Angela and I am scared of new kitchen appliances.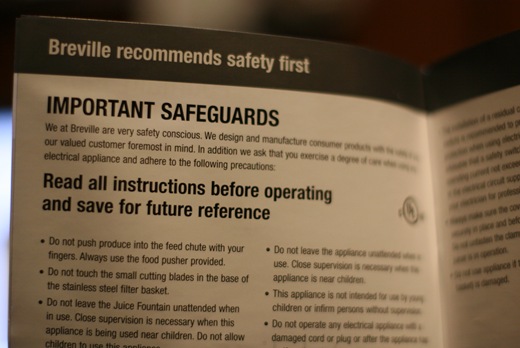 Cooking? Baking? Whipping up crazy recipes? I'm down. You know I thrive on that stuff.
Figuring out a new kitchen appliance that has the potential to chew my finger off? I'd rather clean my closet than open the box. [Yes, I actually cleaned out the closet when I was supposed to be unpacking the juicer! Classic Avoidance Syndrome.]
The first step is admitting you have a problem.
So here I am, coming clean to you guys today.
Remember this beautiful food processor that Eric bought me for my birthday in 2009? Well, I broke it within the first 2 minutes (trying to process soft dates). I somehow managed to convince Kitchen Aid to send me a new food processor and embarrassingly, the new processor has been sitting in the box ever since.
I have been using my old half-broken processor all this time while a new one sits in the box! Typing it out sounds absurd, actually!
However, I stand sit here before you vowing to overcome my fear. I am determined, not only to become a food processing whiz, but to master my juicer, in every way, shape, and form.
I will start with the juicer. I channeled my inner fabulous goddess, Kris Carr from Crazy, Sexy, Life. [For Kris's thoughts on juicing read the interview I did with her here! She talks about the benefits of juicing and her favourite superfoods and juice recipe.]
Behold the Breville Juice Fountain Plus: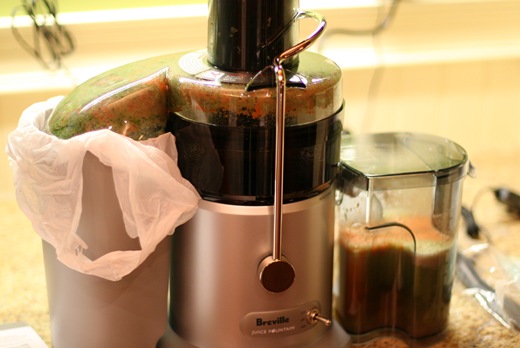 As you can see, I was able to figure it out! It was actually really easy.
Look OSGMOM, 10 fingers! :D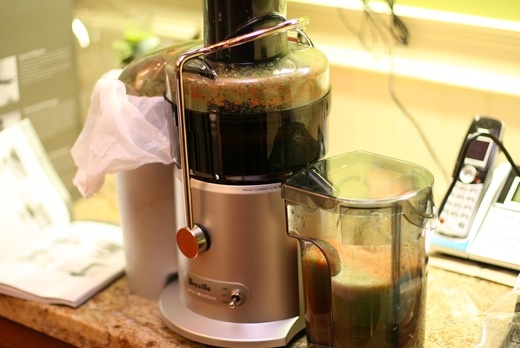 I created my very first juice!
Rainbow Sorbet Juice
Ingredients:
1 large field cucumber, not peeled
1 organic apple, cut into thirds, not peeled, stem removed
1 lemon, peeled
1 cup organic baby carrots (grocery store was out of whole organic carrots)
Directions: Juice, stir, and serve immediately! I juiced the lemon on low and the rest on high.
Tip: Put a grocery bag in the pulp container so clean up is easy.
It created this beautiful juice that looked exactly like rainbow sorbet (albeit melted) that I used to eat so much as a child!
The order I juiced was: 1) Lemon, 2) Apple, 3) Cuke, 4) Carrots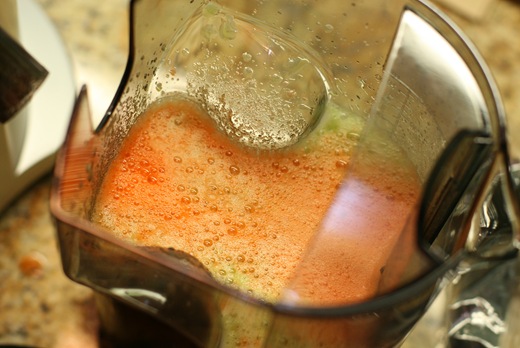 Seriously fun.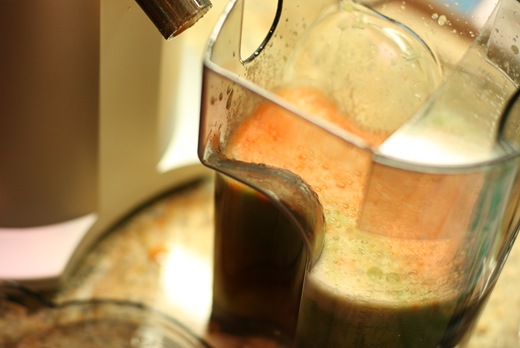 I read you are supposed to toss the big pulp pieces before baking with it. Rather than throw any pulp out, I would rather process it all in the food processor to thin it out and make it even. Or you could just throw all of it directly into a soup! I like big chunks in my soup. :)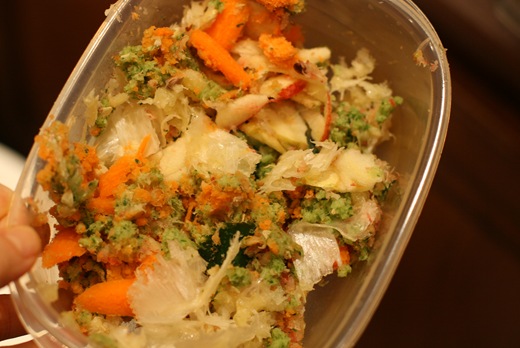 I have big plans for this pulp, don't you worry!
I will let you know what I make with this. Eric and I tasted some pulp and we were so surprised at how tasteless it was! The juice has ALL the taste!
The juice really is the LIFE of the produce.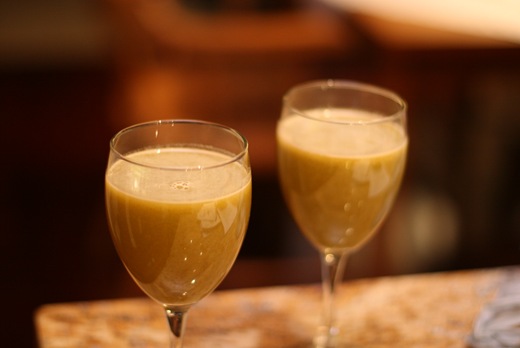 It made about three of these wine glasses!
[Sorry for the bad lighting, it is dark outside and flash batteries are dead.]
I was DYING to try it. I poured the glass and took a sip…
I was instantly floored by the taste. My taste buds were literally dancing!
The apple and lemon paired so well together, however the juice was not too sweet nor too sour. Just perfect. The cucumber and carrot were lovely as well, although not as pronounced. Just perfect background flavours, if you will.
Eric even liked it himself and drank his glass. I drank two full glasses and could have drank more but my belly was about to burst.
If I could describe it in one word it would be FRESH.
It was the purest tasting juice I have ever had by far. It was fun picturing the healthy nutrients being absorbed into my blood. But maybe I am just a nerd like that!? ;)
However, no review would be complete without a couple cons:
1) The cleanup was sort of a pain. Several of the parts are dishwasher safe, but my dishwasher typically doesn't have much room in it due to all of the dishes I use in a day! I did it by hand and then put them on a towel to air dry. No biggie.
2) It is expensive. Eric and I figured that the juice we made was at least $3-4 worth of produce. Ouch! I can't see myself juicing every day, but I can see myself doing it 3 times per week, alternating with Green Monsters. I think if I can use the pulp in my cooking, I can justify it a little more since I am not throwing anything away. This will just get my creative wheels a spinning.
Have you ever had fresh juice before? What is your favourite recipe?
I'm so excited to experiment with all kinds of fruits and veggies. Please share your fav. combos below! I bought some beets, organic celery, and fresh ginger too. I wonder if they go together?
Off to workout my big strong heart then a full day of baking + shipping…zing, zing, zing!!! Have a great day everyone!