I somehow managed to fit everything in yesterday!
It was truly a proud moment. I managed to squeeze in a great heart-pumping workout + Whittle My Middle 2 with Eric.
However, my WMM2 victim willing participant is getting a bit unruly!
Last night Eric decides that it would be fun to POKE me as I am doing my side planks! I was laughing (I'm ticklish in a major way) and I kept falling over!!! I will get him back, don't you worry. I have a few produce stickers already planted (one is on his side mirror on his car). *evil cackle* You know what they say, she who laughs last…
[For the record, every time I do a plank up a little piece of me dies inside.] Can I get a hell yea?
Because I was feeling pretty darn good about my efforts, I decided to celebrate with a new recipe. I think I must be the only person who bakes for 11 hours and then decides to bake 'for fun'…
Baked Cherry Pie Breakfast Pudding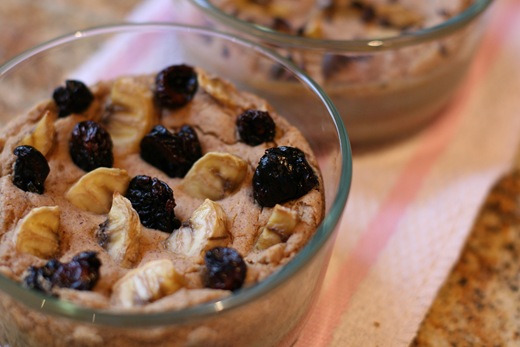 Ingredients:
1/2 cup lightly toasted hazelnuts (filberts)
1/2 cup ground almonds
1/2 cup old-fashioned rolled oats (not instant)
3/4 cup unsweetened applesauce
2 t pure vanilla extract
1 Tbsp agave nectar or maple syrup
2 t cinnamon
Pinch fine sea salt
1 T chia seeds (optional)
1/2 scoop Manitoba harvest Hemp Pro 70% powder (optional)
1 and 1/4 cups unsweetened almond, soy, rice, hemp milk
1/2 large banana, sliced into chunks
Dried cherries, apricots, goji berries, cacao nibs, to garnish (optional)
Or you can use fresh fruit, which might taste a bit better (optional)
Directions: Preheat oven to 350F. Grease a 4-6 cup (1-1.5 L) casserole dish or three small oven safe dishes. Throw all ingredients except the banana and dried fruit into the blender and blend until smooth, stopping to scrape sides if necessary. Evenly distribute the batter into the dishes and then garnish with banana and dried fruit. Pop in the oven for about 35-40 minutes at 350F or until golden brown. My dried fruit burned a bit, so watch it carefully after 30 minutes. You can refrigerate for 4 days and they apparently freeze well too!
[Recipe adapted from the fabulous Ricki over at Diet, Dessert, n Dogs]
The Night Before Prep = huge morning time saver:
I prepared this last night before bed and it took me about 15 minutes or so. Then I popped the Pyrex dishes into the fridge overnight. This morning threw them into the oven and baked them as I worked out. Super easy!! Make sure you let the dish come to room temperature before putting into the oven, so it doesn't crack.
Blending produces the coolest breakfast 'batter' you will ever witness. I felt like I was whipping up a healthy cake!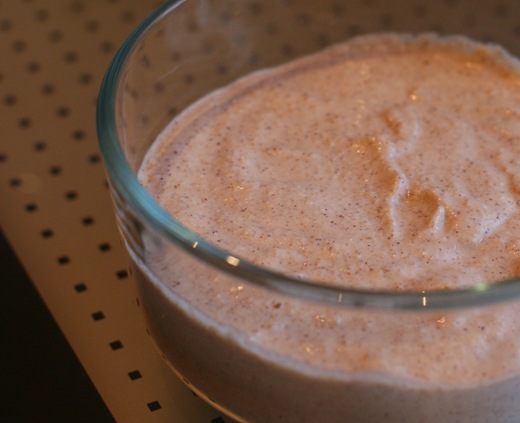 Instead of making it into one casserole dish, I decided that three separate servings would work well for me.
Now I have breakfast for 3 days!
I made three flavours:
Banana split                             Tropical Bliss                          Cherry Pie
(Banana Cacao Nib)                     (Banana-Apricot-Goji)                (Banana Cherry)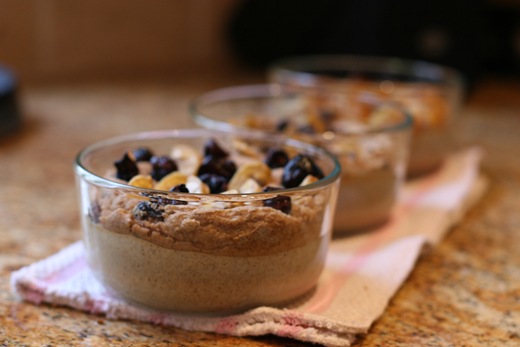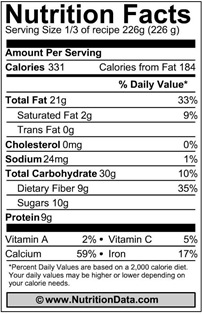 The following nutrition label is for the basic baked pudding without chia seeds, protein powder, or toppings.
You can adapt it to how you like and make it as filling as needed.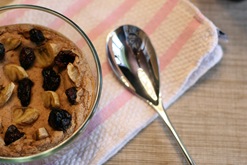 Oh dear me. This was like eating a healthy cake batter!! You can drizzle it with coconut oil, maple syrup, or agave if you'd like. It would also be great with yogurt.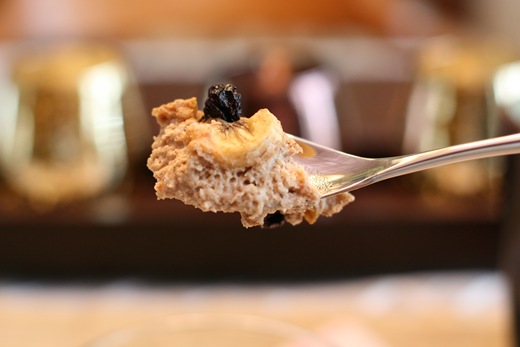 I think next time I will use less dried fruit and more fresh fruit. The bananas were awesome in this!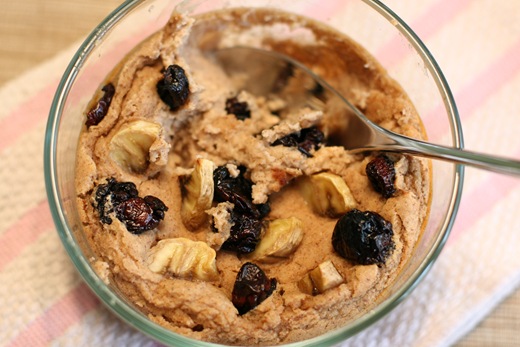 ~~~~
Updates:
Today is another long day of baking, packing, and shipping!
The IIHF Canada vs. USA Hockey GOLD MEDAL game is on tonight! Nothing short of a natural disaster or an 80% off sale at BCBG could peel me away from the screen tonight. Anyone else watching?
I hope you have a glowing Tuesday filled with lots of laughter and smiles.
Stay tuned for an exciting announcement!