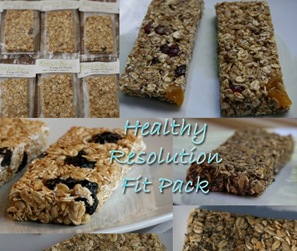 The Healthy Resolutions Fit Pack has arrived, including Glo bakery's newest Glo Bar called Crave– Chunky Peanut Butter and 'Jelly'! mmmm mmmm good.
So what is so great about today?
I will be donating 10% of all my sales today (Dec 31st) to The National Eating Disorder Information Center (NEDIC)! Help me raise money for this great cause and start the New Year off on the right foot! Research and treatment for eating disorders is lacking and great organizations like NEDIC need all the support they can get.
The customer who purchases the most Glo bars today will get a box of Glo Bars for FREE!
About NEDIC:
"The National Eating Disorder Information Centre (NEDIC) is a non-profit organization founded in 1985 to provide information and resources on eating disorders and food and weight preoccupation."
Click here to be taken to the Healthy Resolutions Fit Pack. I will be posting the donation receipt to document my donation to NEDIC on my blog tomorrow! This charity donation of 10% includes ALL GLO BAR FLAVOURS, not just the Fit Pack!
My Favourite Posts of 2009
Do you feel the excitement in the air?! A brand new decade is right around the corner!
No matter what we dealt with in 2009, we have the opportunity for a new beginning in 2010. Leave the baggage behind and get ready to have one heck of a new decade!
I thought this would be a good time to round up some of my favourite posts of 2009.
Favourite Hot Topics:
The Superwoman Syndrome: The Dangers of Over-Training
My 10 in 2010 + A Life changing decision (MY NEW GOALS for 2010!)
33 things I learned as a Health Blogger in 365 days
All I really needed to know, I learned from a food blogger (OSGMOM)
Blogs and the Social Comparison Trap
How food blogs changed my life
Comparing ourselves to real women
Food Blogs: Passing Fad or Here To Stay?
Photo Journaling: Helpful or Harmful?
Goodbye To The Obsession (video)
North America's Healthiest Cities: Where Does Yours Rank?
Make-up: Can We Live Without It?
When Healthy Eating Goes Too Far
Blogging Frequency, Content, and Quality
How To Beat Negative Thinking: Part 1 and Part 2
The Sleep Cycle: Do you get enough undisturbed sleep?
Giving back during the holiday season
Does Life Get Easier As We Age?
My Favourite Recipes:
Vegan Peanut Butter and Jam Glo Bites
This Aint Grandma's Sweet Potato Casserole* Reader favourite!
Vegan Pumpkin Pecan Pie with a Spelt Crust
Vegan Spiced Pumpkin Pie Glo Bites
Gluten-Free &Vegan Chewy Crackers
Vegan Chocolate Peanut Butter Cups
Soul Soothing Quinoa Coconut Curry
Vegan Peanut Butter Banana Bomb Muffins
Maple Glaze Pumpkin Spice Baked glonuts
Squash and Chickpea Moroccan Stew
Favourite Running posts:
My Running Journey: From 1 minute to 10 Miles
My 4 race recaps can be found here
~~~~
Updates and Coming Ups!
I am currently collecting preliminary research on the benefits of health blogs. Want to fill out the short 10 question survey and contribute to my research? Click here to be taken to the survey. Thank you in advance for your participation!
Stay tuned tonight for a FUN picture post of the last 10 years!!! Some crazy hair styles that is for sure… ;)
Whittle My Middle 2 challenge will be revealed on New Year's Day. Find out what special guest will be joining me!
Off for my last workout of 2009. Then I am baking the day away.
Happy NEW YEAR'S EVE!!!!!!!!!!!!!!!!!!!