After living in the Toronto area for the past 9 years, I forgot how small my hometown is!
This is Main street in Moncton. No sky scrapers, no high rises- simple and to the point. You can get anywhere in the city in 10 minutes. Such a change from what we are used to!!!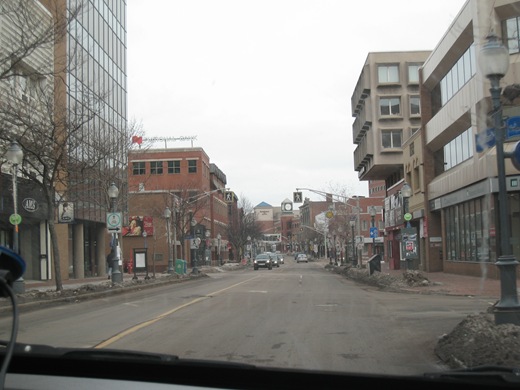 I had another great workout on my dad's exercise bike at Nubody's today! Susan and I just missed each other by 10 minutes.
Funny quote from Eric today, "I don't want you to get a NEW BODY."
He lays it on thick at times. ;)
I did another 45 min around the world workout:
20 mins. on stairmaster @ level 15
10 mins on elliptical @ incline 9-10, resistance 11-12
10 mins treadmill hill workout @ incline 15, speed 4-4.2 mph intervals (60 sec.)
5 mins cool down @ incline 10-5, speed 3.5-3 mph
I wanted to see what the hardest level on this stair master would be like (level 20) and it was HILARIOUS. I couldn't even keep up! The steps kept hitting the ground and I was trying to keep up like a crazy person. I can only imagine what I looked like. I almost fell off!
This afternoon, we braved the mall to look for some Boxing Day sales. All of the stores were closed here on Boxing Day (Dec 26th).
I had a couple good finds. This summer dress for just $15. It needs a few alterations in the hips, but I really like it!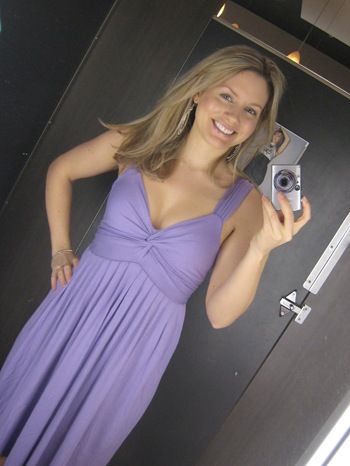 These red and green t-shirts were on sale too. I can't imagine why! LOL ;)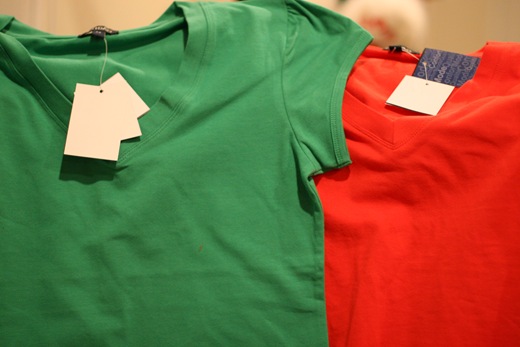 I also used my gift card at La Senza and got some Victoria's Secret perfumes: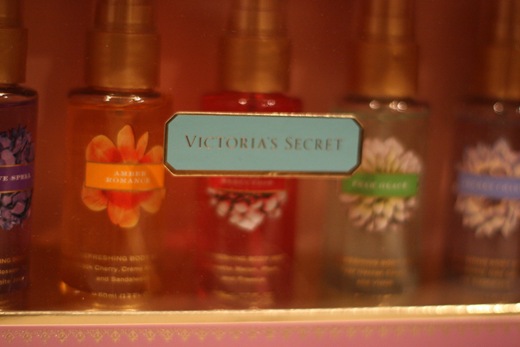 and some other unmentionables… ;)
That was all she wrote! I only spent about $35. Eric didn't find anything, he just waited on the bench in front of the stores mostly and played Sudoku on his Blackberry. Not the shopping type if you know what I mean!
We came home and visited with more family and also some long time friend's of the family too. It was nice to catch up!
Tonight we had a last minute blogger meet-up at none other than Calactus Cafe! I knew in my heart I had to go back one last time before we leave for home tomorrow. ;)
Left to right: Eric, Chris, Susan. Chris is Susan's boyfriend.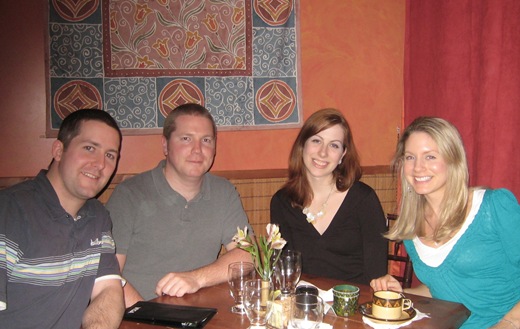 They are both super sweet and we had such a fun time getting to know each other!!! Susan grew up in my hometown, Riverview, and oddly enough we discovered that she lived in a house beside my BEST FRIEND Allison for years and years! I knew her name sounded familiar!!
Eric, Chris, and I decided on the Big Marc Burger. :D

Eric's with Caesar salad and taters: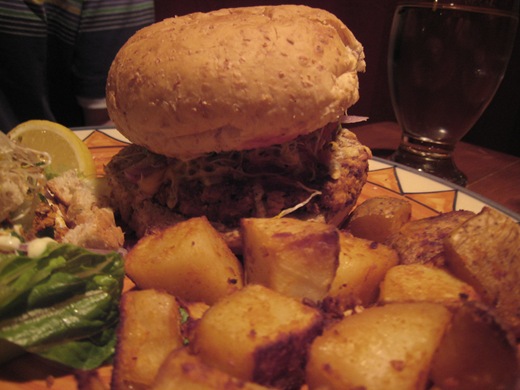 I had a large garden salad (subbed for Caesar) and a cheese less Big Marc burger: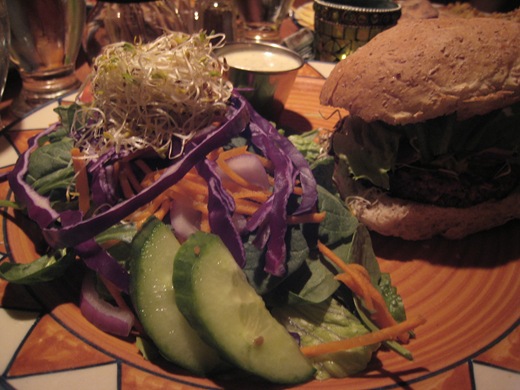 I had to use FLASH because of the poor lighting (Gasp!) lol ;)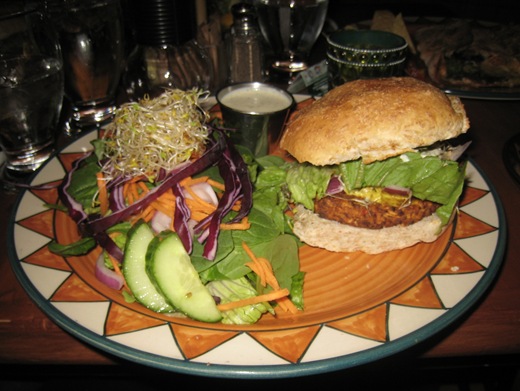 The burger was TO DIE FOR. I agree with those of you who said it was the best veggie burger you have ever had. Hands down the best, by far!!!!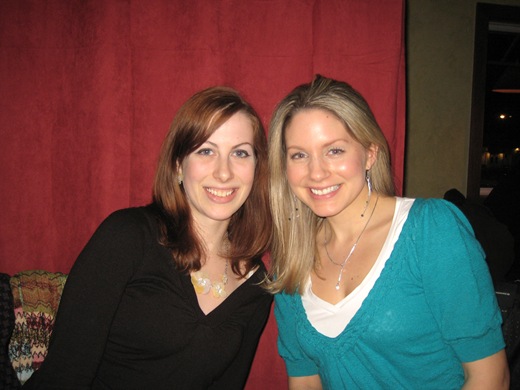 Susan just got a new SLR camera for Christmas! I didn't bother bringing mine along. I'm lazy ;) Susan had a burrito. It looked awesome.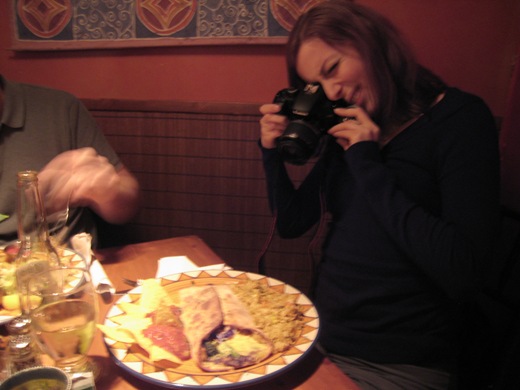 We couldn't pass up dessert this time!
Eric and I decided to split the vegan Banana Walnut Cake with raspberry glaze and tofu cream.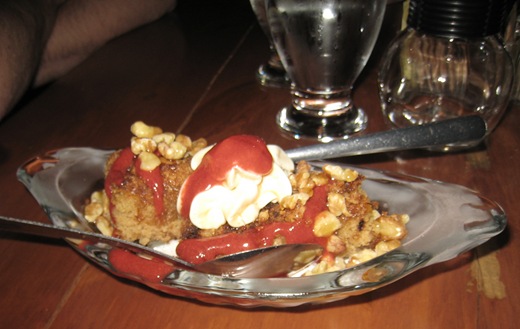 This whole tofu cream is so new to me, and I am determined to find out how to make it. It is a wonderful topper on a vegan dessert! :)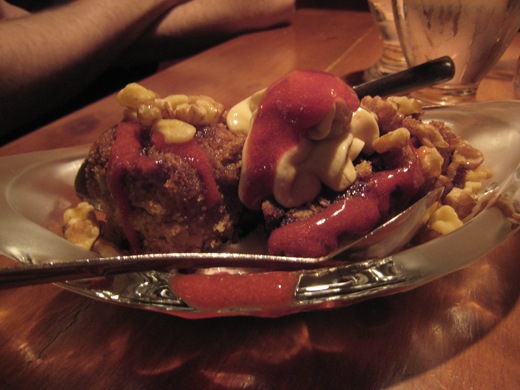 Words can't explain my friends.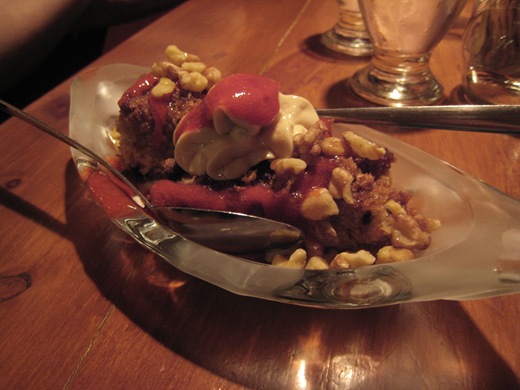 I only wished we had each ordered our own! Oh my. The glass dish was cold and frosty too. Wonderful touch.
Thank you to Susan and Chris for the wonderful company!
Eric and I are currently checking out the movie show times and trying to decide what we are going to see: Sherlock Holmes, It's Complicated, or It's Up In The Air. They have all received decent reviews so I don't think we can go wrong with any! Has anyone seen any?
~~~~
Homeward Bound:
5pm tomorrow we fly home.
It will be interesting to see if the Canadian security process changes after the recent terrorist attempt. I got patted down on the way over. It is a running joke between Eric and I because I ALWAYS get searched at every security check we go through. I guess I look suspicious?!
Only 4 days until a NEW YEAR!!!
Are you doing anything fun for New Years?
Eric has to work on New Year's Eve, so I think we will be laying low and watching the US vs. Canada Junior Hockey Game! Should be intense. PS- Canada beat Latvia 16-0 yesterday!!