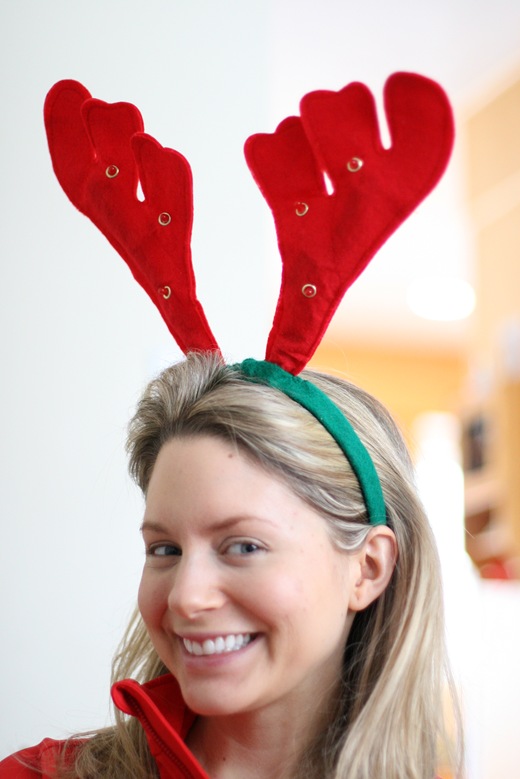 Yes, the Christmas antlers made it all the way to New Brunswick! ;)
I'm going to start the Christmas recap on the 23rd of December when Eric and I exchanged a few small gifts.
I got a really nice Vancouver Olympic 2010 running shirt!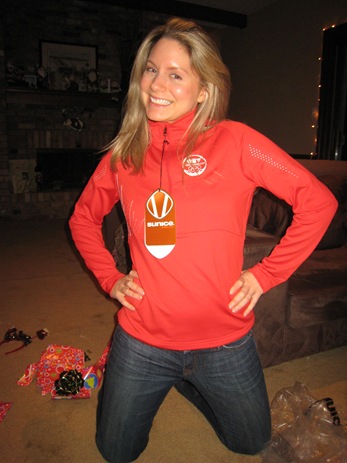 SPOONS for da kitchen…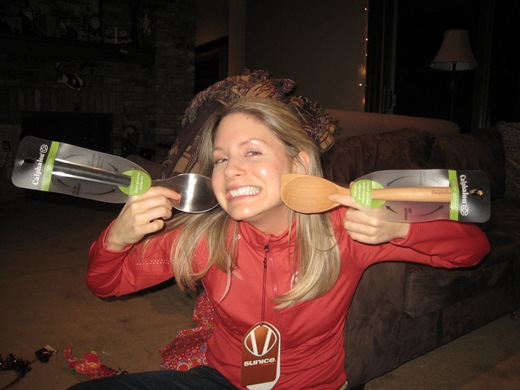 Eric got Professional knee pads and shop gloves for his renos (don't mind the crazy pic of me wearing them..I was being a goof)
He also got a 4′ level and a screwdriver set:
I also got some PJ pants, lingerie, and a couple other small things!
We are hoping to buy each other bedroom furniture if we can find a deal!
Chillin with my ugly sweater peeps: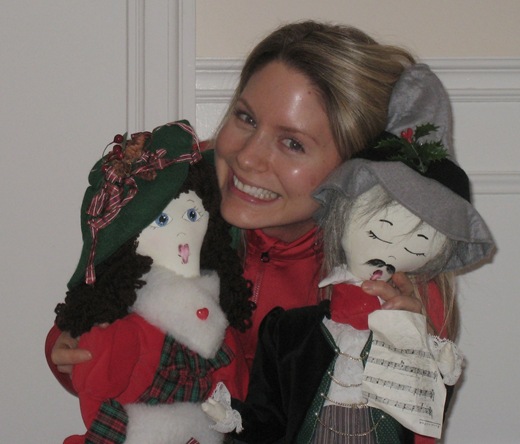 Now onto…
Christmas Eve!
I was up super early to hit the treadmill for a 20 min hill workout before we left for the airport. I did 20 min. intervals at 4.0-4.2 mph at incline 15%. Intense and satisfying!
All packed up and ready to go…
Yes, I wear my stilettos to the airport. I can't help myself…I love them! But I balanced the glam with a cozy Lululemon hoodie ;)
We departed out of Hamilton this year. OMG it was so much better than Toronto!!! Look how dead it was: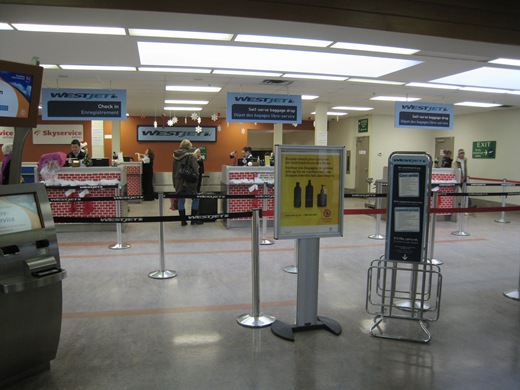 It was also at least $200 cheaper departing out of Hamilton. We will be departing from here as much as possible in the future!!!
Airport snacks included Mary's Crackers: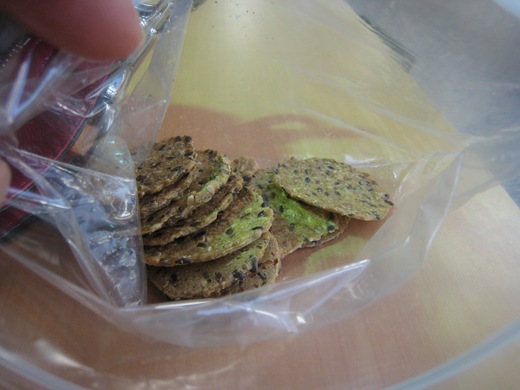 Timmy's Green Tea and a high protein pita and hummus I threw together in the morning: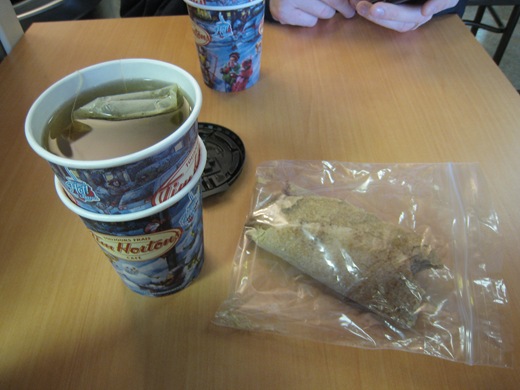 An airport banana (best option there was!) and some all natural hand sanitizer by Clean Well that I got as a sample at the Health Food Trade Show:
The sanitizer is made from plant oils and kills 99.9% of bacteria. It has a nice smell but is a tad bit sticky when going on the hands. It does absorb after a couple mins though! Just not as quick as the alcohol based ones. I would buy this myself for sure.
We arrived in New Brunswick around 4pm!
Teddy got the party started!!!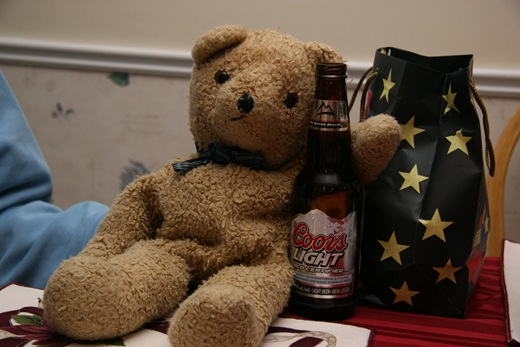 BUT…too much partying can lead to holiday burn out…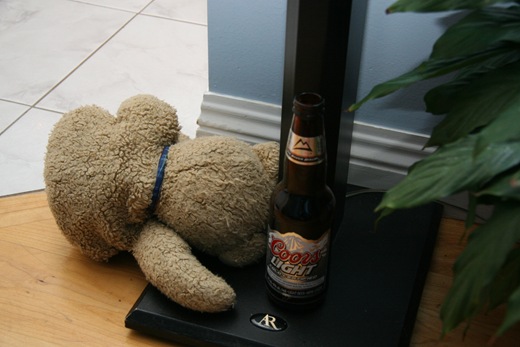 My dad got me some veggie chips (so cute!). They weren't bad actually! Quite yummy.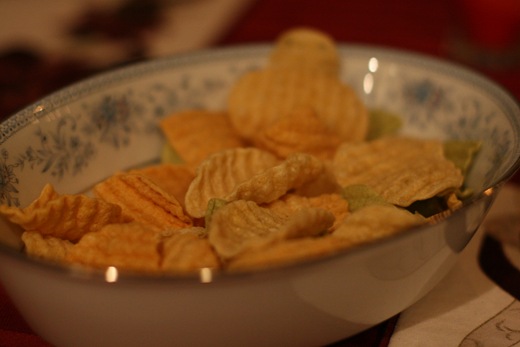 My dad made his famous homemade chili (it is a Christmas Eve tradition) and even made me a vegan version: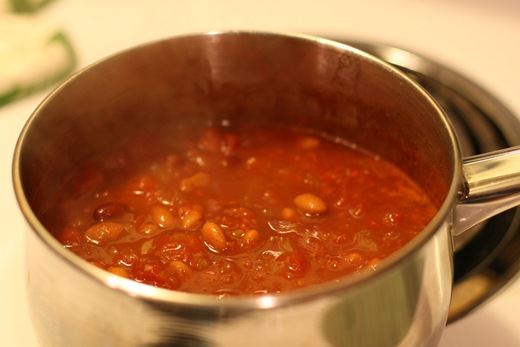 The non-vegan- this was Eric's bowl (I forgot to photograph mine!)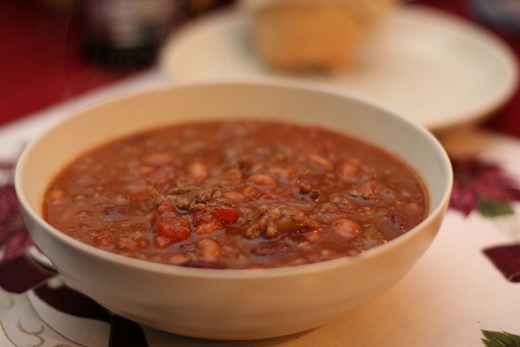 His roll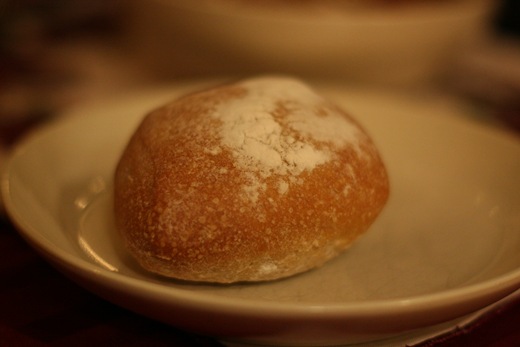 My dad, with my cousin Brit and I: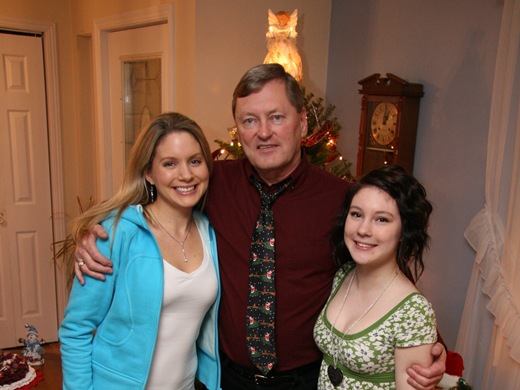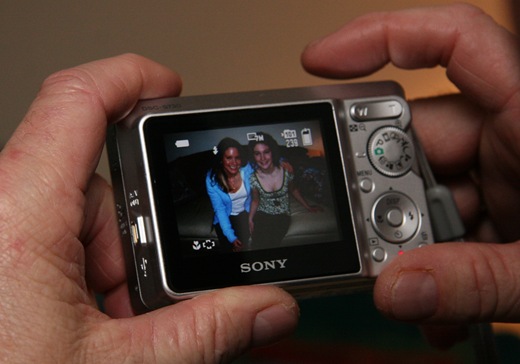 My dad and his girlfriend Colleen :) She is super nice…I love her!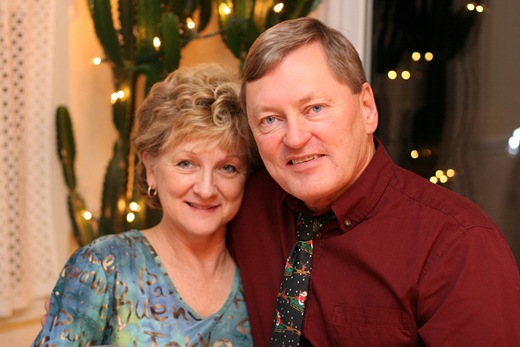 We be jammin'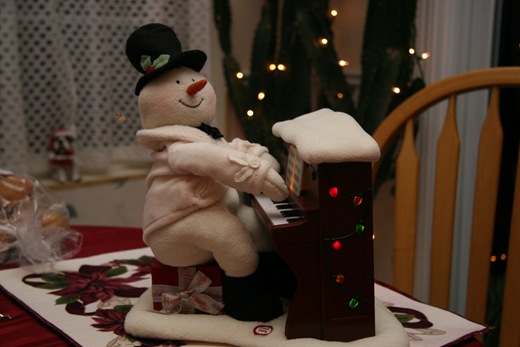 We sat around the table for a long time and gabbed away. That is my Uncle Gary (dad's brother) on the right.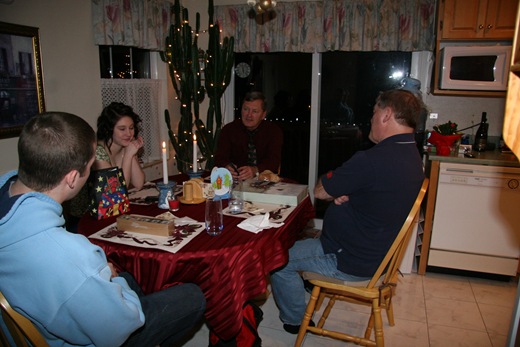 Then my BEST FRIEND came over with her hubby Matt!!!!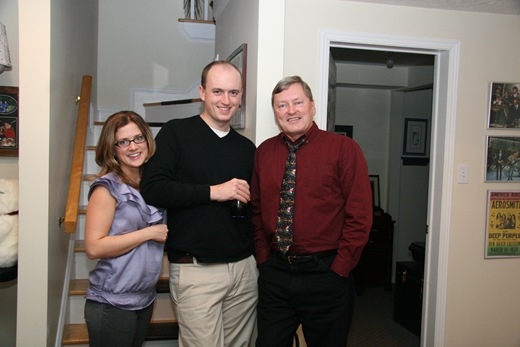 We hadn't seen them since my wedding!
Allison and I have been best friends since Grade 7. I love her! Guess what? She is completing dentistry school at Dal (shout out to all her friends who read the blog too!) this Spring! She is the smartest girl I know. :) She is going to be the best dentist ever!!!!
Al and I always joke about how similar Eric and Matt are. They have all the same interests (i.e. gaming and techie stuff). Eric and Matt were separated at birth I'm pretty sure!!!
Little Drummer…Girl?
Then we all got lessons on my dad's drums. My dad has been a drummer since he was 14 years old and I must say he is really good.
I didn't think I was going to like it, but I loved it!
Here I was telling my dad 'ok, don't get carried away I haven't even mastered two beats at once yet!'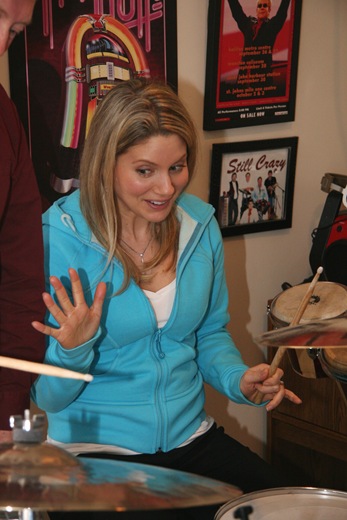 Look how cute Al is! :D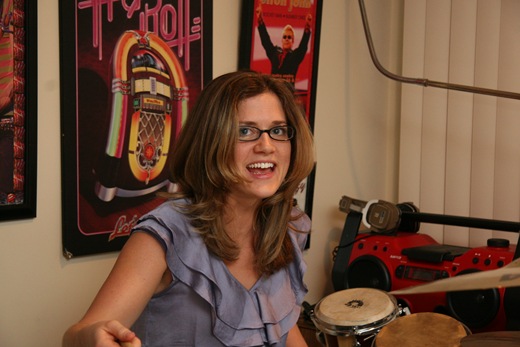 Eric was the best out of all of us.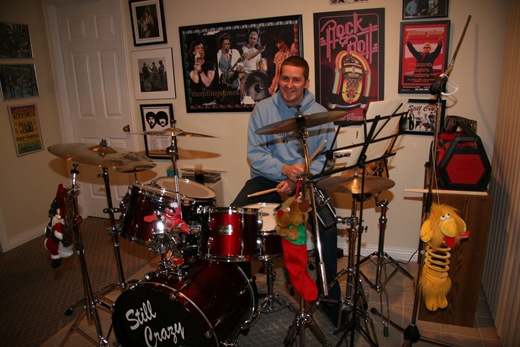 Tip: It is easier to learn the drums after a glass of wine!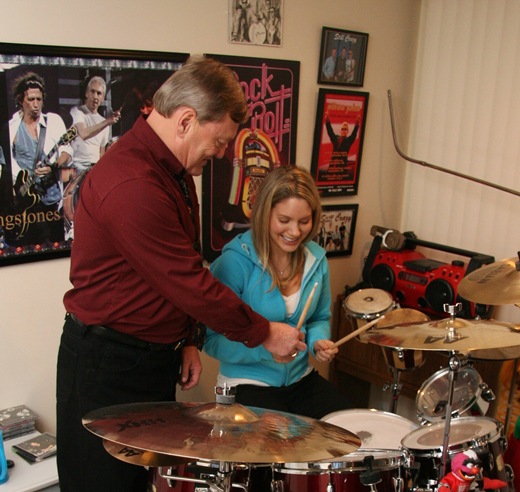 Off to bed…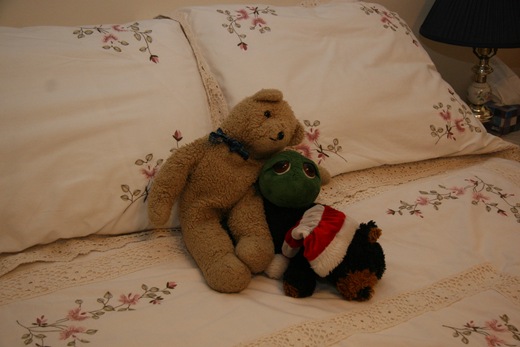 to rest up for…Christmas morning!!!!!
Eric and I both tossed and turned all night. It is always hard being in a different bed!
I was super pumped that I could have my Green Monster while away: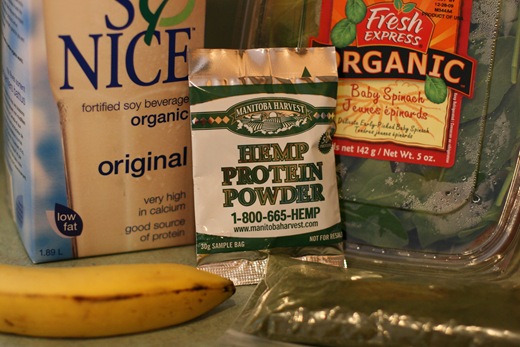 It kept me full for 3-3.5 hours thanks to the Hemp Protein Powder (15 grams PRO). It's good! I like it better than the Manitoba Harvest Hemp 70 that I have been using (it has 21 grams PRO though).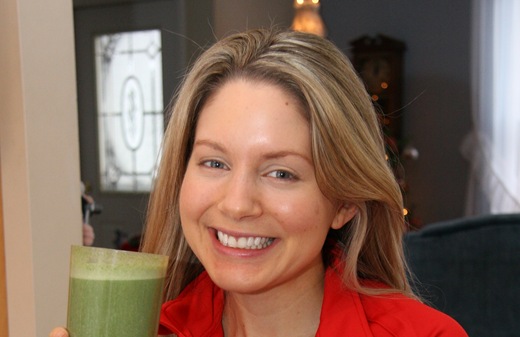 By the way- in the photo above I am wearing the Everyday Minerals 'Everyday Glo' mineral make-up. I love this stuff when I am in a rush. I woke up and just dusted some on and it gives me such a nice finish! Quick and easy.
Dad and Eric had Eggs, toast, and ham! Colleen had cereal:
Then it was time to open GIFTS!
Stocking stuffers:
Gifts…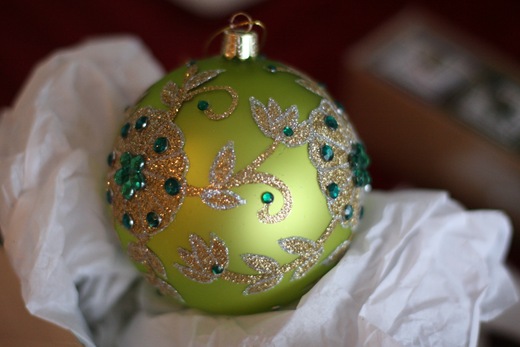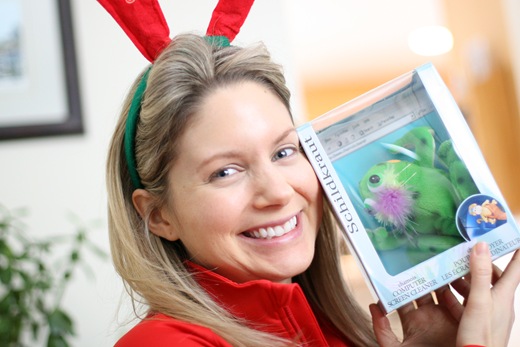 It's a computer screen cleaner: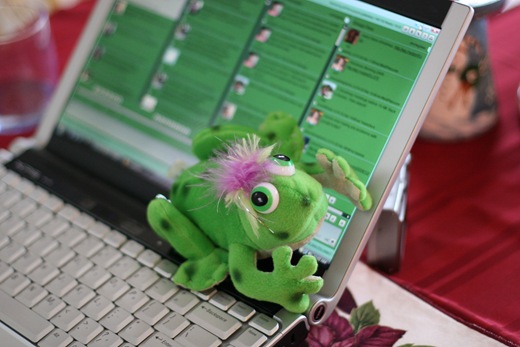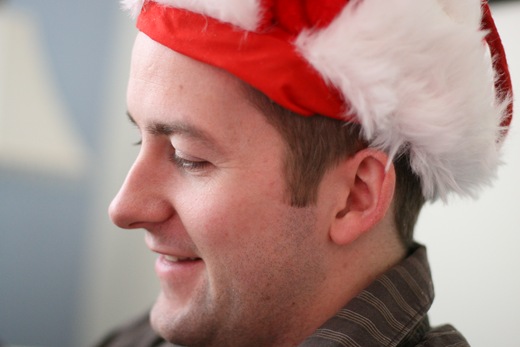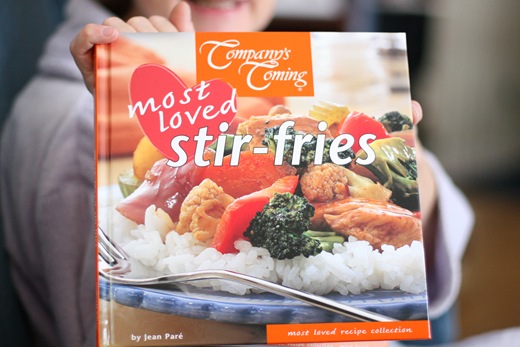 Lululemon sent me this awesome 'hockey helmet' hat and I knew my dad would LOVE it. My sister and I also got him a Montreal Canadians jersey. He has been a huge fan since he was young.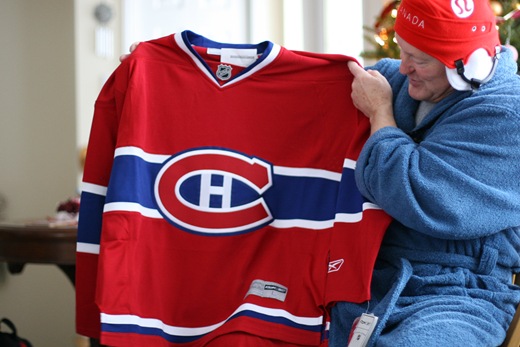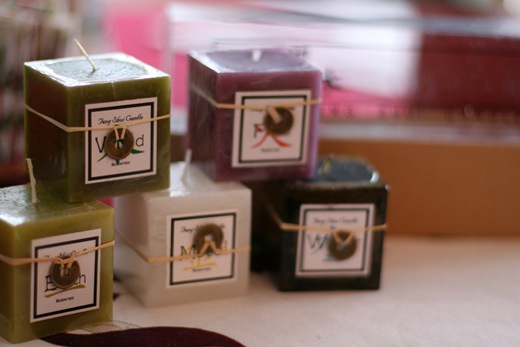 Gorgeous earrings from Allison. They are from a store called What On Earth in the Maritimes and they have awesome jewelry.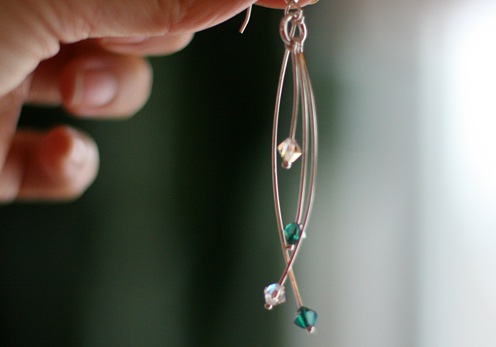 Eric and my dad are at Blockbuster renting The Hangover. Eric and I have seen it, but my dad and Colleen have not. It is one of my favourite comedies so I am looking forward to watching it tonight!
~~~~
Thank you to everyone for your sweet comments on yesterday's post. It was so nice to read them all this morning! :)
On Today's Agenda:
Un-turkey dinner
Exercise (I am also eyeing my dad's exercise bike for some exercise…I've never been a fan of exercise bikes so it shall be interesting. I may bike while watching the movie???)
The Hangover
Skype with my family out West and Ontario
I hope you are enjoying your day!!!
When do you have your Christmas dinner? 24th, 25th, 26th?  Does your family have any 'signature dishes' that they always make?