Why hello!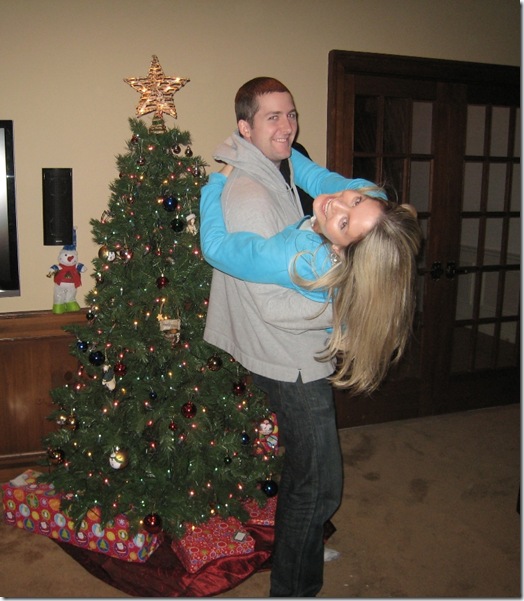 We had a lovely time Saturday night at my friend Jenn's birthday. And guess what? Not a drop of alcohol touched these lips. I know, crazier things have happened! I was proud of myself and I felt like a million bucks this morning. It was a good thing too because Sunday was all about the Christmas shenanigans!
But first, a few exciting things to mention: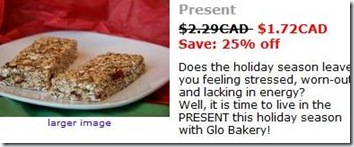 1) Glo Bakery Sale! The newest Glo Bar to hit the streets- PRESENT (Cranberry Pumpkin Spice)- is on sale 25% off now until Monday night! Click here for more info.
2) Review Glo Bars! For those of you who have sampled some Glo Bars, I encourage you to review the flavours that you sampled! All you do is click on the flavour of your choice and click on the box in the bottom left hand corner that says 'write a review'. I greatly appreciate you taking the time to rate the bars! :) Reviews have been coming in over the weekend, so be sure to check them out (bottom left hand corner will say 'read reviews') on each flavour's page.
3) Christmas Gifts: Don't forget you can pre-order your Christmas packs and gift certificates now!
4) Monday Guest Post: My Peanut Butter Coconut Swirl pancakes are making a come-back with my guest post over at Danica's Daily! Head on over on Monday to check it out.
5) Whittle My Middle: Check out how I have been doing with Whittle My Middle and my cardio workouts here and here.
6) Project Feed Me: Week 6 and Week 7 items are up!
~~~~
Back to our Christmas shenanigans!
Eric and I set a goal for ourselves this year- to finish our Christmas shopping by December 1st!
I know, I know. We are crazy.
With me being so busy with the bakery and him so busy with work and renovations on the house, we knew we had to get the shopping done with ASAP.
I also have a lofty goal of having all of my Christmas cards out by Dec 1st. Eek!
Our first stop was Costco, where we obliterated an entire family's gift list. ;) Mom, Pop, Son, Daughter. Done like dinner!
Let's take a brief moment to talk about the Costco wrapping paper, shall we?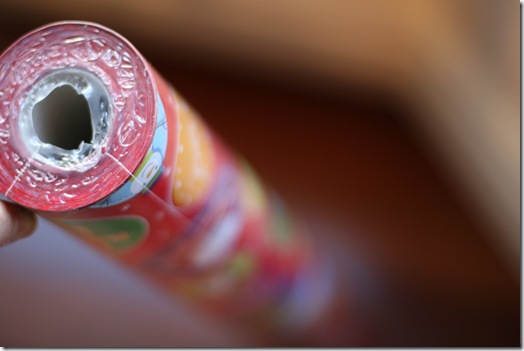 For those of you who also buy it, you know it is the best bang for your buck. It lasts many a gift and is a mere $11.96 CAD.
Well guess what I discovered today as I wrapped my first gift?
Costco's wrapping paper is now DOUBLE SIDED!
Just look! Two patterns for the price of one.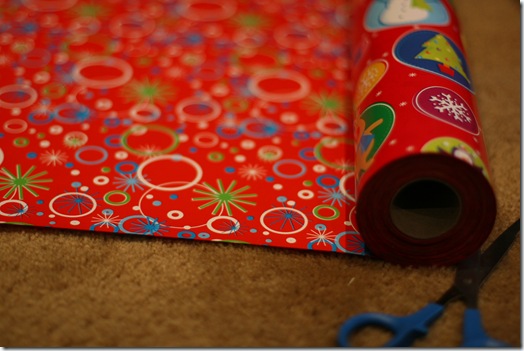 Genius!
I wrapped the 4 gifts we purchased and promptly placed them under the tree…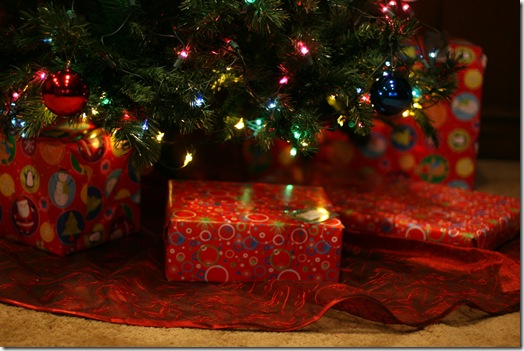 but not without a little kiss under a missing mistletoe. ;)
The second thing I am dying to tell you about: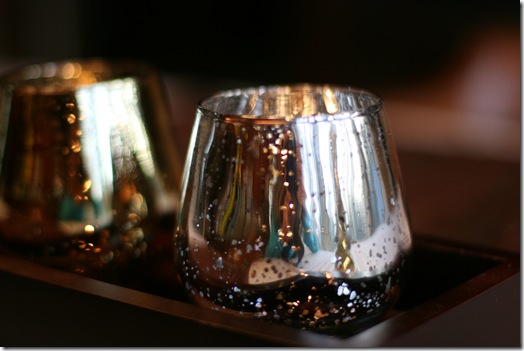 This sparkling tea-light centrepiece is quite possibly the best $15 CAD I have ever spent in my entire life. It's from Costco too.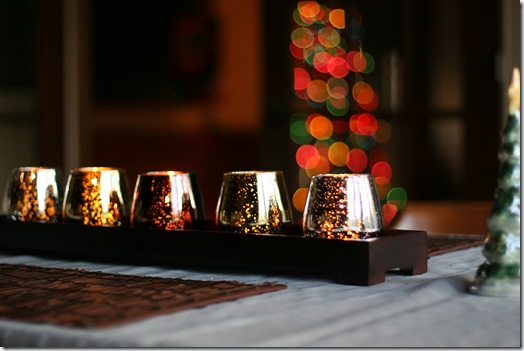 Isn't that beautiful?? It makes me so happy!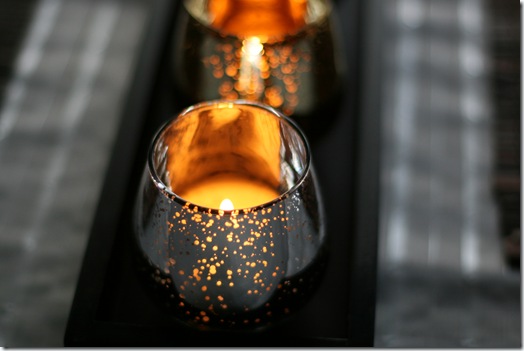 I got the last one. I could see all the evil glares from my fellow shoppers. ;)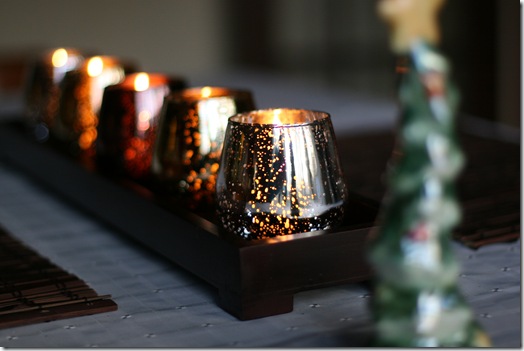 While I was busy doing the gift thang (I also bought 4 gifts online), Eric was busy outside doing the Christmas light thang. After searching through Wal-Mart, Costco, Crappy Tire, Home Deport, and Home Hardware, we found that Costco and Home Hardware had the best prices for Christmas lights.
We did our math and discovered that it would be much cheaper for us to buy spotlights instead of traditional string Christmas lights. It turned out fabulous.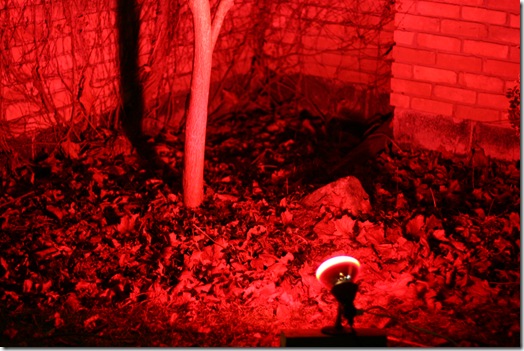 Ugly Christmas Sweater Party!
Eric and I are hosting our first official UGLY CHRISTMAS SWEATER PARTY on December 18th.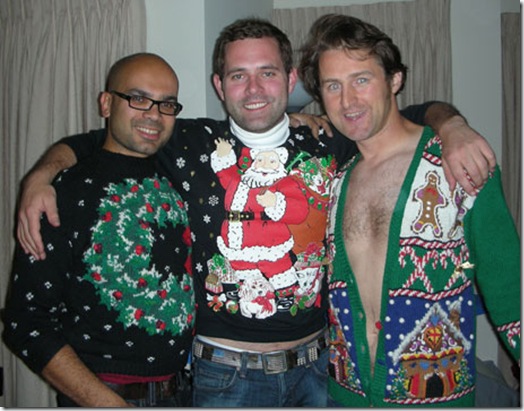 As you might guess, everyone wears a fabulously ugly Christmas sweater to the party!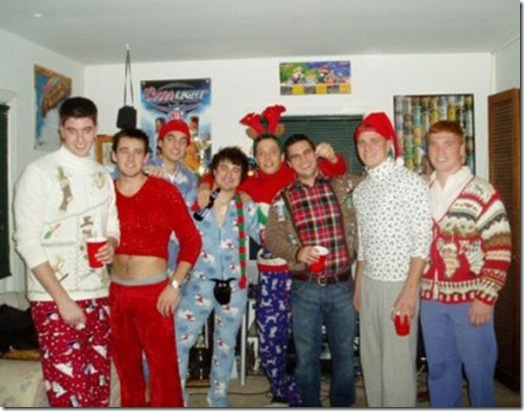 I looked at a few invites online and followed suit:
You're invited to rock around the Christmas tree
In your ugliest holiday sweater!

Only those wearing an ugly
sweater will be admitted to the party! Turtlenecks, ugly Christmas sweaters, reindeer antlers, santa hats, flannel PJ's, slippers..etc..all welcome!
Fabulous PRIZES awarded to the best MALE and best FEMALE ugly sweater get-up.

Rules are as follows:
1) If you don't dress up don't bother showing up. ;)
2) Mustaches optional but highly encouraged!
3) BYOB + 1 ugly snack
4) Feel free to stay overnight. Bring pillows and blankets and let us know when you RSVP if you will be staying over. No one is leaving the party without a DD!!!


Kindly RSVP to this invite by Dec. 1st, 2009.
Hope to see you uglier than ever on Dec 18th!
Ange & Eric
We are quite excited and we will get to work on our sweaters this week with a trip to Value Village (thrift shop). The best part of all is that I don't have to worry about what I am going to wear or spend money on a party dress that I don't need. ;)
Do you have a Christmas sweater? Or know someone who rocks them every season? Have you ever been to an Ugly Sweater party??
I used to rock the Christmas sweaters during my youth. Sadly, I don't have any of them anymore. It is too bad because they probably would still fit..they are huge!