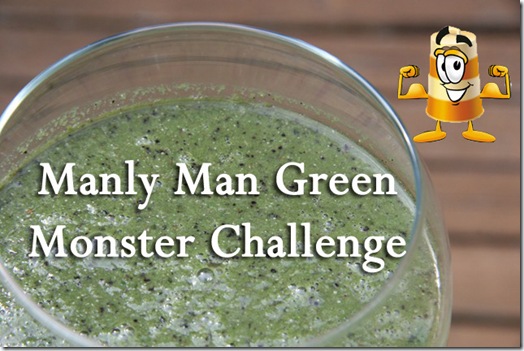 Last night, Eric and I were driving in the car on the way home from Christmas light shopping. Or should I say window shopping after seeing how much it would cost to buy lights for our house.
While driving, Eric said to me, 'How filling are Green Monsters? Do you think something like that could keep me full like cereal does…?'
I was semi-listening to him and semi-thinking about how expensive the Christmas lights were.
I said quite blasé: 'For sure they could. The length of time that they keep you full depends on what you put in it. You can make a Green Monster that keeps you full for 30 minutes and you can make them that last 3-4 Hours.'

Oh He Glows: 'I see…'

Me: 'We should probably check out Costco for Christmas lights. They might have better prices than Crappy Tire.'

Oh He Glows: 'Do you think you would be able to make a Green Monster that would be as filling as my current breakfast of Raisin Bran? Because I must say, that breakfast keeps me pretty happy all morning…'
Then it finally started to occur to me- Eric was -in his own way- asking me to make him a Green Monster!!!!!!!
I tried to keep my composure and remain calm.
Me: 'I would be up for the challenge. We need bananas and more spinach.'
Luckily, it was dark outside or he would have seen the huge grin on my face.
Suddenly, I was like a bride-to-be, flooded with planning ideas. Thoughts were swirling through my head only this time instead of ribbons, tulle, and rose petals, I was dreaming of spinach, hemp, chia, and oats.
Eric: 'Ok, Saturday morning. But don't wake me up early to drink it.'
It was a deal.
This morning I sprung out of bed like any Green Monster Mama would do. I got out all of the tools- most importantly, a calculator, pen, paper, and Eric's regular breakfast ingredients. Which were, how do I put it…quite simple and consisted of Raisin Bran (it has to be brand name, Eric says) and 1% cow's milk.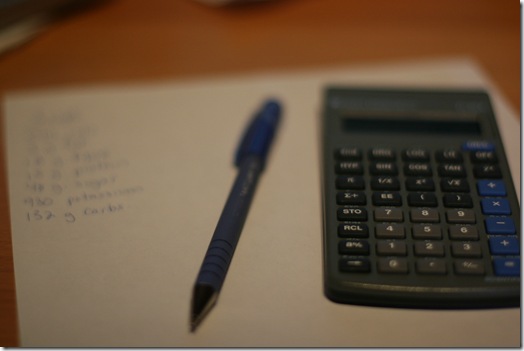 I took this challenge very seriously. I would not let my Green Monster's reputation tarnish over some haphazard combination of ingredients. This had to be a Manly Man's Green Monster.
Eric's Traditional Breakfast: Raisin Bran and 1% Milk: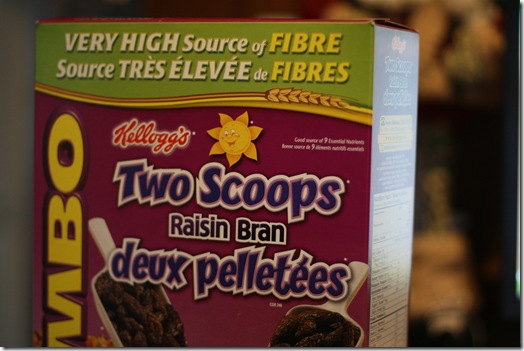 Eric's traditional breakfast consists of: 3 cups Raisin Bran (yes I measured how much he normally has in his bowl) and 2 cups of 1% cow's milk. It is a huge bowl of cereal. He is also 6 foot 2 and has a hole in his stomach, so I digress.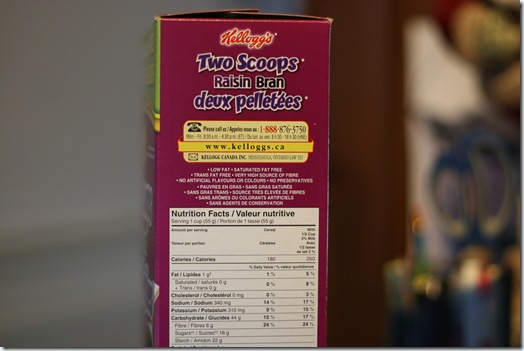 His traditional breakfast equates to:
780 calories
8 grams fat
18 grams fibre
35 grams protein
162 grams of carbs
I knew immediately that I could produce a more well-rounded breakfast. The carbs-fat-protein ratio was way out of whack (too many carbs, not enough fat). More on that below.
I began creating a Green Monster manly enough to keep Eric full for the morning, or so I hoped.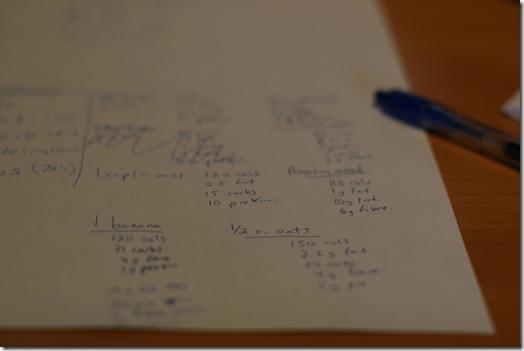 I had to keep in mind that I had to also create a Green Monster that he would enjoy and actually be able to drink!
Here is the recipe I came up with:
Manly-Man Green Monster
Ingredients:
1 cup 1% cow's milk
1 large banana
2 cups spinach
1 T chia seeds
1/2 cup oats
4 Tablespoons (1 serving) Manitoba Harvest Hemp Protein Powder
1 scoop Amazing Grass Chocolate Amazing Meal
1/2 cup Water
4 ice cubes
This Green Monster equates to:
735 calories
15.5 grams of fat (mostly healthy fats!)
21 grams of fibre
52 grams of protein
87 grams of carbs
To compare, side by side:
Eric's Cereal Breakfast
Manly-Man Green Monster
 
 

780 calories
8 grams fat (4%)
35 grams protein (17%)
162 carbs (79%)
18 grams fibre

735 calories
15.5 grams of mostly healthy fat (10%)
52 grams of protein (34%)
87 grams of carbs (56%)
21 grams of fibre
As you can see, the ratio of protein-fat-carbs is much more balanced than in his original breakfast. I specifically wanted to increase the healthy fat and protein and decrease the carbs. By doing this, I hoped to increase the satiety effect of the Green Monster.
Behold my creation: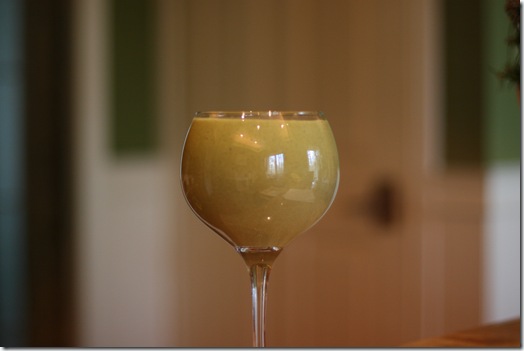 It actually wasn't cold enough, so I had to transfer it into a plastic cup and put it in the freezer for 30 minutes. I would accept nothing short of perfection!
Here we go….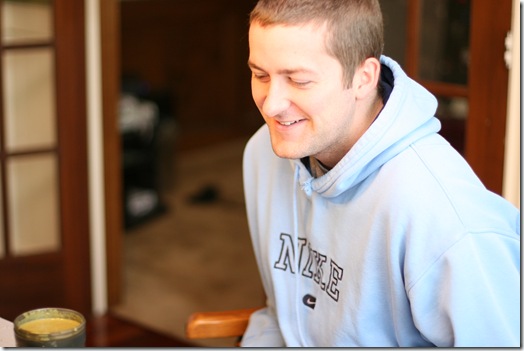 If you couldn't tell by the pictures, he HATED it. :( :( :(
He said it was way too thick and had the texture of Maalox!!!! He only got a few sips down. Needless to say, I was crushed. :(
However, after we talked about it some more, we both concluded that my Green Monster was a bit over ambitious. Cramming that much protein into a GM was recipe for a taste disaster!
I am not one to accept defeat my friends.
I got back on the horse and made another concoction, this time my Virgin Green Monster. We clearly needed to start off slow here.
His second GM: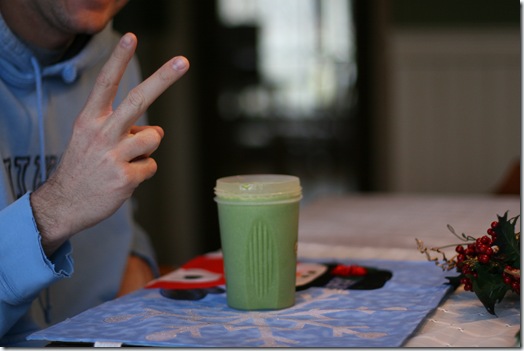 As you can see, this GM was not thick at all. Progress.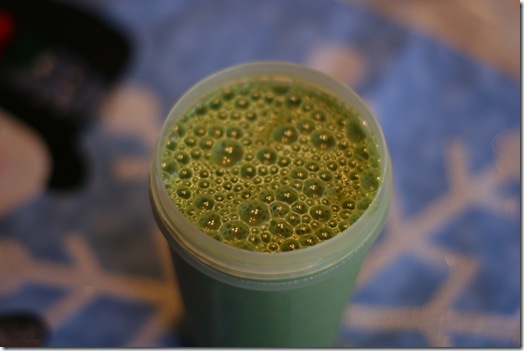 Manly Virgin Green Monster
Ingredients:
1 cup cow's milk
2 cups spinach
1 banana
ice
1/2 serving Manitoba Harvest Hemp Protein Powder (10 grams protein)
1 T chia seeds
Manly Virgin Green Monster
405 calories
9.75 grams fat (11%)
24.5 grams protein (27%)
57.25 carbs (62%)
13 grams fibre
I was still very happy with the ratio of fat-carbs-protein in this virgin GM. I knew it wouldn't be able to entirely supplement his breakfast, but it was a decent start!
He smelled it of course. ;)
Over-joyed, can't cha tell? :D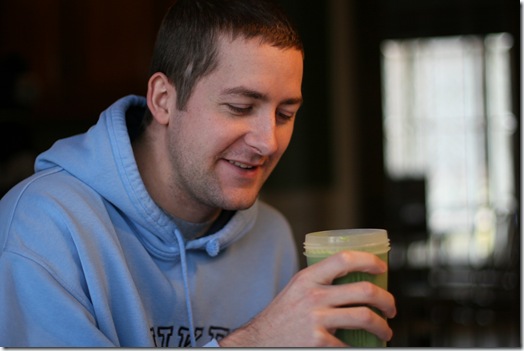 His response?
MUCH better than the last one. He actually enjoyed this one and said it was more of a drink and less of thick sludge (lol). He drank the whole thing. Whew.
He said he might drink some in the mornings, along with a smaller bowl of cereal. We shall see… ;)
Does your man drink Green Monsters?
~~~~
We are off to Costco to search for Christmas lights. :) Then, tonight I'm off to the big city for a girls night out. Time to dust off the stilettos…I will be Tweeting throughout the night on Eric's cell!
Also check back for updates on Whittle my Middle and my Workouts on the Run page.
Enjoy your Saturday!