Good morning!
First up! A quick reminder…
Don't forget to check out my guest post over at Silly Tater Tot where I talk about all of my favourite vegan baking tips!
GLO BAR GIVEAWAYS going on now:
Check out Katy's Glo bar giveaway

Check out Michelle's Glo Bar giveaway

Check out Julie's Glo Bar giveaway
Next up…
This morning I channeled my inner PSS (Project Snow Strength) and I headed outdoors for a mini bootcamp. It was a a cool and wet 4C outside so I bundled up.
Project Snow Tip #5: Use outdoor items (like stairs or a bench) as workout equipment!
Here is what I did:
Warm up

: 1 mile walk at a fast pace around neighbourhood
20 lunges (on each leg) off a step in backyard
two sets of 10 push-ups on incline (off a step)
two sets of 50 jumping jacks
1 mile bike around neighbourhood (fast as I could)
Walking lunges for 2 minutes across yard
Front plank on incline for 60 seconds
Ran up and down stairs for 60 seconds
3 sets of 10 Tricep dips off step
50 jumping jacks
1 mile power walk around neighbourhood
Three sets of 15 squats
two sets of 10 push-ups on incline (off a step)

Cool down

: Light walking for 2 minutes
Stretching and yoga poses
The bootcamp took me about 45 minutes from start to finish and I felt so energized at the end of it. :)
~~~~
Today is the official Blogger Vegan 4 A Day Challenge!
Since I am already a vegan, this challenge is obviously easy for me. ;) However, I decided to put on my food blogger hat and blog 3 times today showing all of you what a typical day of vegan eats looks like for me. Make sure to come back for lunch, snacks and dinner!
Breakfast:
My day usually starts off with a Broccoli Sprout Juice or Wheat Grass Juice shot (see this post for more info!). Followed by Japanese Sencha Green Tea and a Green Monster.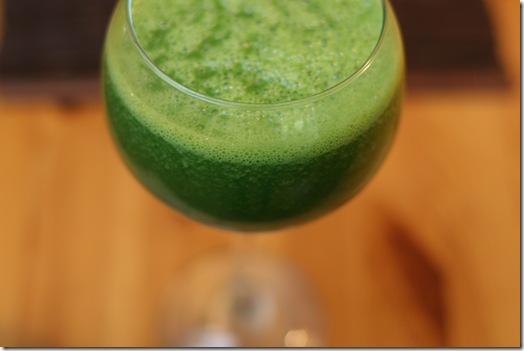 My GM's vary a lot each day, but my 'go-to' green monster lately has been this:
Ingredients:
1 cup hemp milk
3 cups spinach OR 3 cups kale, cooked
3-4 ice cubes
1 T almond or peanut butter
1 T chia seeds
1 scoop Hemp protein powder
1 T Amazing Grass Wheatgrass
1/2 frozen ripe banana
few pineapple chunks
Kyolic Garlic extract
I also take my vitamins every morning with my green monster: B12, Calcium/Magnesium, Vitamin D, Vitamin C, Spirulina. I take Calcium/Magnesium and Vitamin D twice daily. Oddly enough, I don't take an iron vitamin and my iron has been the highest it has ever been since going vegan. My doctor thinks this is because of the kale/spinach in my green monsters (make sure you cook it though!). :)
Mid-morning Snack:
This will be my mid-morning snack:
1 organic apple with 2 heaping tablespoons of Almond Butter.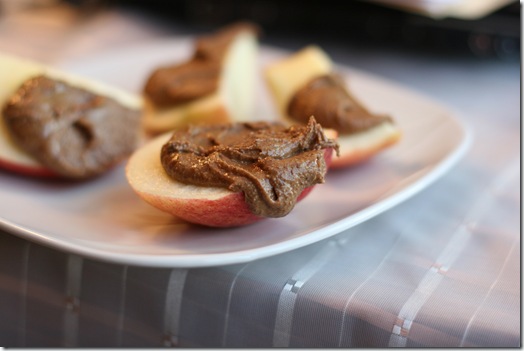 I couldn't resist zooming into this gooey goodness…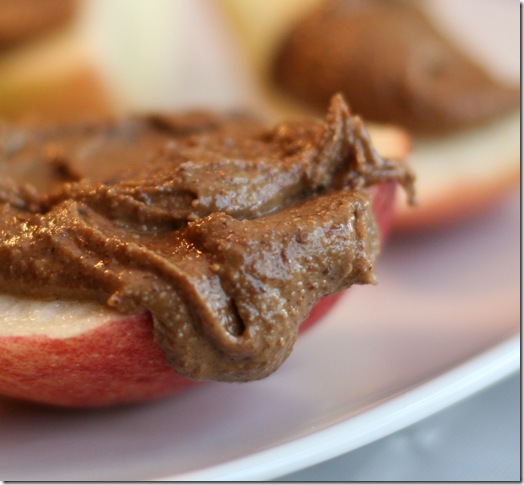 This is definitely a power snack!
Remember this power snack contest that I held back in January??? So much fun!
Whittle My Middle Updates!
How is everyone doing with the challenge so far? Today marks day 9- already! Here are a couple observations I have made:
1) When doing planks my arms tire before my abs do. I have also heard this from a few of you too. I have found that if I focus on contracting my abs, it helps put the effort back into the abs instead of the arms. Anyone out there who wants to offer more tips?
2) The slower I do the stability ball roll-outs the better they work. Squeeze your abs while doing them. Works great!
3) I still hate the Jackknifes. They are so hard! I can barely squeak out 15 reps.
4) My abs feel so much stronger only after 8 days. It is very motivating!
5) Taking a short rest in between exercises helps me be as strong as I can be for each exercise. When I rush the workout, I notice that I don't perform as well.
Don't forget, you can follow my Whittle My Middle workouts on my abs page!
~~~~
See you later for lunch! I'm off to bake, pack, ship.
Have a great Thursday. :)