Good evening!
Krissy and I had a fun get together in Toronto today! We went to Lululemon (surprisingly, I walked out empty-handed!) and also to Fresh.
With all the crazy Swine going around, we decided to start off our lunch with an Immune Elixir: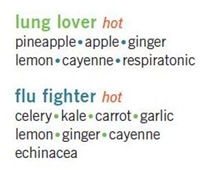 <——- Krissy
<——- Me
Lung Lover (left), Flu Fighter (right):
I had the Flu Fighter back on our anniversary weekend. I knew today I had to get it again. It was even better than I remembered. Warm, soothing, intense, and ginger-y.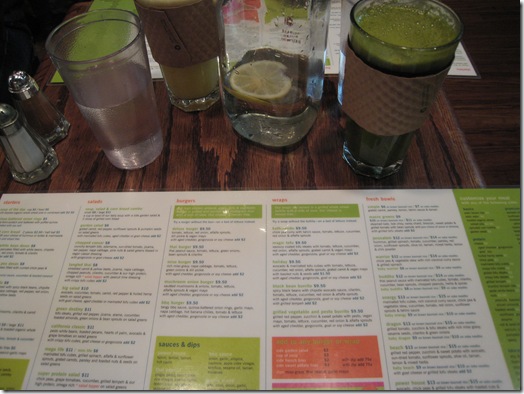 For lunch, I tried my first salad at Fresh and it did not disappoint.
I got the 'Big Salad'. I felt like Elaine from Seinfeld. ;)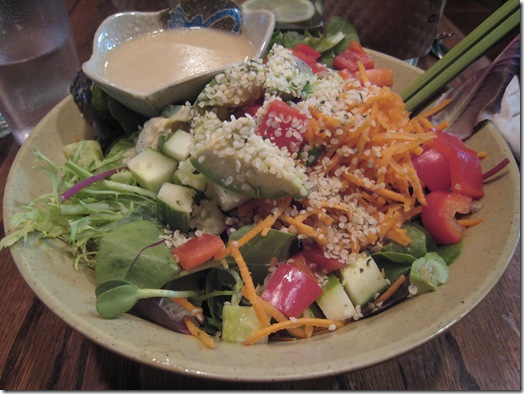 I had mine without cheese, but with marinated tofu. I rarely eat tofu anymore as I have been trying not to buy many processed veggie products lately (its cheaper to buy beans/lentils!). I had it for a 'treat' today as I do like tofu on occasion. However, I wasn't a huge fan of this tofu. I prefer my tofu baked and crisp and we thought this was raw? It was …..'meh' I ate half.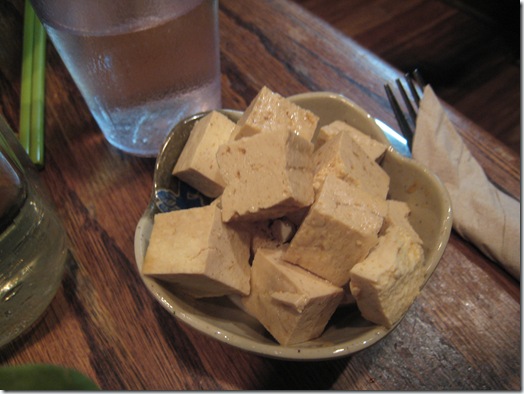 The salad was delicious though. Especially the homemade dressing: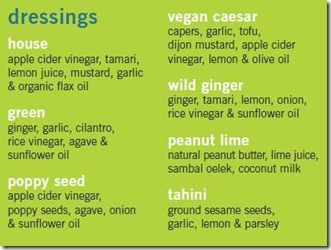 I had the Wild Ginger dressing and it was TO DIE FOR!!!!!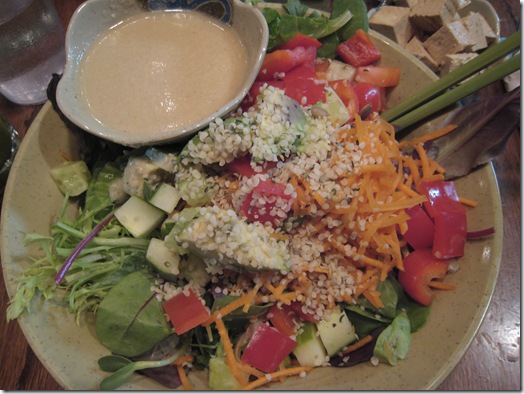 Yum.
Camera Curse:
Unfortunately, my camera battery died when we went to get a picture together. What is it with my camera dying at Fresh?! lol. Unfortunately, I lost my battery charger for my point-and-shoot so I have no idea when I will be able to charge it again. Looks like I will be lugging the SLR everywhere for a while!
On that note- Bad news about our SLR. Remember when I told you Eric dropped it? Well, apparently something bad did happen. :( We took the backlight flash off the camera yesterday and we discovered that the regular flash (the one built into the actual camera) no longer works. It won't even pop open. :*( I am devastated. We are going to see if it is under warranty, but I doubt it since we've had the SLR for 3 years now. *sniff, sniff.
On a happier note, Krissy and I had a great time and it was fun being a big city girl once again! The lovely Alex was supposed to join us, but she is sick with the flu. Feel better soon!!!
~~~~
Whittle My Middle News!
1) Stability Ball Roll-out
The amazing Lexi from The Ramblings of a Healthy Student read about our Stability Ball Roll-out woes and she offered to do a video demo for us!!!
Check it! Make sure the volume is up high.
Isn't she a doll? :D
I took Lexi's awesome advice and lo and behold the move WORKS!!! I was doing it all wrong. Thank you Lexi!
PS- We have the exact same stability ball! ;)
2) Yoga for Sore Abs?!
Are your abs sore and tight from the onslaught of core exercises? I discovered a great yoga pose to help stretch out those sore ab muscles!
The cobra pose is amazing for stretching out abs!!!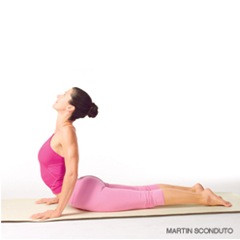 I do this pose at the end of every Whittle My Middle session and it feels incredible. Try it!
3) Stability Ball for a sore back!?
I love playing around on my stability ball. I have discovered that it is not just for abs- it is actually a great stretching tool. I lay all over it and twist and turn and it stretches out my back so wonderfully! I love this move in particular: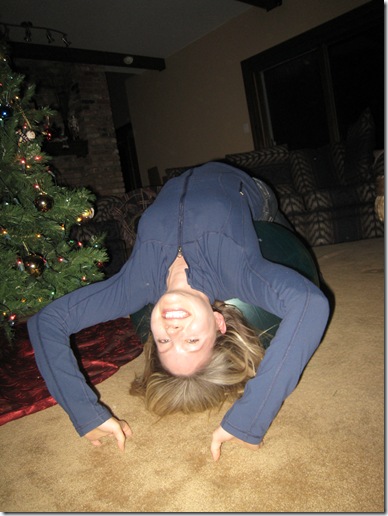 Weeeeeeeeeeeeee…….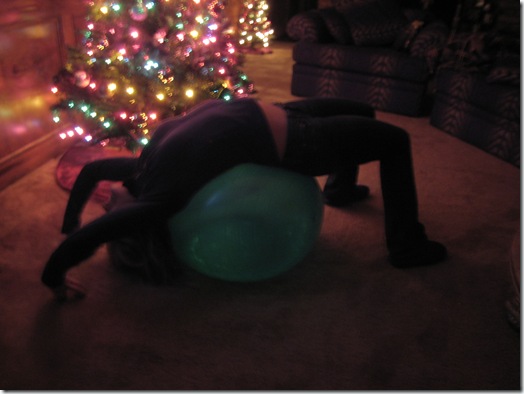 Ahhh it feels sooooo good on my back. Such an amazing stretch.
I figure I spend most of my waking hours with my back hunched in the opposite direction, so it is nice to stretch it the other way for once. ;)
Here I am at the gym yesterday doing my yoga and core work: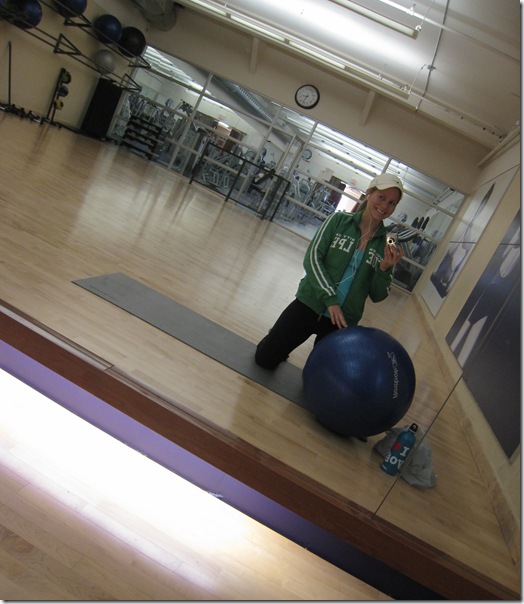 Sporting my undergrad university zip-up- University of Guelph. Loved that school so much. Any Gryphons out there?
The past couple days I have been doing some intense cardio on the gym's Stepmill. I am convinced the stepmill is the hardest cardio machine out there. I am the only one ever on the damn thing at the gym! lol.
Today I did 45 min. on the mill at intensity 10-12. Man oh man was it hard. I was drenched in sweat afterwards. Such a great workout. I skipped my abs today as I doubled up on the WMM moves yesterday.
I am going to be quite sad when my free gym pass runs out. It has been a nice change of scenery.
You can follow all my workouts on my Run page as well as my Whittle My Middle workouts on my abs page.
~~~~~
Glo Bakery:
I just made every single flavour of Glo Bar available in the shopping cart!!!!!! This is the first time I have ever done this, so if there is a flavour you have been waiting on, get it while you can! They won't be available for long.
Don't forget that pre-ordering for holiday gifts is happening now with 10% off the gift packs until Nov 20th. The orders are already filling up fast so get yours in soon before it is too late.
~~~~
My new addiction:
I'm off to watch Gossip Girl. I watched Season 1 Episode 1 last night and I am officially HOOKED. I can't believe how addicting this show is! I wonder how quickly I can get caught up on all the seasons?????
Have a lovely night!