Good morning!
I'm glad you enjoyed The Story Of The Green Monster. :) It feels good to have it told.
~~~~
Eating dinner with Christmas ambiance is so much more fun, wouldn't you say?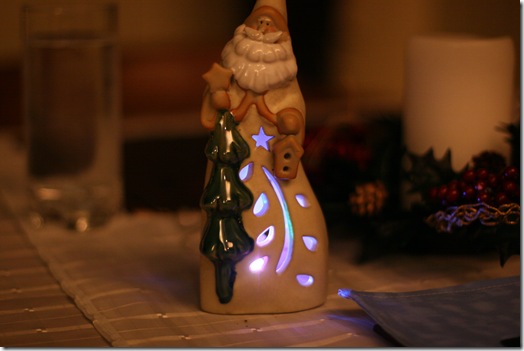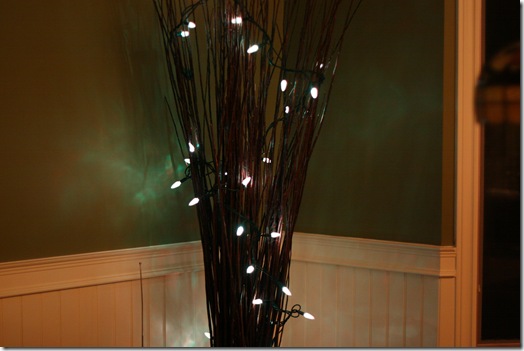 The view from our dinner table makes me feel all warm and fuzzy inside. The time spent in our family room has increased ten fold since these decorations went up.
Last night Eric and I finished watching Julie and Julia. Oh my gosh was it ever a great movie!!!! Eric had me in hysterics laughing because he kept imitating Julia/Meryl's accent. I don't think I have laughed so hard in ages. I could relate to the movie a lot because of course it was about blogging and cooking! Definitely check out this movie…it was unique like no other!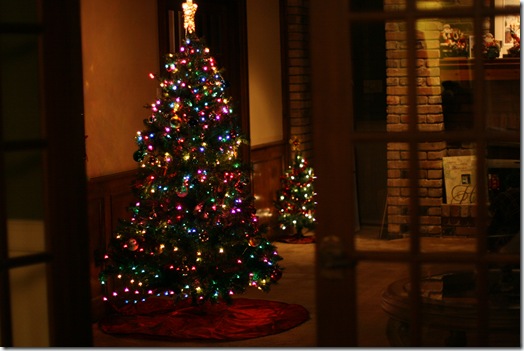 I'm still on my huge Quinoa kick…I now buy all my grains and protein in bulk to save on packaging and cost. Beans, lentils, quinoa, brown rice, couscous, you name it, it's in my basement. One bonus of a vegan diet? You end up saving so much money not buying meat. Grains and lentils are so cheap, especially when you buy in bulk. This meal below cost me approx. $1.35 (and that was mostly because my olive oil is pricey).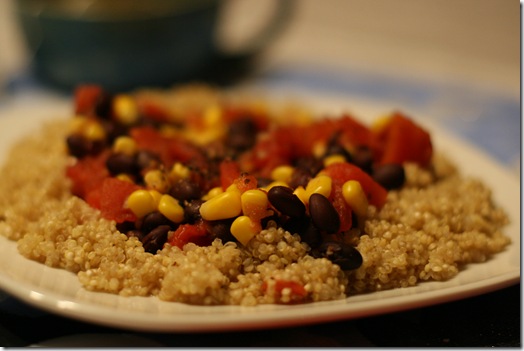 I am crazy for this Organic Chamomile with Lavender herbal tea. I had NO idea that I loved this tea until I had it last night. Dare I say that it may be my favourite tea aside from sencha?! WOW. To say it is a relaxing tea is an understatement. I felt like I was in a spa while sipping it! I am going to buy more asap. I wonder if they have it in loose leaf?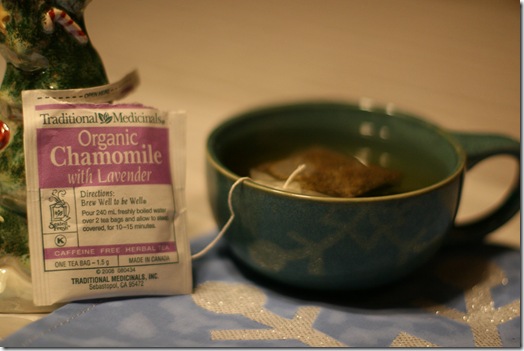 In case you are wondering, it takes great balance to hold a SLR camera + backlight + fork + food and get the picture to turn out. LOL. Aw, the things I do for you guys. ;)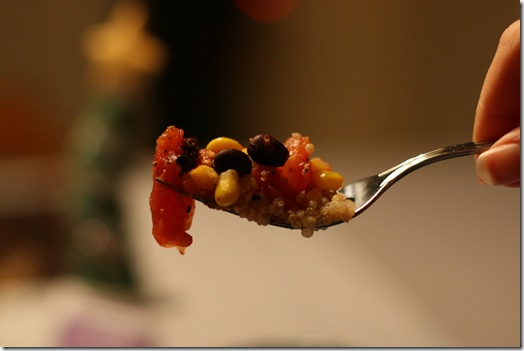 Black Beans, Corn, and Tomatoes over Quinoa
Ingredients:
2 cups cooked black beans
1 can diced tomatoes (with salt)
1 can corn
1 T Extra Virgin Olive Oil
Italian Seasoning
Fine grain Sea Salt (to taste)
Black Pepper
Cooked Quinoa
Directions: Cook the black beans (or you can use canned too). Add first 7 ingredients into a saucepan and heat over low-medium. While this is heating up, cook quinoa. Serve the bean,corn, and tomato mixture over a bed of quinoa.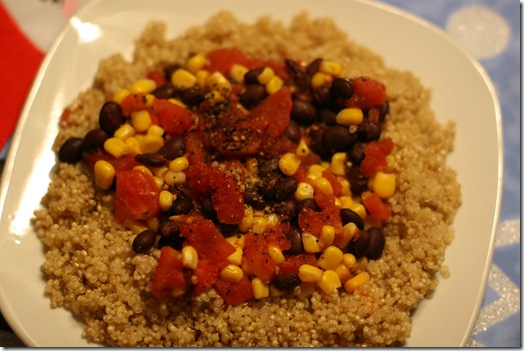 This dish was very basic, yet quite satisfying. Very high in protein too! It made a great recovery meal for my poor abs.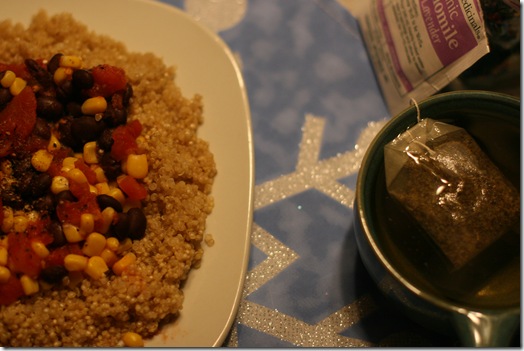 Other fun happenings to know about…
1) Glo Bakery:
2) Whittle My Middle:
I meant to mention as well that for my waist measurements, I took one at the smallest section of my waist (couple inches above my belly button) and then the widest section of my waist (a few inches below my belly button). This will vary for everyone, so just make sure the area you measure is consistent between measures should you chose to do so.
Is anyone else finding that the stability ball roll-out (#5) doesn't work very well? I don't find it that challenging. I am thinking about subbing the exercise with something else. Maybe I am doing it wrong? Ideas?
My abs hurt. But in a good way if you know what I mean. Everyone said they hate me onTwitterthis morning. :( heh.
Someone asked where my before picture was for the last Bikini Boot Camp Challenge. It is here. In two months I was able to loose quite a few inches, so hopefully in a month I can do about half that progress. I will likely be revealing this challenge's B+A at the end.
Don't forget you can follow my Whittle My Middle workouts each day on the new Abs page!
3) Veganize My Recipe Challenge:
US Thanksgiving is approaching!

Do you have any special Thanksgiving recipes that you make each year and you want them veganized (no animal products like dairy, eggs, etc) and made healthy? Email them to me [email protected] and I will be selecting a couple to 'make-over' over the next two weeks! It can be anything from side dishes, mains, to desserts.
Enjoy your Friday!!!!!!!!!!!!!