I think Eric found out that sticking produce stickers on your spouse's things is actually fun…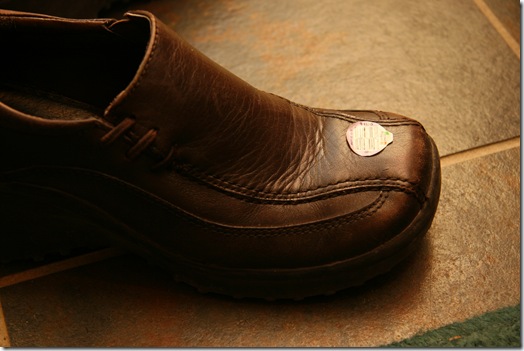 I found this on my shoe yesterday!!
I picked up our house phone and dialed his cell phone. Eric answered his cell and I simply said, "I know what you did."
Click.
Naturally, I got him back…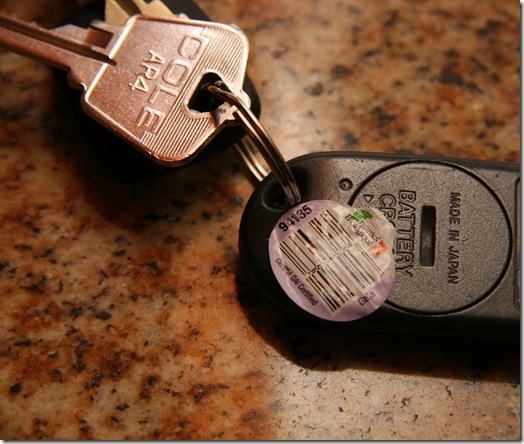 I put one on his key chain this morning. Sure enough, 5 minutes after he left the house I got a call, from some creepy man…"You may have won this battle but you won't win the war…."
Click.
Started off my Monday just fabulously.
It gets better my friends, oh yes, it does. Better than I ever imagined.
A reader named Jo, pointed me to this website where Barry Snyder from Erie, Colorado, makes Produce Sticker ART.
You just can't make this stuff up!
Some of his amazing works of art…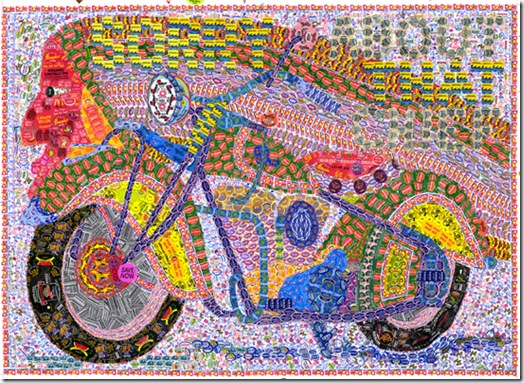 Look familiar?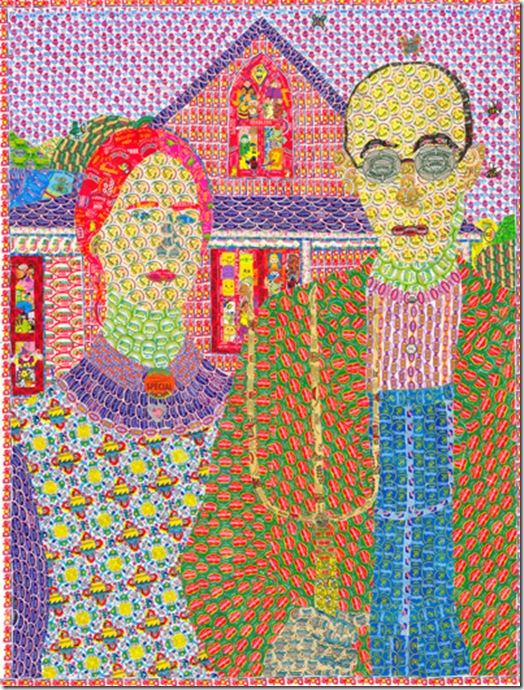 Barry encourages you to MAIL him your produce stickers and he will use them in his works of art!
He writes,
S.O.S. Foundation (Save Our Stickers)

I ask you to pause for a moment, and think about the humble food sticker. Performing his (or her) appointed duty without complaint. Without these noble stickers our food distribution system would utterly collapse! Modern Society would simply starve to death!

And yet, once they arrive at their new home, reveling in the successful completion of their noble mission, these stickers are callously cast away, fated to some foul-smelling landfill! Is this fair? Is this right? NO! I say they deserve better. Now there is hope!

S.O.S. the Save Our Stickers Foundation provides a new home and a meaningful purpose to these unassuming stalwarts of our supermarket lifestyles. Won't you please help? If you could find the compassion in your heart to simply peel these valiant warriors off the skins of your preferred produce and then place them, sticky side down, on a piece of notepaper (paper, not plastic) they can live as artwork, (united with thousands of fellow food stickers as part of a symbiotic visual presentation), bringing joy to young and old alike.

Please send your stickers to:
Barry "Wildman" Snyder
POB 301
Erie, CO 80516

With you there is hope!

Sincerely,
Wildman
It just doesn't get any better than this folks. Personally, I would die happy if he did one for OSG. ;)
Produce sticker lovers UNITE!
What's the strangest art you have ever seen?
In my old university town, there was this huge display of garbage art. People picked out pieces of trash out of the bins and made it into art. It was quite fabulous.
Of course, we can't forget Spencer Tunick's naked people art.
~~~~
In other news:
Do not put the roasted chickpeas into Tupperware before they are fully cooled. I did, and my batch went soft. I have been sprinkling the softened chickpeas onto salads and it is great!
Congrats to Caitlin from Operation Beautiful and HTP for her Foodbuzz award!!!! :D :D :D
Project Feed me items are up for week 5! There is also a HUGE giveaway to enter for awesome girlie prizes.
Got in a great 45 min. elliptical workout + baked for 9 hours today. Now I'm off to do yoga for my back and my core work! Then I am going to pass out on the couch I hope!!!!!
Stay tuned tomorrow for a new Variety pack including my two NEWEST flavours- Empower and Present!!
Hope your start to the week was HEALTHY and GLOWING! :)