Good morning and happy Saturday!
It is absolutely BEAUTIFUL in Southern Ontario today. Sunny, warm, and I heard we are supposed to have warm temps all week! It feels like September!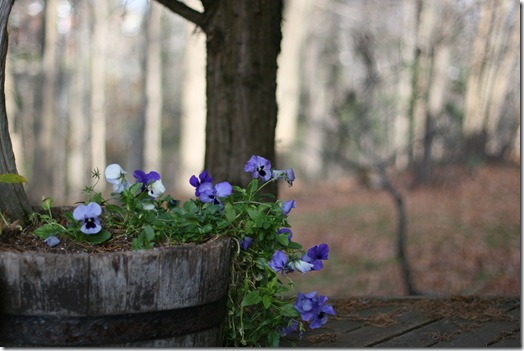 1) Do we like to vent or what!? Can I just say I had an absolute blast reading about everyone's annoying habits!? I kept bursting out laughing while reading them. Who knew so many of us had a sticker on the sink habit! Eric said, 'I think it's a GIRL thing' when I told him. hahahaha! It was too funny. Oh, the beauty of human idiosyncrasies, eh?
2) I thought of another one of Eric's habits. Whenever he puts the detergent in the dishwasher it never fails that he leaves a trail of detergent across the floor. I always know he has been there when I see it. He knows it bothers me, so what does a loving husband do? He takes his foot and sweeps it near the baseboard so I don't see it!!!!! Now that is love. He said another of mine is that I don't change the toilet paper or paper towel rolls when they run out (SO not true!!!!). ;)
3) I must apologize for my absence yesterday! It was 'one of those days'. Everything that could have gone wrong did, but luckily I kept a positive mindset about it all. I always repeat this mantra in my head, 'Life is too short. I could die tomorrow and none of this would matter.' Sounds morbid, but it's true!
As you may know, I have been having a lot of problems with my organic wholesaler. Many messed up orders, etc. Yesterday I went to pick up my order (I was out of BRS and couldn't wait until my delivery day next Thursday) and I hurt my back lifting the 55 pound pails off the loading dock!!!! As soon as I lifted the pail down onto the ground my back screamed in pain and I knew I did something bad. I am sore today, but luckily I think icing it, yoga, massage (thanks E-Dawg!) and taking ibuprofen really helped or it would have been much worse.
Whenever I am having one of those days, I remind myself of good things that happened…
4) A few things that did go right for me yesterday:
I had a fabulous workout on the elliptical
Glo Bakery was Featured in the November Veg News Newsletter
I met up with Krissy for tea
I developed a new Holiday Glo bar, holiday variety pack, and gift certificates (coming soon!)
I realized I need a portable timer (see below)
You win some, you lose some! :)
~~~~
Vegan Party Snacks!
We are going to a get together at my brother and sister in law's tonight so naturally I have been baking up a storm!
Last night, I decided to make Mamapea's Pumpkin Spice Roasted chickpeas that have attained nothing short of celebrity status around the blogs lately.
I was so excited to make my first ever batch of roasted chickpeas!!
The wonderful ingredient line-up: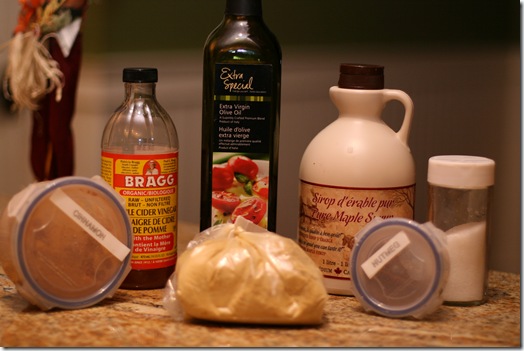 Pumpkin Spice Roasted Chickpeas
1 can of chickpeas, rinsed, drained and patted dry
2 T. maple syrup
1 t. canola oil (or oil of your choice)
1 t. apple cider vinegar
1/8 t. salt
1/4 t. nutmeg
1/4 t. ginger
3/4 t. cinnamon
1/2 cup Pepitas (my addition)
Preheat oven to 350 400.  Combine all ingredients in a large mixing bowl until evenly coated. Spread on a cookie sheet lined with parchment paper. Cook for 35 45 minutes, stirring every 10-15 minutes.
Of course, I sampled what they tasted like before cooking and they were delicious! WOW. I could totally see myself just eating them like this, sprinkled over a salad. Pure heaven.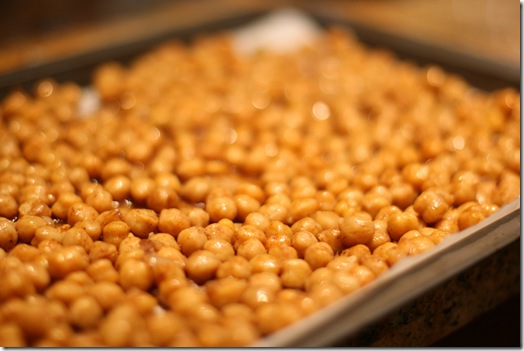 And because my day was going so swimmingly, I did this: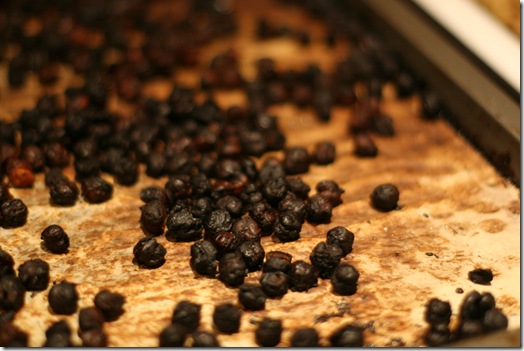 Note to self…get a portable timer and use it! ;)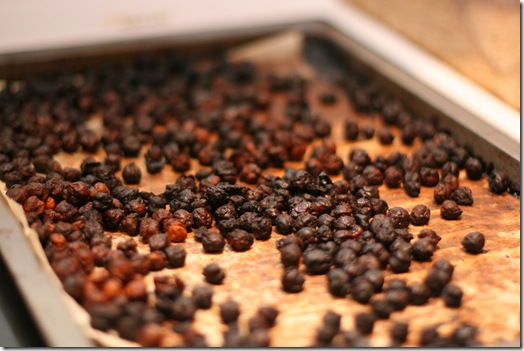 I was on Twitter and all of a sudden it hit me that I forgot about them in the oven for over 1 hour longer than they should have!!!! The house still smells like burned chickpeas!
Batch number 2 this morning was much more successful!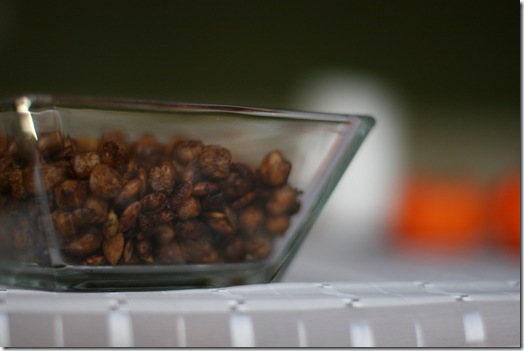 I can't even describe how good these taste!!!!!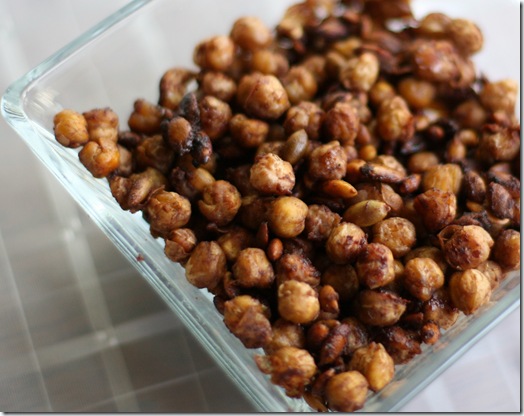 You guys have to make these! Talk about the perfect party snack!!! I have a feeling these will go very fast!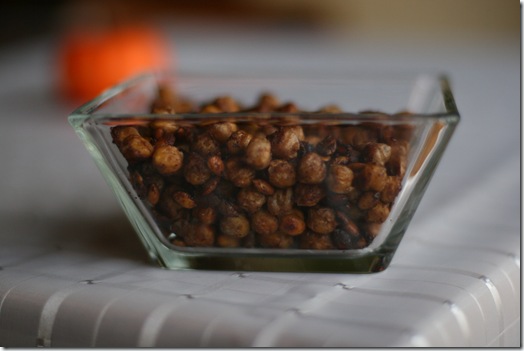 My modifications:
I used raw chickpeas and cooked them (takes longer, but saves money)
I cooked them about 10 minutes longer than suggested to crisp them up more
I added 1/2 cup of Pepitas for more crunch
I cut down the salt in half
I doubled the batch (but should have tripled it or more!)
Cooked them at 400 instead of 350
They are a MUST MAKE AGAIN! Thank you Mama!!! :D You are amazing!!!!!
~~~~
Then I made a total GOURMET vegan dip: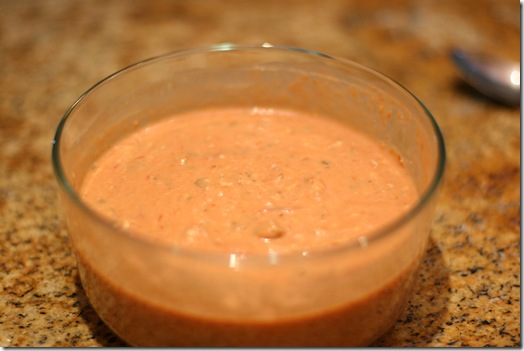 actually it was one of the easiest dips I have ever made!
Directions: All you do is take a bottle of salsa and half a cup of hummus and mix them together.
It taste so creamy and delicious. People will think that you spent hours preparing it! I am bringing along some Mary's Crackers for dipping and some tortilla chips. If you want to get really fancy dancy you can sprinkle chopped green onion over the top. Just fabulous!
Have you ever had roasted chickpeas before? What did you think?
~~~~
I have a bunch of stuff to do before my brother's tonight: Workout, writing, packing, more party snacks (to come tomorrow!), baking orders, and a special assignment that I will be revealing mid-month. Better get to it!
For those of you who have been asking about Holiday Glo Bar packs:
I will be revealing them this week and pre-orders will commence!!!!! I am so excited about this and can't wait to show you what I have been planning.
Have a fabulous Saturday!!!

If you want to succeed, double your failure rate.
Thomas Watson