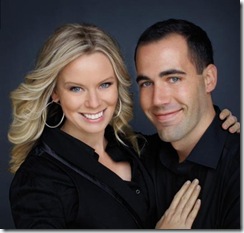 Hey everyone!
What a crazy busy week this has been. Sorry for my MIA status yesterday. I was just itching to post, but time was not allowing me to!
If you remember, back in the summer I ran the Summer Glow Boot Camp! The top prize was a photoshoot with the amazingly talented Dave and Charlotte!
Dave and Charlotte shot our engagement (view slideshow here):
As well as our wedding (view slideshow here). We also did some fun Bridal Modeling with them too!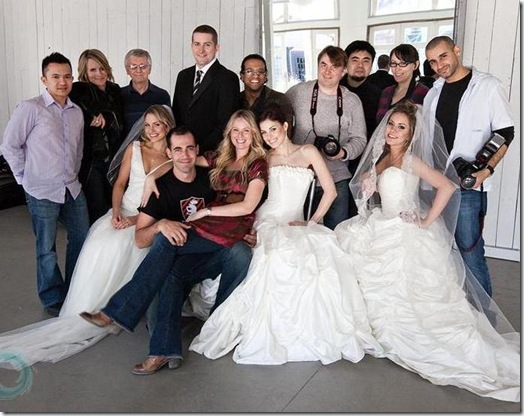 What they do is truly outstanding work to say the least.
As a bonus, they are also super friendly, down to earth, and just all around cool people to hang out with. Oh and did I mention they are also engaged and super in love? Ok, I'll stop gushing now! :D
Sarah was the winner of the photoshoot and I am happy to reveal some of our favourite shots of the day!
First, this was Sarah's winning entry for the contest:
Dear Dave and Charlotte,

As a Toronto native, I was immediately struck by the beauty you capture in local settings before noticing people! I attribute this to the Landscape Architecture graduate program I'm currently completing. I was never content with Toronto. We take many field trips there year-round. Visit new sites such as the Brickworks and Tommy Thompson park continually shows its its magic! There's no ocean or mountains – but I'm finally seeing a metropolis humbly boasting 1st place for multi-culturalism in Canada! In your Toronto pictures, I proudly recognize parks and locations. Wow, what vision! You seamlessly use lighting to create moods from dreamy to hot&steamy to vibrant to dreamy.

I am Indian+African by heritage. Growing up in Toronto (I'm 23!) I was the odd one out because of my culture/celebrations and skin tone. I'm beginning to embrace my distinct, strong, unique heritage and celebrate it from within, to glow outside. I'm appreciating my distinct features and feel prettier everyday based on my own honest opinions, not what others think. I'm petite but have enviable tanned skin, full lips, large and dark fawn eyes and thick straight black hair and eyelashes! Soon my inner glow will never be dimmed, but spread to show as my outer confident aura. D&C, you are so talented in depicting the cultural vibrancy and quirks of Indian celebrations. Everyone looks beautiful. Your pictures speak to the viewer. Capturing in film my features and Indian heritage as a backdrop  in my native city will allow me to celebrate myself and my culture, and announce that I AM beautiful and proud of my 'differences.' The photos will be like bottling the moment of change toward self appreciation, to announce my future holds nothing but a positive, confident outlook.
Sarah ended up winning the contest (by a reader poll) and I am happy to show you the shots from the photoshoot!!! They turned out incredible. Right out of a fashion magazine!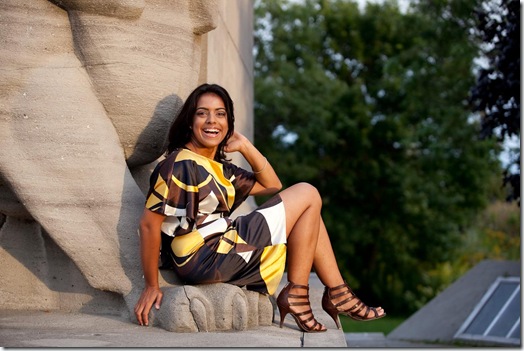 PS- I love those shoes…!!! Must get some asap!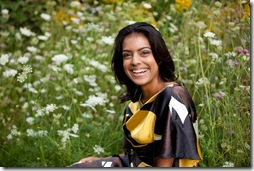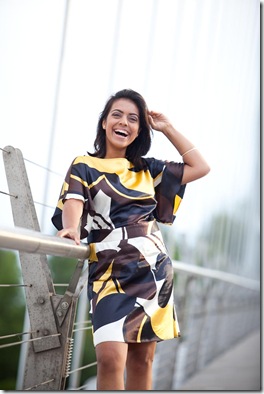 I think this is my fav shot!!!!!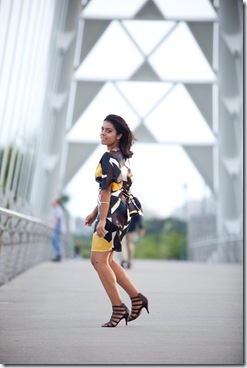 I could so see that in Vogue!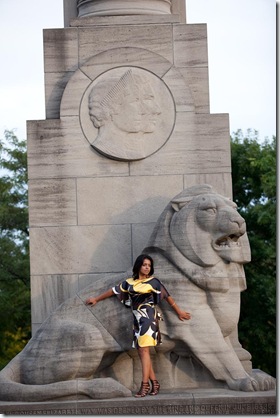 This is one of my favs!!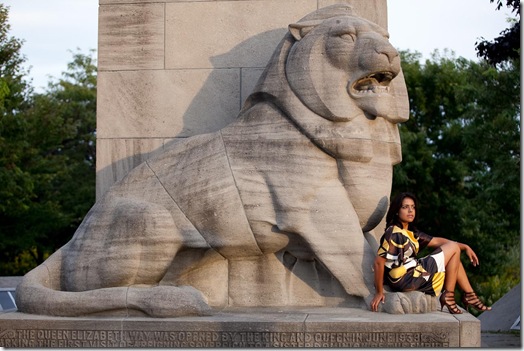 If that isn't a summer glow I don't know what is!!!!!! She is just glowing, isn't she???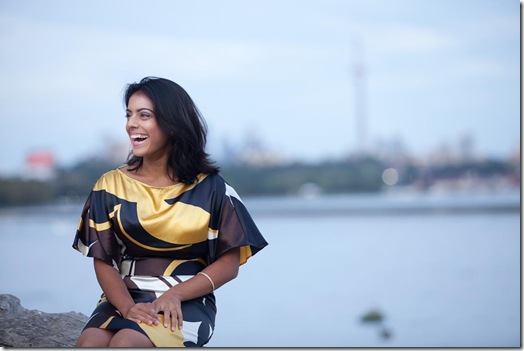 Here is what Sarah said about her experience:
Hi Angela!

Dave and Charlotte were a great team! They worked incredibly well together and made me feel comfortable right from the start, when Charlotte greeted me with a big hug. When we arrived on site, several film crew trailers were parked along the curb. Perhaps I got mistaken for a celebrity during my shoot… haha ;) The photographer from the crew recognized Dave right away!

To start off our session, Charlotte specially did my makeup for photography!! I really appreciated this. Thanks Charlotte! I felt comfortable immediately and I've never done anything like this before. Charlotte is a pro in posing/staging so I trusted and followed her cues. I wouldn't have had a clue what to do otherwise. They had me laughing, entertained and relaxed the whole shoot. I was willing to try anything they suggested and was glad we shot at a few different spots on site. It was so cool to be part of a professional photo shoot and see how it's done. Their talent and love for what they do, and their focus on lighting from the way i was staged to taking test shots was so apparent through the whole shoot. I'm so grateful for this opportunity, and to have worked with Dave and Charlotte specifically!

Thanks for the compliments on my pictures Angela. My favourites were at the lion + on the bridge. Their eye for detail is impeccable.. I love the posing at the lion and how the geometry of the bridge plays off my shoes! I've never felt THIS good looking at pictures of myself!!! I had so much fun with them and am honestly so grateful for this opportunity. Just like you, I'm hoping for an opportunity for another photoshoot soon. I've never had that much fun being in front of a camera! :)

Thanks again for everything. And happy 1 year blog-iversary! Happy Hallowe'en!
Sarah
WOW!!!!!!!!!!
A huge thank you to the amazing Dave and Charlotte for so generously donating this Photoshoot for the contest! I am so thrilled because I feel like this contest achieved exactly what it was supposed to- to encourage women to feel comfortable in their own skin and to embrace their GLOW!
If you guys haven't checked out Dave and Charlotte's blog you definitely should! They post all about their amazing shoots and travels all over the world. I'm super addicted and stalk their site frequently. haha. ;)
~~~~
Have you ever had professional pictures taken of yourself? Did they meet your expectations?

What happens to a man is less significant than what happens within him.
– Louis L. Mann