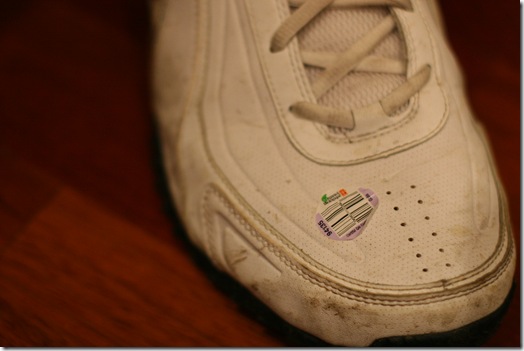 Let me explain why I have this picture on the blog. I swear there is a good reason! haha.
As you may see, there is a fruit sticker on Eric's sneaker.
Eric claims that I have this annoying habit of always sticking the produce stickers on the kitchen sink. I, on the other hand, really don't have a problem with it. hahaha.
When I grab an apple, for example, I take the sticker and stick it on the sink, and then proceed to wash the apple. I am usually so excited to eat the delicious fruit that I forget about throwing the sticker into the garbage bin. Hence, the sticker gets left on the sink and then Eric usually finds it and grumbles about my annoying habit, tossing it into the bin. ;)
A couple weeks ago, I decided to make light of the situation…
I took an apple sticker and put it on his computer mouse.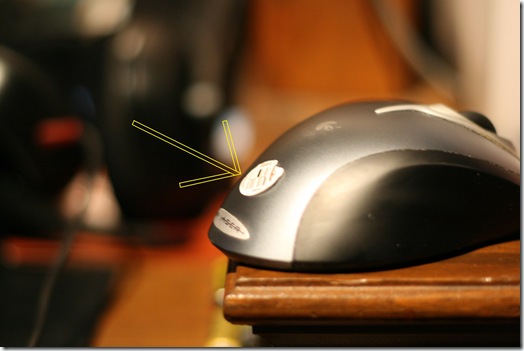 I giggled all day whenever I caught a glimpse of it.
He came home from work and I eagerly awaited his reaction.
Hours passed and nothing. I was like a kid on Christmas Eve.
Finally, around 11pm, he spotted it…"HEY! What's this doing on here?????" I pretended not to hear him, but I was smirking on the inside.
The the next day, I put one on his shoe: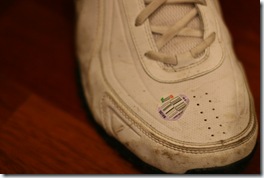 He wore it all day and didn't even notice! I was just waiting for the phone call but it did not come.
Then he got home from basketball on Tuesday and as he was removing his shoe, he spotted it.
"HEY!!!!!!" Followed by laughter. I had a kick to my step all day long knowing it was on his shoe!
My point of all of this is to illustrate that everyone has annoying habits. Those annoying habits are magnified when you are living with someone. Eric has an annoying habit of scraping his teeth on the cutlery sometimes. I squirm all up. It is like nails down a chalkboard for me!! I just can't take it. Sometimes he does it just to see me cringe!
I have realized that there are always going to be annoying things that bother us…but life is a whole lot more enjoyable if you make light of things rather than bickering over it again and again…
~~~~~
Now, I'm dying to know…do you have a partner or roommate who has annoying habits?? What are they?
I used to live with someone in university and she would leave GOBS of hair on the sink, floor, bathtub, etc. Hair in the bathroom is something I just can't deal with!!!!! Creeps me right out. I'd rather a spider in the bathroom than hair.

If you have love in your life it can make up for a great many things you lack. If you don't have it, no matter what else there is, it's not enough. ~Ann Landers