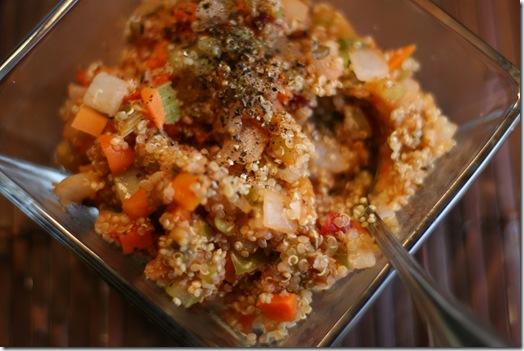 It is day two of back on track week and I am feeling quite fabulous! It is amazing what a couple days of healthy eating and exercise can do. I feel so much better.
I thought I would share with you some of the wonderful foods that have given me my GLOW back!
Sweet + Sour Pineapple & Vegetable Quinoa
Ingredients:
1 cup uncooked Quinoa
2 cups frozen veggies
1/4 cup chopped pineapple
PC Sun-Dried Tomato no salt added seasoning
Few splashes of Almond Milk to thin out a bit
Directions: Cook quinoa according to directions on the package. Cook frozen veggies in microwave or stovetop until just tender. Strain and add veggies and pineapple to pot with quinoa. Add sweet and sour sauce, almond milk, and seasonings. Stir well and heat on low until heated through,
With Mary's Crackers of course. Chomp, chomp, chomp.
Loved this.
I also realized that I have not been truthful to you. It occurred to me that I have never really expressed just how huge my passion is for Mr. Spice products. I first came across Mr. Spice products in the organic section in Loblaws just over a year ago. Mr. Spice makes amazing sauces. In fact, the best sauces I have ever tasted in my life!!! And here is the kicker, each sauce has the following glowing claims:
• Organic
• No Cholesterol
• No MSG
• No Preservatives
• Gluten Free
• Wheat Free
• Dairy Free
• No HVP
• No Sulfites
• All Natural
• Salt Free
• Fat Free
• Vegan
• No HFCS
Question- what is HVP???
~~~~
Next up, GLOWING meal #2…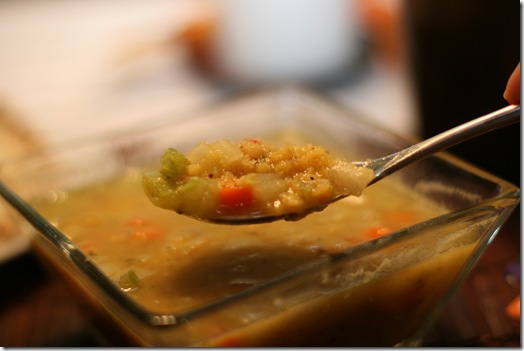 I made the Red Lentil Soup…with a twist…again!
I didn't really follow the recipe (do I ever?), but it turned out delicious just the same. I added a bunch of frozen veggies to this one. The rest was a blur. hahaha. When I cook I honestly just throw things into a pot and hope for the best.
I had it with a pita smeared with hummus. Then I took the soup and poured it over the pita. It was messy, but awesome.
I have also been drinking a lot of fluids!
Lots of Sencha green tea and lots of lemon water. I feel so much better when I am hydrated.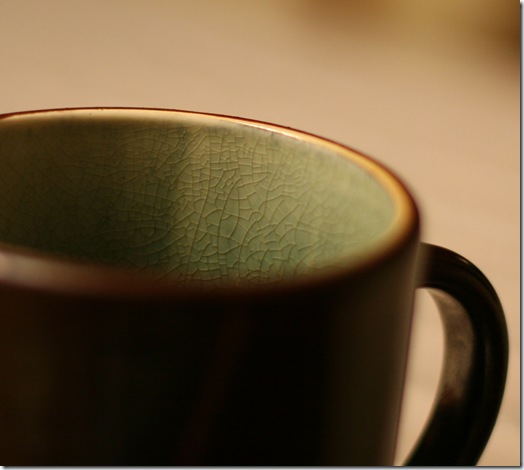 I also had a great workout today…and did something I haven't done in ages!
I went to a GYM!
I have a free month pass at a local gym, so I thought I would hit it up today and keep with my 'changing it up theme'. It was fabulous. I rocked out 1 hour on the elliptical (incline 4, resistance 10-11) and just zoned out. I apparently traveled 6 miles! ;) Fun stuff.
~~~~
Next up, the winner of the OSG Blogiversary giveaway!!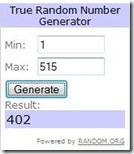 Congrats to Jewel!!!!!
Click image below to enlarge to see what she said:

What an inspiring comment! Goodluck with your goals Jewel. Something tells me that you are going to surpass your expectations!
Thank you to EVERYONE who has supported me over the past year. I wish I could send you all something!
~~~~
Project Feed Me:
I forgot to post Project Feed Me week 3 food items last week. You can also find week 4's items here!
Please help us spread the word about Project Feed Me and encourage your friends and families to participate too. Let's roll up our sleeves and help feed hungry families in need!!!!!
~~~~
Are you getting back on track this week? Leave a comment below and let me know how it is going!