Good evening (in my creepiest Dracula voice)
Welcome to my blog (creepy voice still)
I hope you will enjoy it….*cue Halloween music*
Mervin's back baby!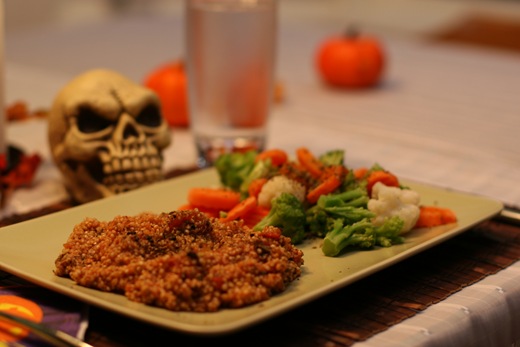 I have been trying to get him to eat a healthier diet but all he does is chain smoke and eat bugs all day!
I had a tiring 12 hour baking day. I am sore all over!
Around 6pm, I realized I hadn't had 1 veggie all day. Ok, I had 2 slices of tomato with my lunch, but that doesn't really count. I was also starving so I made a huge green monster filled with about 3 cups of steamed spinach. It was amazing and a quick way to up my veggie count!
I also had some frozen veggies with dinner. These were absolutely horrible tasting though! I typically don't like frozen veggies. I find they always taste mushy. However, it probably doesn't help that I steam them. Next time I might try roasting them in the oven to crisp them up.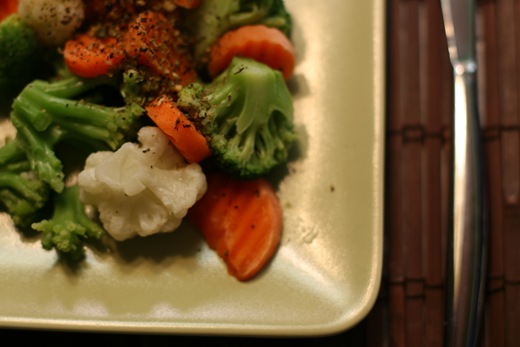 Quinoa was the star of the show again. I love Quinoa because, unlike brown rice, it cooks up in just 10 minutes. Awesome for starving bakers.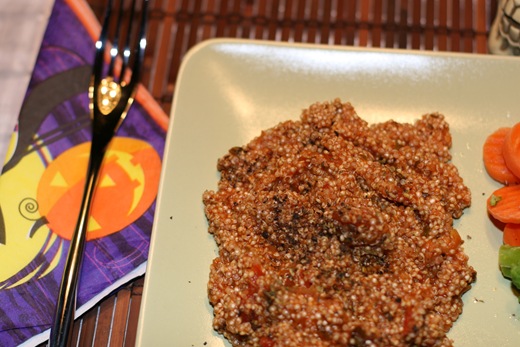 I mixed it with some organic pasta sauce, black pepper, and seasonings. It was simple and delicious! I went back for seconds.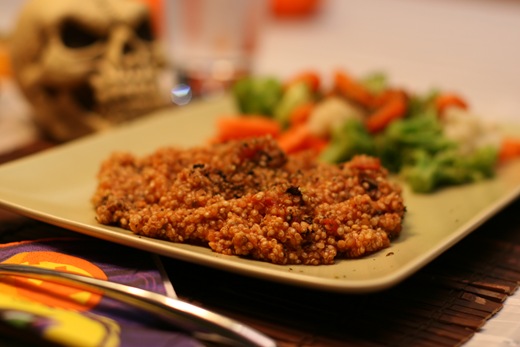 I only had about half the veggies though. Just mush I tell you! I wrapped up the rest because I am going to try and roast them tomorrow. I hate throwing food out so I always find a way to use it up (as long as it is fresh of course).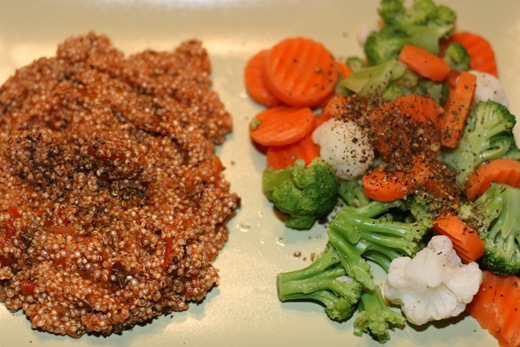 Meet the other love of my life: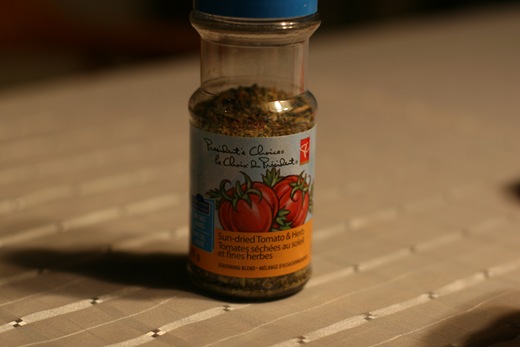 Here in Canada we have a little (ok big!) brand called President's Choice. I'm not sure if you have it in the US or not? I love PC. They make some delicious and healthy products. This one is Sun-dried Tomato and Herb no-salt added seasoning. It adds so much flavour and no sodium. I sprinkle it onto anything I can get my hands on- soups, sauces, stir-frys, veggies, wraps, potatoes, ect. It's the Little Black Dress of seasonings!
Dessert was a Pumpkin Chia Spelt Scuffin. Obsessed isn't even the word here.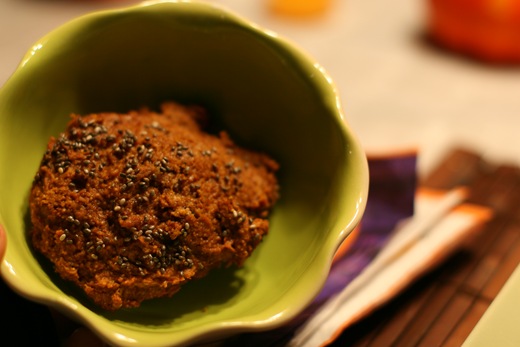 Sometimes, I just say 'scuffin' out loud because I love the way it sounds. I try to use it in as many sentences as I can when speaking with 'normal' people. It makes me giggle.
SCUFFIN!!!!!!!!!!
Whew. That feels good. Say it with me! Scuffin! Scuffin!
~~~~

1) Exercise update: What is going on with me and exercise lately? Did we break up?? Find out tomorrow!
2) Don't forget you only have 1 day left to enter in the Garmin Forerunner Charity raffle!! It is for a great cause and I don't think many people entered so your chances are looking GOOD. Probably the best chance you will ever have at winning a GARMIN! lol.
3) The Chocolate + Coffee Lovers packs are no longer sold out. I added a few more! Thank you for all your orders today!
4) Coming up on OSG- I will be giving you a video tour of our haunted house. I'm so excited for this video. It is going to be so much fun.
5) OSGMOM is currently visiting L.A. and is posting a frenzy of Operation Beautiful notes. If you live in the LA area keep an eye out. Hopefully a celeb will spot one!
~~~~
It's time for some me time. Off for an Epsom bath and my marathon book! Yessssssssssss.