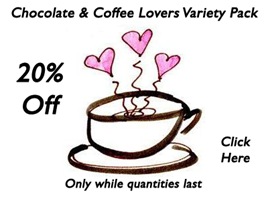 As part of Oh She Glows 1-year Anniversary Blogiversary on Halloween, Glo Bakery is having a Glo-Out sale!
Exactly 360 days ago today I started Oh She Glows.
The official release of the new EMPOWER bar is here in this delicious Chocolate & Coffee Lovers variety pack! 20% off only while quantities last.
The new Empower bars are also 10% off if you want a box all on their own.
~~~~
Remember this Operation Beautiful note I stuck on my back before my half marathon??
My note read: YOU ARE SO MUCH STRONGER THAN YOU THINK!
Well, look at the email I received this week from a man who also ran in this race:
Paul wrote, "I was googling to see if I could find pics of the race and came across your blog.  Congrats on your race, despite your struggles.  The reason for my post is that I just wanted to say thanks for the distraction near the finish.  I approached you from behind, trying to read your shirt as I was struggling around the 18-19 km mark on University Ave.  As I got closer, gasping for breath and trying to focus, I made out the message on your back…and I powered through the finish.  As I ran alongside you, I wanted to acknowledge and thank you for your message, but figured you were probably focused on your own battles at the time.  Anyway, I just wanted to thank you, and I'm glad I found a way to do so!"
I was pretty pumped to receive this email. It was such a cool feeling running my half marathon and knowing that this note was possibly inspiring others to keep going.
~~~
Behold my newest Operation Beautiful note: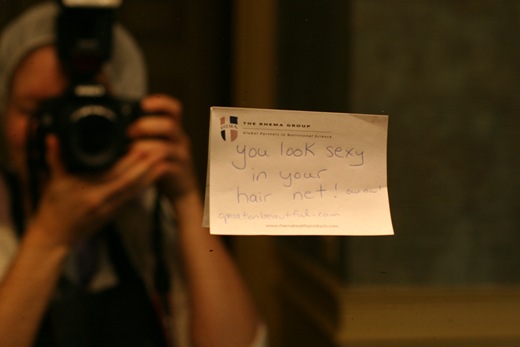 It reads, 'You look sexy in your hair net! Ow! Ow!'
To say I feel unattractive in my baking get-up is an understatement!
I basically have been feeling like my old lunch lady! I decided that there is no reason why I had to feel unattractive- it was all a state of mind. I decided to change my attitude and write a note that would pick me up.
Every time I see the note I look in the mirror and smile. Case closed. Hair nets are the latest fashion accessory, didn't ya know?
I also am eyeing these super cute aprons. I like this pink one (of course). I wonder if I can convince my MIL to sew me one…
~~~~
Do you wear a uniform at your job? Do you like it?
Have you ever had to wear a uniform that you hated?
Luckily, all of my previous jobs were in retail or office environments so I was able to wear normal work clothes. My very first job was at a Produce store when I was just 13. I was even a health nut back then! I got free fruit and veggies too…it was amazing. I had to wear an apron and work boots and I literally hauled 50 pound bags of corn and produce off frigid trucks, in addition to being a cashier, ice cream scooper, and stocker. Oddly enough, I am now 26 and still find myself hauling 50 pound bags of oats and hemp seed. That makes me laugh.
~~~~
Off to bake!

When someone we love is having difficulty and is giving us a bad time, it's better to explore the cause than to criticize the action.
Zig Ziglar (rocks!!!!)