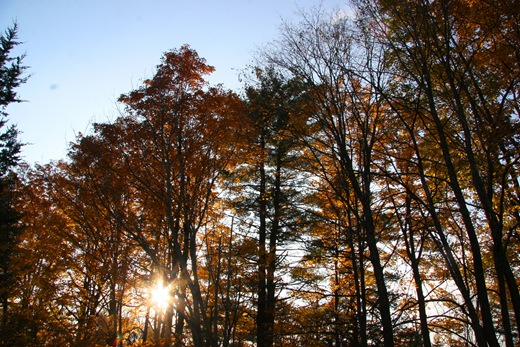 Fall in Ontario is soooo beautiful!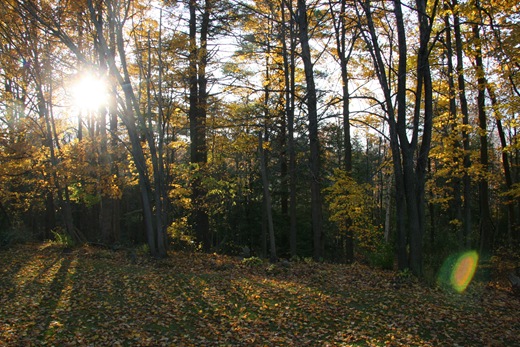 This is definitely my favourite time of the year!
Dinner tonight was rather festive for both Fall and Halloween. Mervin made another appearance…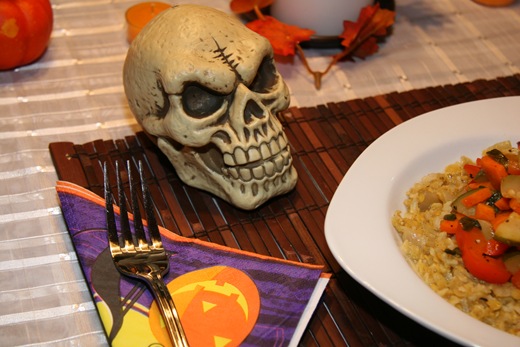 Eric made a delicious Sweet + Sour Stir-fry for dinner. He knew I was super busy so he took the reins and made his specialty!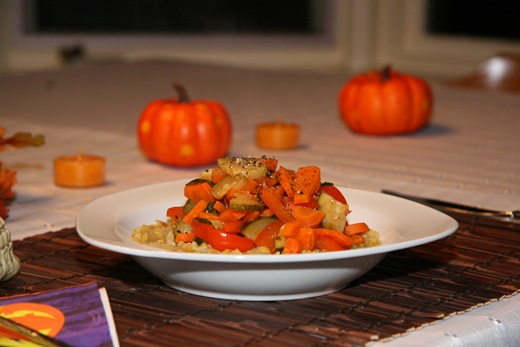 It was delicious. Carrots, peppers, onion, zucchini, tomato, no salt added sweet and sour sauce, minced garlic, and pepper.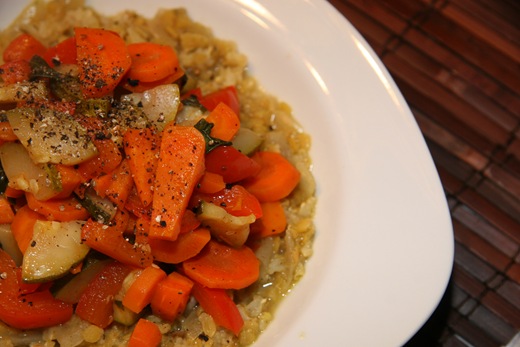 He served it over top of the Red Lentil Soup. Most of the broth was gone, so it was basically a thick protein-base that paired well with veggies. This soup is so versatile! Almost like a little black dress!!!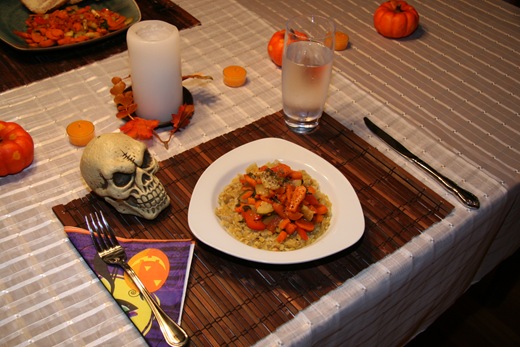 Dessert was my new Empower Glo Bar.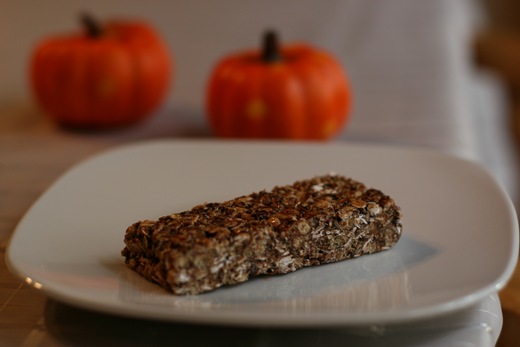 Regarding the poll- there was a tie between Ignite and Invigorate. I did a tie breaker on Twitter and just as I was about to officially name it, I was hit with Empower for a name. It was a gut instinct and I knew I had to go with it!! I am definitely going to keep Ignite and Invigorate on the list though. If there is one thing I have learned in the past year, it is listen to the little voice! So, Empower it is.
Variety Pack Sale Tomorrow
Stay tuned tomorrow for the new release of Empower in a delicious new variety pack. I will be having a sale for the first 20 orders tomorrow!
~~~
Cellphone ban now in effect for Ontario drivers!
Staring today it is now illegal for Ontario drivers to use cellphones, Blackberries, and other handheld devices while driving a car.
"Under the province-wide ban, drivers are forbidden from talking, texting or emailing on their portable phones while behind the wheel of their vehicle. The law, which came into affect today, is aimed at protecting drivers from distractions that take their eyes off the road for a long period of time.

The new law also forbids drivers from operating entertainment products such as portable DVD players and laptops.

However, iPods and GPS units are still permitted as long as they are mounted to a dashboard or "another accessible place in the vehicle," Ontario's Ministry of Transportation states on its website.

Other exceptions to the rules are:

Drivers can use cell phones to dial 911 if they have an emergency
Phones can be used behind the wheel if the driver safely pulls off the road or is parked
Hands-free devices, such as headsets and phones plugged into the vehicle's sound system, can also be used
Emergency workers like paramedics will be able to use hand-held phones for the next three years for work purposes"

[Source]
Personally, I am SO happy this is finally a law!!!! I have witnessed so many drivers almost get into an accident because they were either using a handheld cell phone or they were texting while driving. When I was commuting to Toronto I would see at least 5-10 drivers a day texting while driving. I think texting while driving is much more dangerous than talking on a cellphone.
Drivers caught talking on a handheld device or texting can face a fine up to $500 CAD. They aren't messing around here!!
I need to check if my old Blackberry has a speaker phone…At first I was thinking: yikes, how am I going to talk in the car? But speaker phones and headsets make it so easy now! Plus, they don't hurt the neck. ;) I think it will be a small sacrifice in comparison to the lives it will hopefully save.
~~~~
Do you support the ban of handheld devices while driving? Are they banned in YOUR city?
There are similar bans in the following areas: Quebec, Nova Scotia, Newfoundland, California and New York, according to the Ontario government.

"Finish each day and be done with it. You have done what you could. Some blunders and absurdities no doubt crept in; forget them as soon as you can. Tomorrow is a new day; begin it well and serenely and with too high a spirit to be cumbered with your old nonsense."
–– Ralph Waldo Emerson