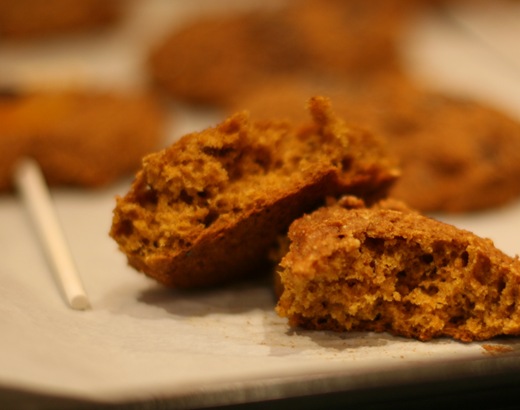 What does a baker do on her day off? Why bake healthy goodies of course!
Yesterday, a lovely reader named Mary emailed me and asked me how I would make this pumpkin cookie recipe healthier. I offered her several suggestions and then of course I was just chomping at the bit to try them out to see if they actually worked! I always have this sense of dread when I picture a reader following my advice and then having this horrible disaster and a baking day gone bad. I knew I had to test this out to be able to sleep at night! ;)
Into the kitchen I went on this glorious fall day!
[print_this]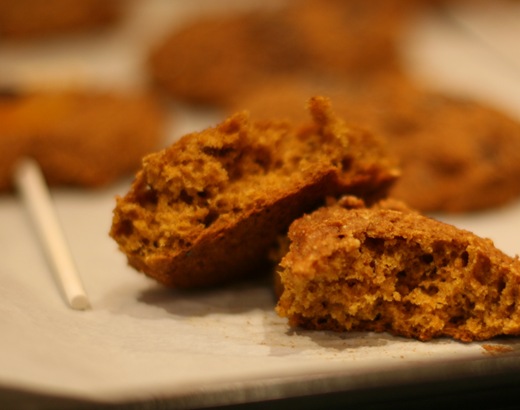 By: Angela Liddon
What is a scuffin, you ask? Why it is a muffin + a scone!

I tried explaining this to Eric and he said, 'What's a scone?'

Yield:
17 3″ large scuffins
Ingredients
2 1/2 cups whole grain spelt flour
1 tsp baking powder (I use aluminum-free)
1 tsp baking soda
2 tsp cinnamon
1/2 tsp nutmeg
1/2 tsp ground cloves (I skipped this as I didn't have any)
1/2 tsp fine grain sea salt
1/2 cup Earth Balance vegan buttery spread (Or use non-hydrogenated margarine)
1/4 cup agave nectar (you might be able to use maple syrup)
1/2 cup organic cane sugar (or regular sugar)
1 cup canned or fresh pumpkin
1 flax egg (1 T ground flax + 3 T warm water, mixed)
1 tsp vanilla
Instructions
Preheat oven to 350F.
Line a baking sheet with parchment paper.
Whisk flax egg in a small bowl and set aside.
In a medium sized bowl, combine the dry ingredients (spelt, baking powder, baking soda, sea salt, cinnamon, nutmeg, cloves). Set aside.
In a different bowl mix the butter, sugar and agave until smooth. I melted my butter a bit in the microwave for 15 seconds first as I find the Earth Balance is easier to work with when melted slightly.
Now add pumpkin, flax egg, and vanilla. Beat well.
Carefully mix in dry ingredients being sure not to over mix. Spelt is broken down very quickly when mixed and you can end up with a tough batter if you over mix it. But relax it will turn out regardless! The batter will be very moist and sticky, but don't worry.
Drop the batter onto the baking sheet. I wet my fingers to slightly shape the scuffins. Pop a stick in the end if preferred to have your scuffin on a stick! I got my sticks at Bulk Barn.
Sprinkle with chia seeds for a spooky, yet nutritious, effect for Halloween! You can also have fun decorating little pumpkin faces on them (great for kids!).
Bake for 17 minutes or until the scuffins slightly bounce back when touched. Handle the scuffins on a stick very carefully because they are delicate. I found that I improved this by making smaller scuffins on a stick- then they weren't as heavy!
[/print_this]
Here is a summary of how I made these healthier:
| | |
| --- | --- |
| ORIGINAL RECIPE | Healthy vegan recipe |
| | |
| 1.5 cups sugar | 1/2 cup sugar + 1/4 cup agave nectar |
| 2.5 cups white flour | 2.5 cups whole grain spelt flour |
| 1 egg | 1 flax egg |
| 1/2 cup butter | 1/2 cup vegan, non-hydrogenated butter |
| Icing glaze | Chia seeds |
They are now vegan, low-fat, and filled with protein packed whole grain spelt flour. Not too shabby!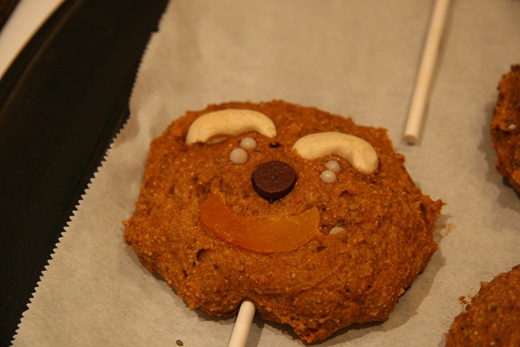 There is no doubt about it, chia seeds look like bugs and are perfect for Halloween cookies!! The best part is they are tasteless so you can sneak them on or into cookie batter and your kids (or husband) won't mind. ;)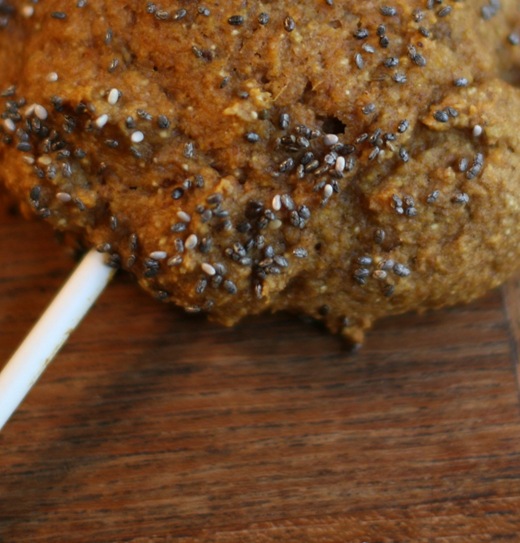 They also have an amazing nutritional profile! For 1 large 3″ scuffin: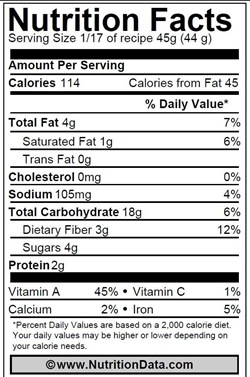 They are very low in sugar yet still so satisfying.
What do they taste like??
I fell in love. I never expected these to turn out so delicious! The combination of the sugar and agave was perfect. These are not overly sweet, but just right. They are fluffy, light, and filled with pumpkin flavour. The kitchen smells absolutely out of this world too.
I spread mine with a bit of vegan butter and they were heavenly as a breakfast. Eric loved them too and he 'hates' pumpkin (I wonder how long he is going to keep saying that? lol).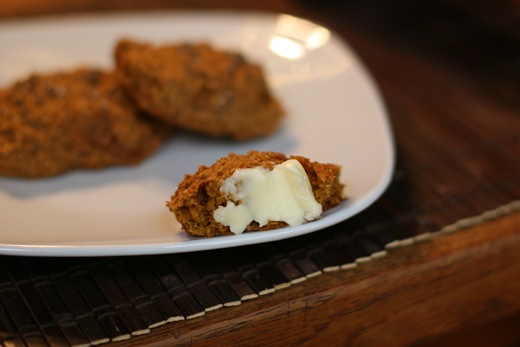 I can't imagine a better or healthier Halloween treat!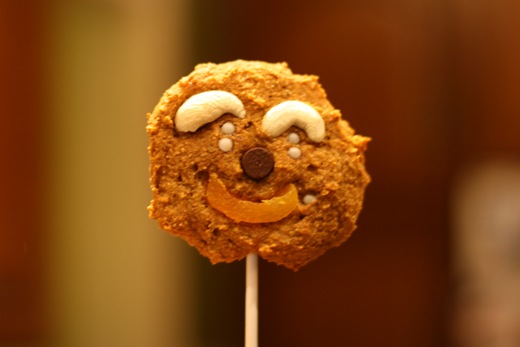 Off to rake leaves! :D