Greetings!
Great discussion going on in my Food Inc post. I love that we can talk about issues like this! So inspiring and thought-provoking.
Yesterday Eric asked me to send him a grocery list so he could pick up a few things on the way home from work. I made a note beside the milk that he needed saying:
Eric- please buy organic cow's milk this week….you deserve it.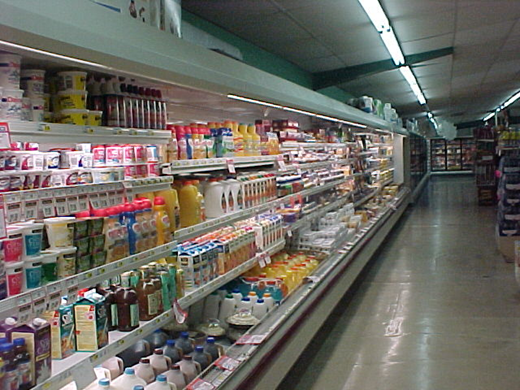 I wasn't sure what he would think, but I would soon find out.
Well he got home and there was no organic milk to be found. I asked him about it and he said, 'It was $9 dollars, there is no way I was going to pay $9 for milk. I have been drinking non-organic my entire life and I am fine.'
It was definitely not a victorious mission I had!
I said, 'Wow that is expensive, but you know what? I do think we can afford it. All we have to do is a make a cut-back in another area.'
For example, the milk he currently buys is $4 for 3 bags of milk. So we need to find $5 a week somewhere to make this work.
Eric has gotten into the habit of going out to buy his lunch lately (mostly out of laziness of not packing his lunch like he had been doing). So this morning, I got up a bit earlier and packed him a lunch. We saved about $8 just by doing that today!
I handed him the lunch and I said, 'Here is a savings of $8. We can now afford organic milk.' ;)
Another thing I wish the movie had touched on were the current regulations for organic food products. I am going to look into the Canadian regulations and see what I find.
Obviously, I realize that there are many families who can barely afford to put food on the table, let alone buy organic. And yes, we are definitely privileged to have this choice. One part of the movie that really saddened me, was the family who had to choose between paying for their dad's diabetes medication or buying healthy food. They ate fast food every day because it was all they could afford due to having to spend $150 a month on his medication.
It is such a catch-22. Many people cannot afford to eat healthy, however the current food system, with its' heavy reliance on animal-based products, is in large part the reason why there is so much starvation in the world. There are currently 840 million people going hungry this very second.
This is a fact that many people do not want to accept:
The more meat we eat, the more people there will be that will go hungry in the world.
Many of you ask why I decided to go vegan. When I read this statistic it was without a doubt one of the most powerful convincers for my decision:
It takes up to 16 pounds of grain to produce just 1 pound of edible animal flesh. According to the USDA and the United Nations, using an acre of land to raise cattle for slaughter yields 20 pounds of usable protein. That same acre would yield 356 pounds of protein if soybeans were grown instead—more than 17 times as much!
Raising animals for meat consumption is not energy efficient! If you think about it, it really doesn't make sense that we are giving all of this grain to animals, only to kill them and eat them, when we could 'cut out the middle man' and just all eat grains and be able to feed the entire world. That doesn't even get into the fact that cows are supposed to eat GRASS and not grain to begin with!
If everyone on Earth received 25 percent of his or her calories from animal products, only 3.2 billion people would have food to eat. Dropping that figure to 15 percent would mean that 4.2 billion people could be fed. If the whole world became vegan, there would be plenty food to feed all of us—more than 6.3 billion people.
[Source]
I believe that going vegan was one of the best things I personally ever did. I have always felt so powerless in trying to help the global crises and I always felt like there was nothing I could do to make an impact. Now I feel otherwise. I'm not saying it will be right for you, my best friend, or even Eric, but it was right for me. I am not writing these posts to try and get you to change your lifestyle; I am just trying to increase awareness about the issues that desperately need attention. Before I started to look into these issues, I honestly had no clue about them. Knowledge is power and whatever you decide to do with that knowledge is up to you.
On that note, for those of you who are participating in Project Feed Me, the next two food items are now up. Visit Natalie's page for more information. It is not too late to join Project Feed Me either, we are only in week two. Week One's 2 items were 2 cans of chili. Please help us feed hungry families by participating today!
~~~~~
Lastly, I would love your help in naming my new Glo Bar. I created this Glo Bar this week and it is quite possibly my all time favourite bar. I just fell in love. It is a dark chocolate roasted coffee bar and it is intense, aromatic, and energizing.
I asked for your help on Twitter yesterday to offer one-word suggestions for a name and I compiled a list of most of them for you to vote on:
Also, the Healthy Halloween Chocolate Lovers Packs are no longer sold out- I just added a couple more on the cart.
Have a lovely 'Office' day! ;)
PS- ANDY rules!!!! Eric and I saw Hangover last week and Andy was SO SO SO Funny in it. I loved that movie!