Good evening!
I hope you are having a fabulous day. What a busy day I have had. I have been humming along shipping out my Healthy Halloween Chocolate Lovers Variety Packs today. You guys sure love this variety pack. Thank you for your orders and excitement! It felt awesome because I have all of the packs packed and ready to go so those of you who ordered today had it shipped out today. Not too shabby! There are still a few left of your want to get your hands on some, as well as Chi, Refresh, Revive, Heaven, and Classic Glo Bar flavours.
I apologize for the comments not working in my post earlier. I am not sure what was going on, but they kept turning off. Hopefully, that doesn't continue to happen. I missed your sweetness today! ;)
It has been a while since I have given product reviews, so I thought tonight would be a good time given my extreme bout of writer's block today. I honestly starred at my keyboard for about 20 minutes tonight….DUH! I think my half marathon killed some brain cells? ;) I realized that I had tried a bunch of products lately that I haven't told you about.
First up: Intentional Chocolate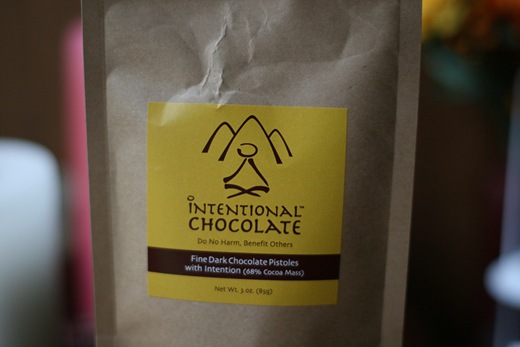 Intentional Chocolate sent me their vegan dark chocolate to try out. Naturally, I was pumped being the dark chocolate fan that I am! Their products are made with pure Hawaiian Vintage Chocolate and they are free of additives and herbs. The company also donates 50% of its' net profits to charity.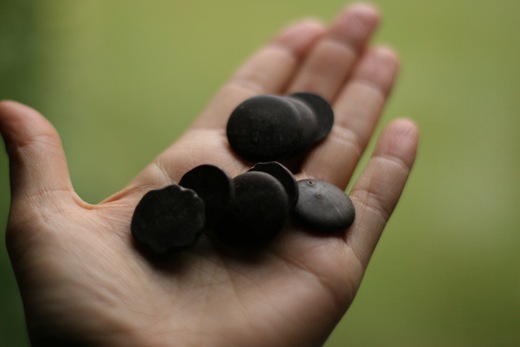 I put one of these Fine Dark Chocolate Pistoles on my tongue and let it melt. This is how I test good chocolate. I just can't stand the hard, wax-like chocolate.
To my delight this chocolate was absolutely everything I dreamed it would be. Smooth, creamy, intense but not bitter or over-powering. It is one of the best chocolates I have tasted. I had to hide the bag so I wouldn't polish it off! :)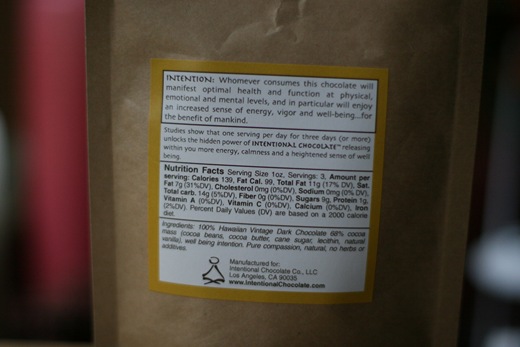 The company also claims that 'intention' is embedded into each piece of Intentional Chocolate. What is intention you ask? It is a thought, prayer, or blessing. It is the expression of purpose and the direction of source energy that is within all of us. The company also claims to have published a double-blind, placebo controlled pilot study in Explore: The Journal of Science and Healing. In this study, they found that 1 ounce of Intentional Chocolate a day for 3 days increased participants' well-being, vigor, and energy by 67%.
Now I consider myself to be a pretty open minded person, but I don't see how Intentional Chocolate would benefit someone greater than your average pure dark chocolate would. Aside from a placebo effect and all. I mean, if you believe this chocolate is going to have healing powers than it just might…but so might your average dark chocolate in the grocery store. Personally, I don't care about whether my chocolate is intentional or not, all I care about is the taste. And this surely passed my taste test.
Up next, Pita Break's Organic Spelt Lavish Thins.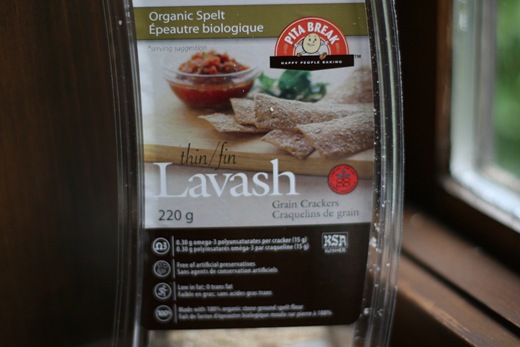 These were given to me at the trade show I went to. They are vegan to my delight. I love spelt, so anytime I can get my hands on a spelt product I jump at the chance!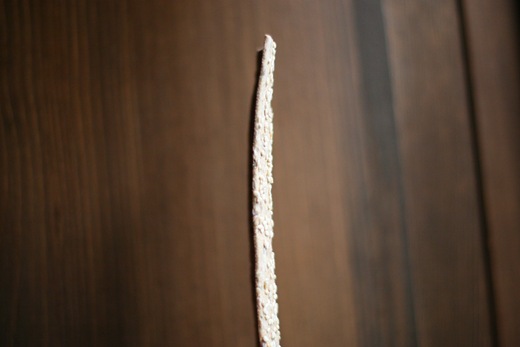 They are thin and very long- about 7-8 inches in length.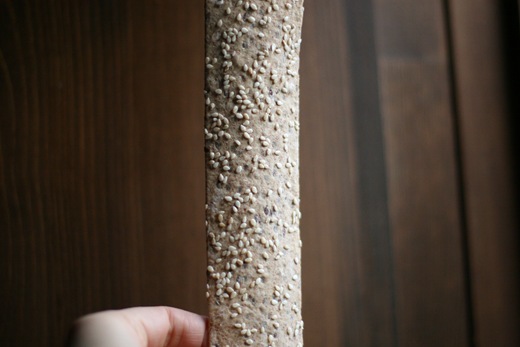 The taste was lovely! I didn't think I was going to like them because I have had bad experiences with flatbread crackers before, but these were delicious. I loved that they were made from spelt and had a ton of sesame seeds on them. They were super crisp and great for dunking in hummus or salsa. Crunch, crunch, crunch.
They have just 60 calories per thin, which is a good deal because the crackers take quite a while to eat. They also have 1 gram of fat, 2 grams of protein, and 1 gram of fibre per thin.
The ingredients list is also quite short: Organic whole grain spelt, filtered water, organic flax seed, organic brown cane sugar, organic sunflower oil, sea salt, and sesame seeds.
I will definitely buy this product once I run out!
Up next, Manitoba Harvest Hemp Pro 70: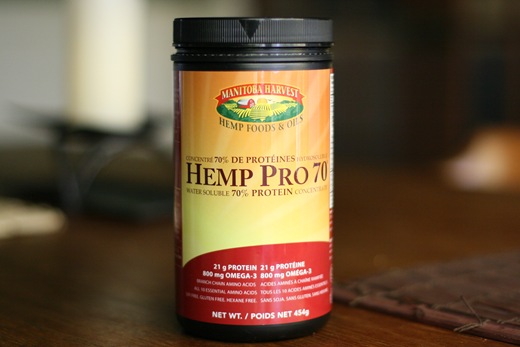 The president of Manitoba Harvest gave me a tub of their newest hemp protein powder at the trade show. It has a whopping 21 grams of protein per 1/4 cup serving!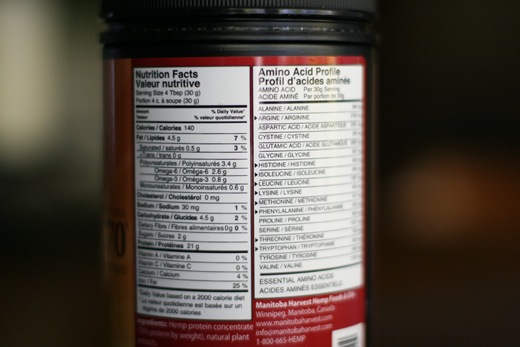 I am always looking for a vegan, all natural protein powder that I can add to my green monsters, especially after intense workouts.
I was a bit leery of this powder- I was afraid that it was going to taste badly like many protein powders do. However, I was pleasantly surprised! I used 1/4 cup of the powder and it didn't affect the taste of my green monster much at all. In fact, it made my green monster very creamy and smooth in texture and taste! This product is a definite winner.
I would definitely buy this powder again. I currently use hulled hemp seeds in my green monsters, however to get the same amount of protein (21-22 grams) I would have to use 1/4 cup of hemp seeds- which is fine- but I would be doubling my calories. In 1/4 cup of hemp seeds there are 320 calories vs. the 140 for the protein powder. Now you obviously get way more healthy fats in the 1/4 cup of hulled hemp seed (20 grams vs 4.5 in the powder), so keep that in mind too.
And finally, Ultimate Superfoods Wildcrafted Goldenberries:
I can't believe I have never had these before! They are simply AWESOME! They are tart, yet sweet and they remind me of a much healthier Sour Patch Kid. I love these goldenberries so much. I definitely see a goldenberry Glo Bar in the future too!!!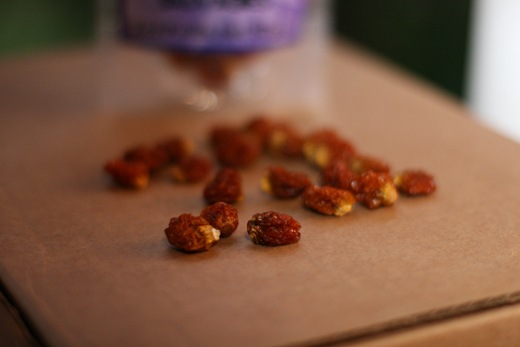 They are quite healthy too! "Not your average dried fruit, flavor-packed Goldenberries also boast an excellent nutritional profile. The fruit is best noted for its high amounts of carotene and bioflavonoids — nutrients which studies have shown to produce anti-inflammatory and antioxidant activity (among many other benefits). Goldenberries are also an excellent source of vitamin A, vitamin C, and contain a good amount of dietary fiber and pectin. Unlike most fruits, Goldenberries also contain protein and phosphorous." [Source]
For 1/4 cup, they have 160 calories, 6 grams of fibre, and 4 grams of protein. I found they were quite satisfying. I had about 2 tablespoons and it totally took away my sugar craving.
~~~~
So there you have it! The 4 health food products I am currently loving.
What about you?
Have you tried any food products lately that you loved (or hated)?
Enjoy your evening!