Hey guys!
I hope you are all enjoying your fabulous Saturday. Last night Eric and I stayed up until 1am watching our new favourite show- Shark Tank! We have a similar show in Canada called Dragon's Den and we have been hooked on it for the past year so we were happy to see a US version. Two of the investors are actually from the Canadian show too!
We are now all caught up on this season!
I was up and at it early this morning to bake. I am working on a Spooky Chocolate Lovers Variety Pack that I will be unveiling soon! I can't wait. :) I think it will be fun for Halloween.
~~~~
Project Snow
Lately I have been neglecting my fitness in favour of working long hours.
My exercise has really been pushed to the sidelines a bit and I have just not been feeling myself. It has been very challenging for me to be baking for 10 hours a day and then try to find the energy to workout. Yesterday, I decided to channel my inner Project Snow strength (P.S.S.) and hit the road for a long run. It was cold, but sunny, and I knew it would make me feel like my old self!
Before I left, I tested out the temperature…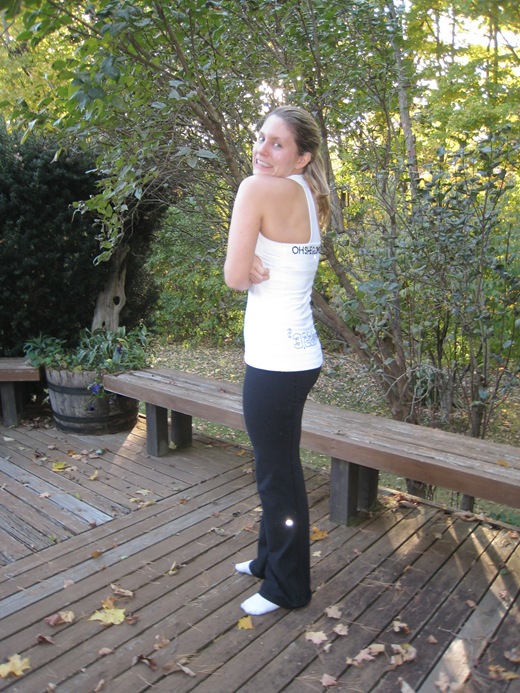 It was just 4C/39F outside and way too cold for just my tank! I decided to wear my shape jacket, hat and gloves to seal in some warmth.
Project Snow Tip #2:
If you really don't want to go outside because it is cold out, try warming up inside first!
I warmed up for about 1/2 a mile (speed walking) on the treadmill until I broke a sweat. Once I was warm, I was no longer afraid to go outside! I will definitely be doing this on a regular basis. If you don't have a treadmill you can try skipping rope or stair climbing to get your body warm. It honestly made the difference between chickening out and heading out!
Before I left I was super excited to try out this new Vega Sport powder.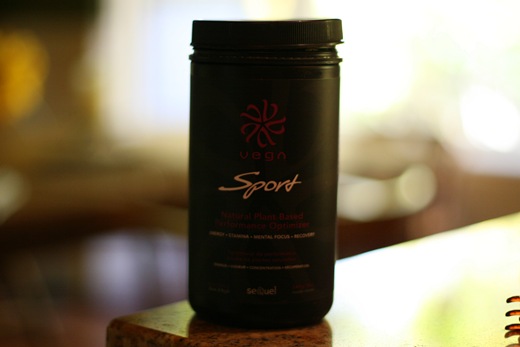 I was sent this to try out and I was quite excited about it because it claimed to increase physical and mental alertness, recovery, energy, the whole she bang!
I mixed 1 scoop with 1 cup water and it provides about 70 calories and just under 20 carbs. The taste was fairly pleasant mixed with water. It was fruity tasting.
Unfortunately, I don't think this powder agreed with me. :( You know the saying, 'Never do anything different before a long run.'? Well, I should have listened to that advice! I had a horrible stitch in my side from mile 4 onward. Now of course, I am not sure if it was because of this powder or not. It could have easily been from the cold, perhaps? I will have to test it out again on a shorter run and give you the lo-down.
Project Snow Tip #3:
If you get too warm while exercising outdoors, simply unzip the front of your sweater or jacket about half way until you are cooled down.
Around mile 2 I was heating up and the sun was beating down on me (loved it!), so I decided to try out this tip. It worked awesome too! I felt a cool breeze on my chest and was able to cool down a bit. Once I was cool, I zipped it back up. Thanks for the tip everyone!
The run:
Distance: 9 miles
Duration: 1 hour 24 mins
Max heart rate: 190 bpm
Avg heart rate: 165 bpm
Avg pace: 9:20 min/mile
As a result of my side stitch, the run was not pleasant from miles 4-9. I was actually quite happy with my pace for this long run, especially given the circumstances. Aside from the stitch, I had a great time enjoying the brisk weather and beautiful blue sky.
Heart Rate and Cold Weather:
I have done about 3-4 cold runs now, and I have noticed something each time. My heart rate is super high when I run in the cold!!!!!
It averages about 10 beats a minute faster (from 155 bpm –> 165 bpm) than when I am running in pleasant conditions. Isn't that crazy?! I'm sure it is because my heart has to work harder to warm up the air. At any rate, I find it is much more difficult for me to maintain my pace when my heart is working so hard. I'd love to do some research on this!
Has this happened to anyone else?
~~~~
I still haven't decided whether I am running a half marathon tomorrow! Nothing like leaving it to the last minute, eh? I guess we will soon find out! ;) If I decide I will sign up, I have to go into Toronto today to register. It will depend on if I get my baking done in time as I have a full day ahead of me.
It would definitely be a great challenge for Project Snow because it is only supposed to be 32F tomorrow morning! eek!