Happy Thursday! ;)
First up, some fun Housekeeping of the day:
1) Want a chance to win some Glo bars? Leave a comment on this post to enter Jessica's giveaway! Hurry! Contest closes tomorrow morning!
2) Enter here for a chance to win a 1 year subscription to Cooking Light! Contest ends today!
3) Oh She Glows has been nominated for the blogger you'd most like to see on the Food Network. Please show your support and vote for me here!
~~~~~
Project Snow: Stay Active and Fit This Winter!
Behold the SNOW WARRIOR!!!!!!!!!!!!!!!!!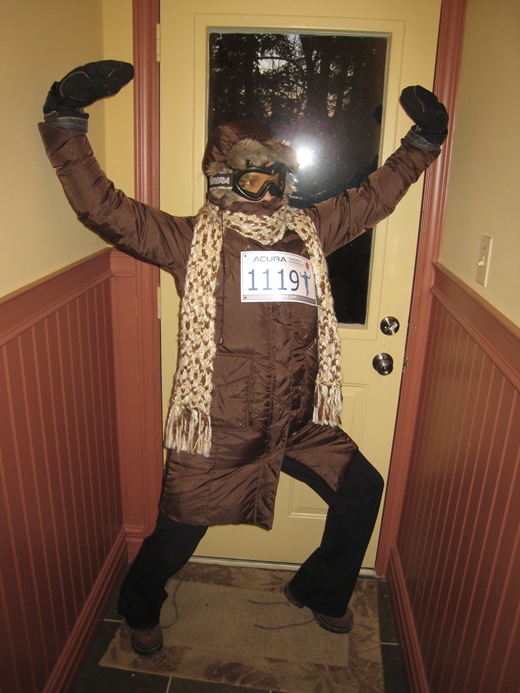 Mother Nature's got nothing on us this winter!
What is Project Snow?
Project Snow is a personal challenge to myself and all of my readers to stay committed to exercise (and have fun doing it) this Fall and Winter.
Specifically, I am challenging myself and all willing participants to commit to a minimum of 1-2 outdoor workouts throughout the Fall and Winter seasons. This will be a huge challenge for myself (and many of you) living in a Northern climate!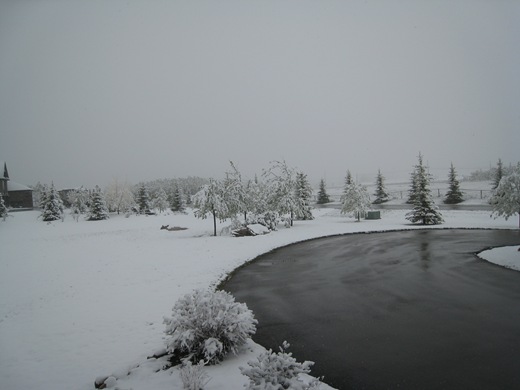 Why am I doing this? Am I nuts?!
I definitely think I am crazy for doing this challenge and I will think that even more once the bad weather really hits. I do not have a good track record with respect to exercising outdoors when it is cold out. I'm a wuss! I have always opted to stay inside a warm gym during the cold months, but I often find that my mood takes a huge hit when I am indoors for such a long stretch of time. Even with getting in my indoor workouts, I find myself feeling quite low over the winter. I strongly suspect that this is due to not getting outside enough. Fresh air and natural light can do wonders for the mood, especially when it gets dark at 5pm!
BEHOLD THE PROJECT SNOW FURY!!!!!!
Will you 'attack' winter with me? :D
My new motto is this:
For most types of weather, I will prepare for it and dress accordingly. Nature is to be enjoyed in all seasons, shapes, and forms and not only during 25C, sunny days.
Wait, isn't working out in really bad weather…DANGEROUS?!
Yes, it sure is. And that is why I am not going to workout in dangerous conditions! I want to be very clear about this too. In no way, shape, or form am I encouraging you to go outside when it is not safe to do so whether that be due to extreme cold, darkness, or slippery conditions. As always, use your good judgment about it.
We have to be smart about Project Snow. When it is safe for me to do so, I will be getting outside for some activity and only when it is safe. If you feel like it is not safe to venture outdoors for a workout, please do not do so! I certainly will not be running outside when it is slippery or too cold outside.
How does Project Snow work?
Project Snow was created so that all of us can share our outdoor exercise tips and tricks with one another, in addition to encouraging each other to stay active and positive until Spring time. If we BOND together over these cold months, we can not only keep our spirits up, but stay fit and learn something while we are at it!
Over the fall and winter months, I will be providing tips and tricks that I learn along the way. I will also be asking questions for discussion so everyone can offer their own advice and experiences!
What type of activities can I do? I don't like running!
You don't have to run by any means! In fact, on really cold or snowy days, I won't be running either. You can do anything from walking, hiking, snowshoeing, snowboarding, shoveling snow, skiing, etc etc! The sky is the limit! As long as you are getting outside and getting your heart rate up it is ALL good. :D
How do I participate?
All you have to do is commit to keeping active outdoors this Fall and Winter and make sure to stay up to date on my Project Snow posts. I also encourage you to contribute in the discussion and let everyone know how things are going over on your end! Tell us what the weather is like where you live and what you are doing to stay active!
What if I live in a warm climate? Can I still participate?
Of course you can! Just be sure to invite me to your place this winter! ;)
Project Snow Tip #1: LAYER YOUR CLOTHING!
This was me before my run yesterday! It was cold out (around 4C/39F), and I really didn't want to run outside. After receiving a few encouraging Tweets, I decided to bundle up and get out there!
Bottom layer: Sports Bra tank

Middle Layer: Shape Jacket

Top Layer: Shell/Windbreaker jacket
I also wore some cotton gloves (yes, with the hole! haha) and a hat. I like hats in the cold temperatures because they keep the heat in.
The run:
Distance: 3.4 miles
Duration: 30:47 mins
Avg speed: 9:10 min/mile
Max Heart rate: 176 bpm
Avg HR: 165 bpm
I love layering, but I always have one major problem: What do I do with the layers once I warm up and get too hot? I wanted to take my jacket off, but I had no where to put it so I left it on!
I would appreciate to hear from you guys on this! Leave a comment below if you'd like to join in on the fun.
Project Snow is Sketchie approved! He says he will cheer me on from his warm bed. ;)
What do you do with your layers? Tie around the waist? I would think this would get in the way. Share your ideas!

Project Snow's next topic will be a tip I learned on how to make it much easier getting outside when you don't want to.