I heard something on the radio yesterday that really made my skin boil. A very well known Canadian Tanning Salon company had an advertisement on the radio.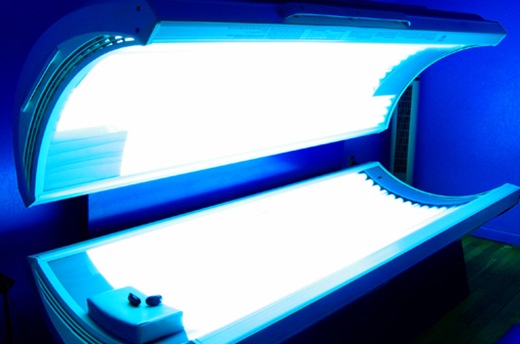 [Source]
It went a little something like this:
"Feel confident in your skin and look great with [insert company name here]. Say goodbye to pale and pasty skin! Tan the smart way!"
I was instantly ticked off.
From what I gathered, the commercial was telling me two things:
1) There was something wrong with my current skin tone
2) I could tan smart.
Oh really now.
Throughout my teens are early twenties, I was not immune to the pressures of tanning my skin. I tanned for my prom. I also tanned for a couple weddings that I was a bridesmaid in and I tanned for my own wedding.
I tanned on my honeymoon.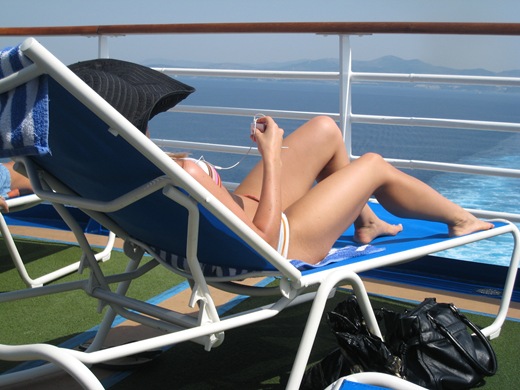 I knew that I shouldn't be doing it, but I did it anyways. I called myself an 'event tanner'- I tanned for events I wanted to look my best for and the rest of the time I wore ample sunscreen.
What did tanning leave me with?
Premature aging of the skin
Fine lines due to the damage from tanning
Not cool.
I kept telling myself that I would just tan for special events and that would be it. Well, after my wedding last year I asked myself:
'When would I ever be good enough? When would I start to challenge how I felt about my skin without a tan and put an end to this 'event' tanning?'
I had to face the cold hard truth.
I was tanning to cover up my insecurities.
The more I started to think about it, the more angry I got. Every where I turned, the media was telling me that pale skin was ugly and needed to be darkened.
Of course, magazines jumped on the Anti-tanning Bandwagon and started to promote using self-tanners.
But I couldn't help but wonder still:
Why do we have to use ANYTHING?
Why can't the skin colour that we are born with be good enough?
Why must it be lighter, darker, or different in any way?
Isn't using a self-tanner still buying into the notion that we still aren't good enough the way we are?
It is absolutely infuriating when you stop and think about all of the messages out there telling women to change their skin.
Well, I am here to say ENOUGH IS ENOUGH. And I want you to join me.
After my wedding last year I made another vow. This time it was to myself. I vowed that I would never set foot in a tanning salon again.
Here are some startling Canadian Statistics on Skin Cancer that may have you vowing to do the same:
Canadian Dermatology Association 2009 Skin Cancer Fact Sheet
Skin cancer is the most common cancer diagnosed in Canadians.
It is also the most common cancer in the world.

• More than 75,100 Canadians will be diagnosed with non-melanoma skin cancer in 2009.
• Approximately 5,000 Canadians will be diagnosed with melanoma in 2009 and 940 will die of it.
• Basal cell and squamous cell skin cancer are the two most prevalent forms of this disease. Skin cancers, including melanoma, are highly curable if found and treated early.
• While less common, melanoma is the most dangerous type of skin cancer since it can spread in the body and cause death.
• Canadians born in the 1990's have two to three times higher lifetime risk of getting skin cancer compared to those born in the 1960's. For those born in the 1990's, there is a 1 in 6 lifetime risk of having skin cancer. For those born in the 1960's, there is a 1 in 20 lifetime risk.
• The main cause of skin cancer is too much UV radiation.
• Skin cancer is one of a small number of cancers that can be prevented through simple measures such as limiting sun exposure, seeking shade, wearing hats and clothing, and using an SPF 30 or higher, broad spectrum sunscreen.
• There is a group of people at particularly high risk for skin cancer because of their skin type and amount of sun exposure. This includes those with: fair skin and blond or red hair; skin that burns and freckles easily rather than tans; a lot of sun exposure through outdoor work or recreation; many moles (> 50) or some large and unusual moles; a history of severe sunburns.
• Looking at all cancers found in the 15 to 29 age group, melanoma represented 7% of new cases in young men and 11% of new cases in young women, which may be attributable to social behaviours (seeking a tan), particularly in the latter group.

• The rising rates of skin cancer are placing increased demands on dermatologists. There are fewer than 650 dermatologists to treat Canada's population of more than 30 million. The number of dermatologists in Canada is decreasing rapidly as the rate of retirement far outstrips the number of new dermatologists in training.
[Source]
The truth is, there is no smart way to tan.
I am ready to learn to love my skin colour and appreciate the beauty in it. So what if most models and actresses have tans. Just think of Nicole Kidman and Anne Hathaway. They are both two beautiful role models that pale skin is beautiful.
Here is what I am committing myself to:
Absolutely no tanning beds. Zilch. Nadda. None.
No Self-tanner. WE DON'T NEED TO CHANGE OUR SKIN COLOUR.
Don't buy into the media hype that only tanned skin = beautiful. Beauty is what you were born with!
It is time that we as women start to challenge not just the focus on excessively thin 'ideals' in the media, but about our skin colour too.
Since the beginning of time, women have been told that we are not good enough the way we are. I am sick of it!
I hope you will join me in committing to my Love Your Skin Movement. As women, we have the power to influence trends with what we spend our money on. Stop endorsing it, buying it, and supporting things that make you feel that you are less of a women if you don't do 'X,Y,Z'.
Are you with me? :)
~~~~
Do you feel the pressure to change the colour of your skin or to tan? Have you ever used tanning beds despite knowing that you shouldn't?