Hello! :D
Yesterday we had a wonderful get together with the family for Thanksgiving. :) I made a vegan banana walnut chocolate chip loaf that was a huge hit.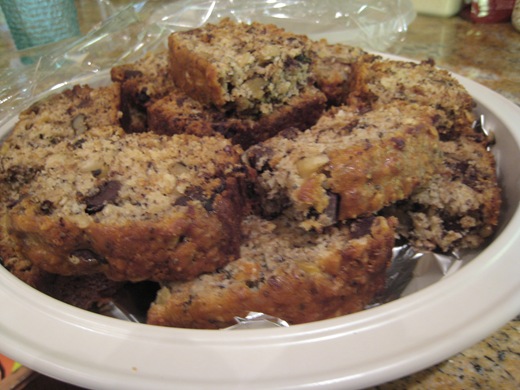 It was literally gone in 10 minutes! lol. I love showing people that vegan treats can be even better tasting than ones made with animal products. No one believed me that it was vegan. :) Music to my ears!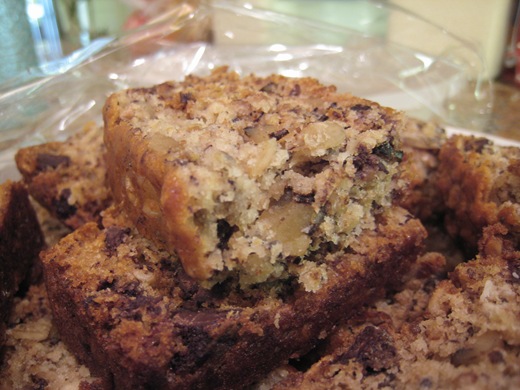 My brother in law had about 7 slices! hahaha. ;)
I brought my Aunt some Glo bars!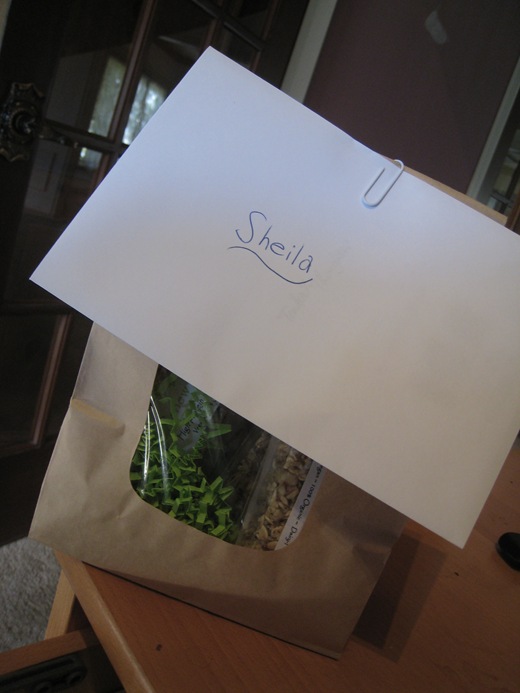 Prepping in the kitchen: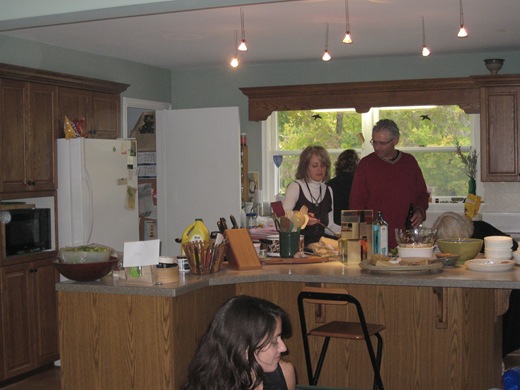 The appetizers: Pita chips, cheese, hummus, candied almonds, and my bread: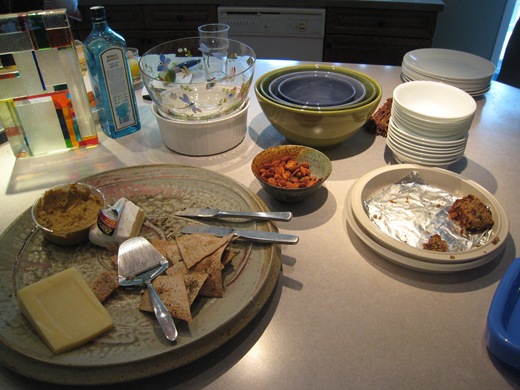 I got the recipe for these candied almonds and I will be making them soon. They were so delicious!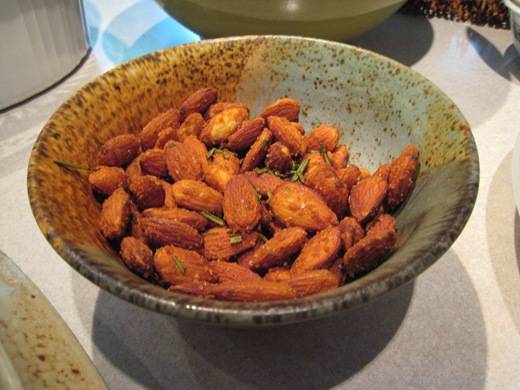 Table for 12 (plus 2 kids!)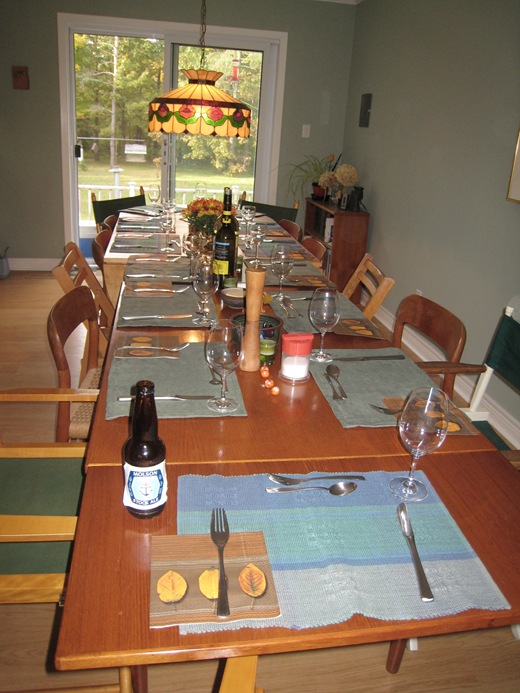 Our Uncle Steve has a huge garden and he gave us a big bag of Tomatillos!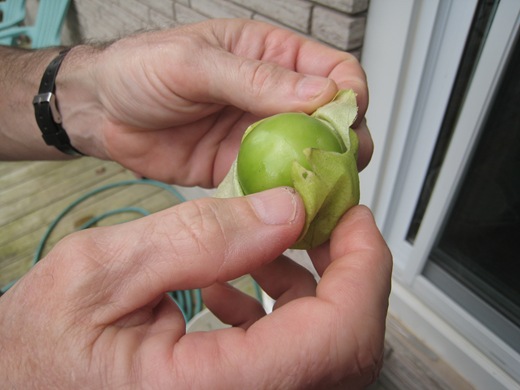 I've never seen them in the flesh before!
I've been told that I must make Salsa verde with them. Anyone know a good recipe?
Turkey…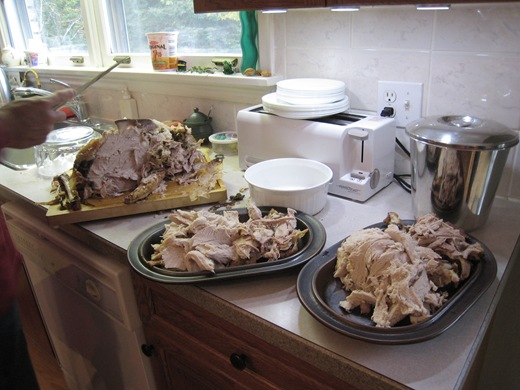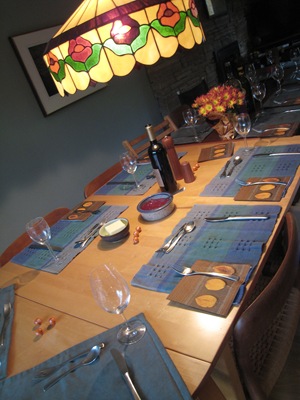 My MIL makes deep fried potatoes every Thanksgiving and Christmas.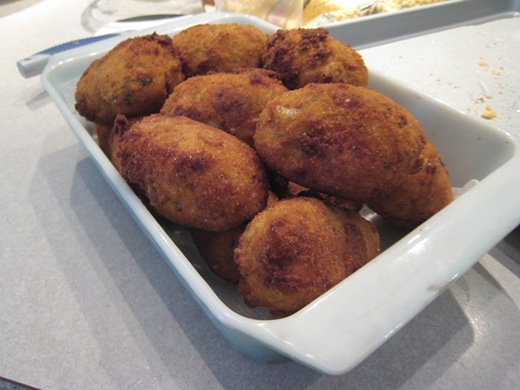 The boys goes crazy over them. No, crazy isn't even the word!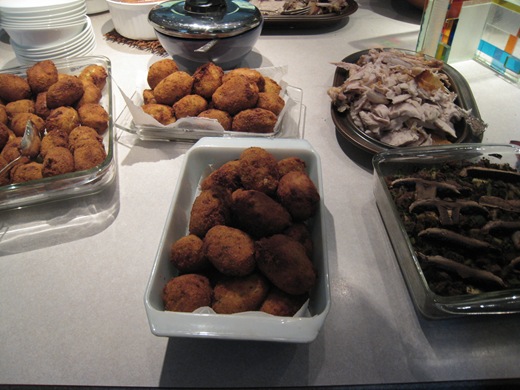 Stuffing:
Fresh Carrots from the garden (my fav!):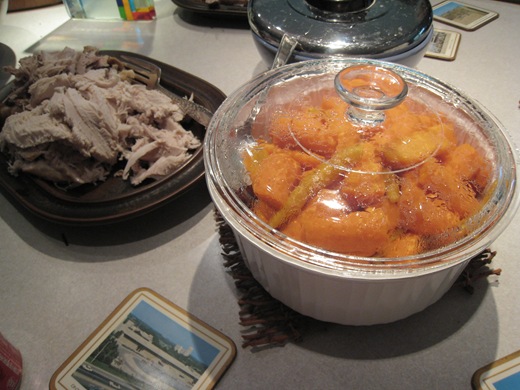 Caesar salad: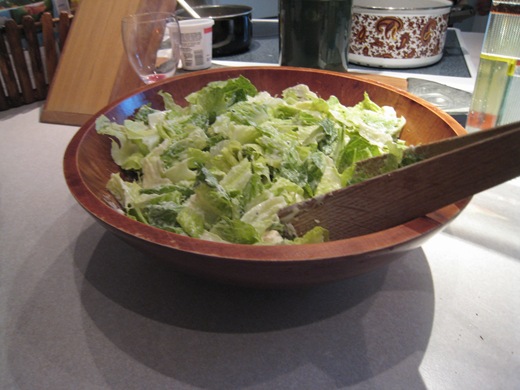 As you can see, the choices I had for a vegan diet were quite limited. I don't expect people to cater to my lifestyle though, so I always make sure to fuel up prior to the event. On the way there, I had a couple snacks to tie me over.
My plate: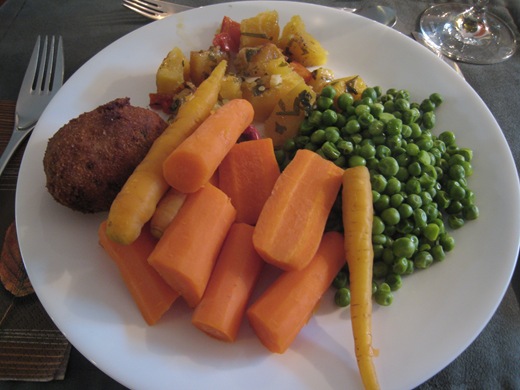 I took advantage of all the veggies and filled my plate with them!
Fresh carrots
Fresh peas
1 potato
Herbed roasted squash and red pepper (I had the cheeseless option)
I had it with some 20 Bees chardonnay which was really good:
I also went back for seconds on the carrots and peas. :)
Eric's plate: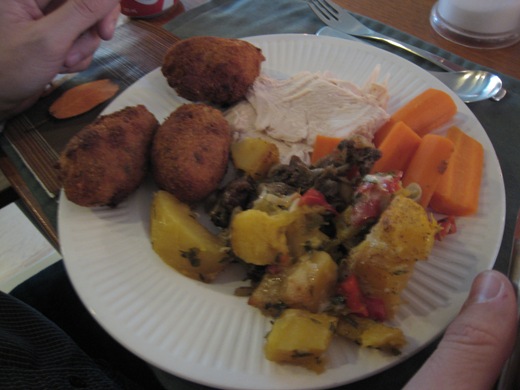 He isn't a big turkey fan and he doesn't like gravy. ;) He actually puts ketchup on his plate! Everyone makes fun of him each family dinner when he asks for ketchup. His request is always met with gasps of horror. lol. My dad always teases him too, he says, 'Oh you aren't going to ruin that plate with ketchup are you???' ;)
~~~~
Being a Vegan At Thanksgiving
Thanksgiving is always a bit difficult when you are vegetarian, and even more so when you are a vegan. Considering that the whole holiday revolves around eating an animal, it sort of provokes mixed emotions for me.
Firstly, I love Thanksgiving for the part of it that brings family together. Each Thanksgiving we go to our Aunt's place and she puts on a fabulous dinner for us. It is always a really fun visit catching up with the family.
On the other hand, I am bothered by what is being served on millions of tables across Canada. Most likely, the turkey comes from a factory farm where it has suffered tremendously and been pumped full of hormones to make it grow. The method by which most animals are killed on many factory farms and slaughterhouses is nothing short of gruesome, inhumane, and down right disturbing.
Eric and I had a long talk on the drive home about factory farms and slaughterhouses. Apparently there is a slaughterhouse for pigs right near his work. He told me that each morning he sees a huge truck filled with pigs that are being brought to the slaughterhouse.
Eric said, 'You know Ange it is really disturbing to see that. The pigs are just crammed in the truck with no room to move and you can see their cute little snouts sticking out of the truck. It is really sad to think about what happens to them in there.'
I think because Eric has witnessed this 'so close to home' so to speak, it has really started to change the way he thinks about eating meat.
He said something that I thought was quite interesting, 'If I had to go out and obtain my own food [without having the convenience of a grocery store], I would 100% be a vegetarian. Actually I would probably be a vegan!'
We talked about it some more and I admit I got a bit emotional about it all. It really pains me to think about all of the animals out there who are abused, tortured, and living in conditions so severe many of them will 'starve-out'. Starving out is a term when the animals starve themselves until death because they are under so much stress.
I never thought I would see the day when Eric would be slanting toward the side of giving up meat!!!!!
When we met, his diet consisted of meat, cheese, Coke, and bread. I'm not even joking. He hated vegetables.
I think because I make so many vegan dishes for us, he is starting to appreciate that a meal doesn't always have to consist of animal products to taste good.
Whether he will or will not fully give up meat, I really have no idea and quite frankly that is up to him. I am just happy that he has reduced his meat intake to only having it on special occasions or when he goes out to eat. That is a huge change and certainly makes an impact on the meat-driven 'system'.
~~~~
I'm off to bake 300 Glo bars today! I've got a full 10 hour day in front of me so I need to get going. :)
By the way, I added more Glo bars for sale on the shopping cart in case you were trying to get them when they were sold out.