Good afternoon!
I hope you are having a good day so far.
I am trucking along on my To-Do list…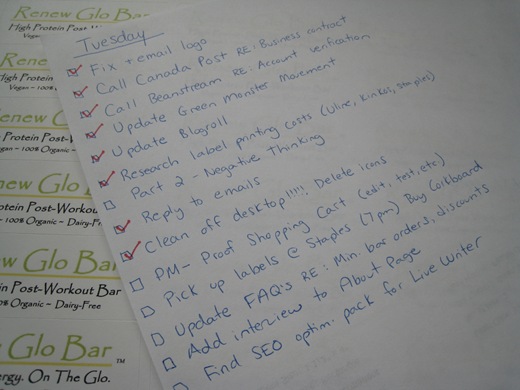 I use Gmail Calendar for my major tasks and then I also tend to write out a daily To-Do list so I have something tangible in front of me to check off. I find crossing off lists is so satisfying! I always think of things as the day goes by, so my list gets added to as I think of them. Any leftover tasks that are unchecked at the end of the day get transferred to tomorrow's list!
How To Beat Negative Thinking: Part 2
4. Play The Paper Clip Chain Game
I read about this trick for the first time last night and this morning I decided to try it out because it sounded really fun.
How it works: What you do is create a Paper Clip Chain by adding a paper clip for every negative thought that you have.
For example, if you think, 'Oh my boss is going to think I did a bad job on this task' that equals 1 paperclip.
Here is my Paper Clip Chain after this morning: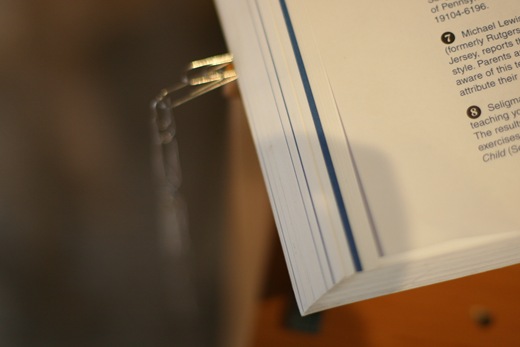 I was able to catch 12 negative thoughts in action!!!! I'm sure there were more too that I just missed.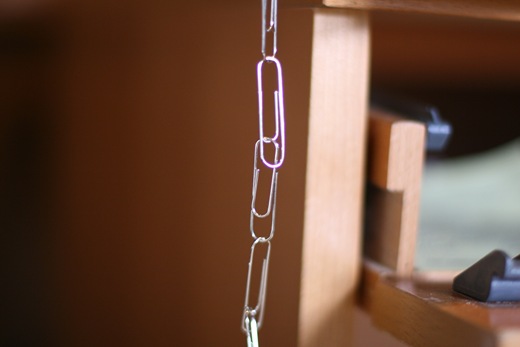 It was quite surprising, especially considering that I consider myself to be quite positive!
It really helped me:
1) Recognize the negative thought, and
2) Help to counter it as I clipped on the paperclip.
The great thing about this game is that you can play it at school or work and no one will be the wiser! ;)
5. Remember The Good Stuff
We all deal with negative people in our lives that try to bring us down. When you are faced with a negative comment or action, try to remember the good stuff.
For example, if your sister says to you, 'Your jeans are looking a big snug today, did they shrink in the wash?', immediately try to remind yourself of a positive time surrounding your jeans or legs.
Perhaps, your boyfriend told you that you have gorgeous legs or your best friend said she would die to have your athletic legs. Or maybe all you need to do is remind yourself of a kick-butt workout that you had and how proud you were that your legs were able to carry you through it.
Counter the negativity as soon as possible before you let it even register!
6. Start Thinking of Yourself as a Positive Person
When I started this blog, I was amazed at how many people said I had an infectious positivity about me. This was a bit surprising to hear because I still struggle with negative thoughts all the time! However, hearing these words made me start to think that maybe I could be a positive person! Once I started to believe that I was, it was contagious. When I pictured myself as a happy and positive person, I found that I started to act in a manner that was congruent with this schema. Positivity breeds positivity!
7. Pay someone a compliment
As you may have witnessed from Operation Beautiful, paying others compliments can really increase the positivity that you feel about yourself. If you are feeling negative about yourself, try saying something nice to the next person that crosses your path.
I know for myself, I often think nice things about people but I am too shy to tell them!!!! Sometimes, I decide to take the leap and say it out loud and I am often surprised at how good this makes me feel in return. It is especially fun to tell a complete stranger on the street a compliment.
I challenge you to pay a compliment to the very next person you see!!!!
~~~~~~
Have you ever received a compliment by a complete stranger? What was it and how did you feel? Do you ever tell strangers compliments or do nice things for people you don't know?
Once I was was in a store picking up a few items and this older lady came up to me and said I had a beautiful smile. I was just floored and I couldn't stop smiling whenever I thought of it.

No one can make you feel inferior without your consent. — Eleanor Roosevelt