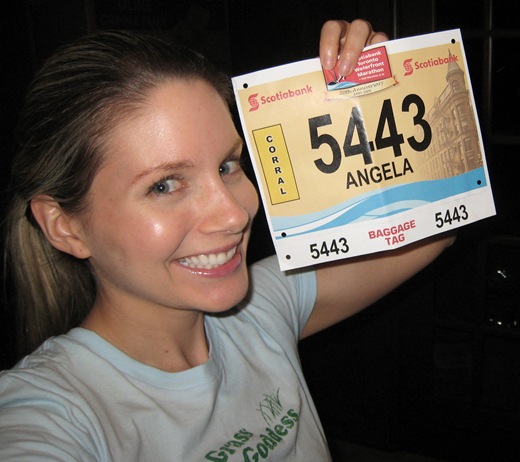 My bib makes me Smile. bahhaha.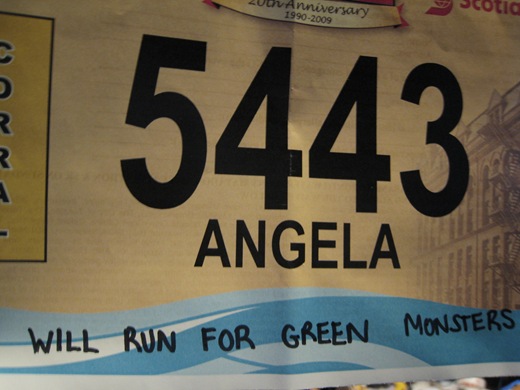 How did they know?! ;)
All my stress melted away last night when I got my race kit!!! Special thanks to the lovely Alex for picking up my race kit for me Friday! :)
Eric and I rocked out to my new playlist! Dancing is the best stress relief!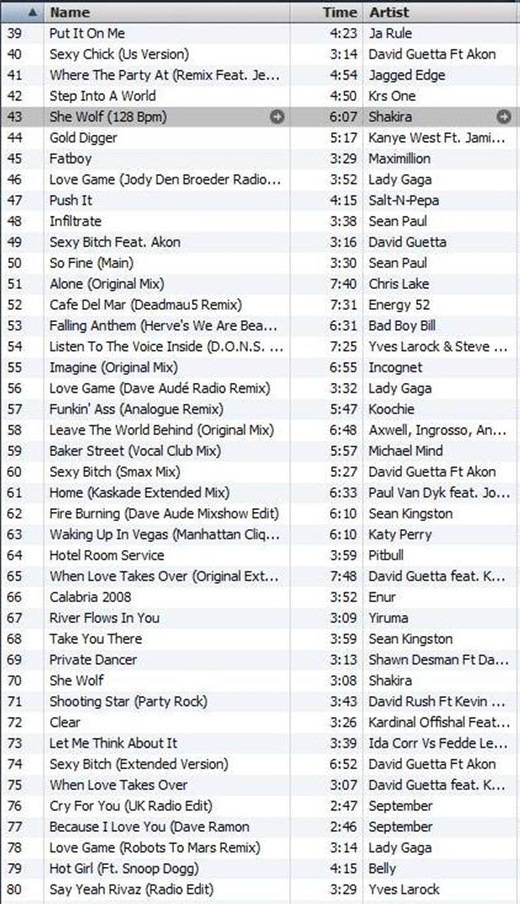 This list just shows the new songs that we added last night. 1-40 from my previous 10-mile race are still all on there.
My favourite songs on this playlist include:
She Wolf- Shakira
Sexy Bitch- David Guetta
River Flows In You- Yiruma (slow, instrumental super inspiring, 'ZEN' songs)
Shooting Star- David Rush
Cry For You- September (FAV FAV FAV song lately!)
You'll notice that I have a lot of the same songs on there- however they are all different remixes (thanks Eric!). I have a habit of playing the same songs over and over, so having remixes of he same song will be even better for variety.
~~~~~~
Your comments last night made me feel much better. Running is such a mental sport and I know that my mental game needs to improve. I had a weak moment yesterday, but after doing a bit of stress relieving activities, I felt much better.
One of my favourite comments from last night was "The hay is in the barn long before the taper week." SO true! :)
Here is my Negative –> Positive exercise in action!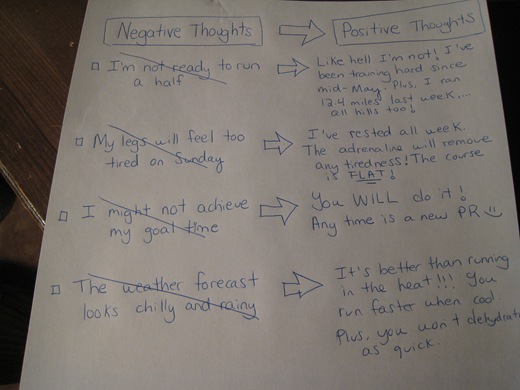 I felt so much better after addressing my concerns on paper! Crossing out the negative thoughts is so therapeutic.  :) Try it, it works.
I think I have decided what I will wear. I am going to wear the white tank I wore to my very first race (10k). It says ohsheglows.com on the back and the amount of money I raised for cancer. For pants I will wear my black crop pants since it will be very chilly out (10C approx) and my white hat (lucky hat!).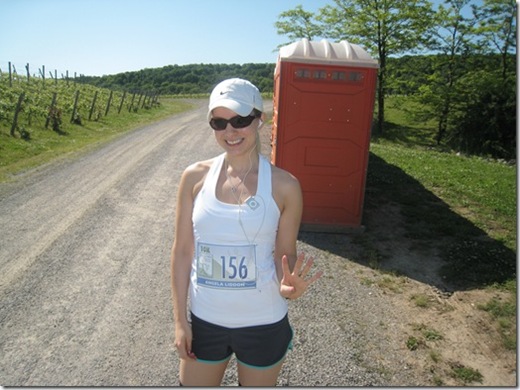 Sunday's schedule looks like this:
4:30AM: WAKE-UP CALL
4:35AM: Do shot of Broccoli Sprout Juice. Make Pot of green tea, drink green monster pre-made from Saturday night (add maca powder). Eat Run Glo Bar. Bring green tea with me to-go in the car.
5AM: Quick shower, get dressed, put on moleskin, pack homemade energy gel etc etc.
5:30AM: Drag Eric out of bed.
5:45AM: Leave for Toronto
6:20AM: ARRIVE, walk to start of race
6:50AM: ARRIVE at race starting line, try to find friends!
7:30AM: RACE BEGINS!
You can follow me live Sunday by visiting the race homepage and finding the link to track runners. My bib number is 5443.
Off to warm up with some green tea. It is freezing out this morning! Brrrr…

"Feed The Warrior" ~Lance Armstrong