Ok, I am starting to worry now.
As you know, I didn't run all week to give my legs a break. Well, today I hopped on the treadmill for an easy 2-3 slow miles and I was shocked to find that my legs are STILL tired and slightly sore/uncomfortable. What the heck!?
I ran about 0.4 miles and I decided to stop and walk slowly for about 16-17 minutes because I started to worry.
I really don't understand why my legs are feeling this way, but this is kind of freaking me out considering that my half is just 1 day away. My guess is that I have come down with something because my muscles in my back have been really stiff for no reason too.
I ended up getting off the treadmill after 20 minutes of light walking.
I am not sure what to think. I guess I will just keep resting until Sunday and hope that this just passes and I feel refreshed come race day.
I hate feeling stressed right before a race. :( I really don't want to go into this half marathon feeling like I'm not loosened up!
In other non-running aspects, I have been trying to help my body with healthy eats.
Including lots of Green Monsters!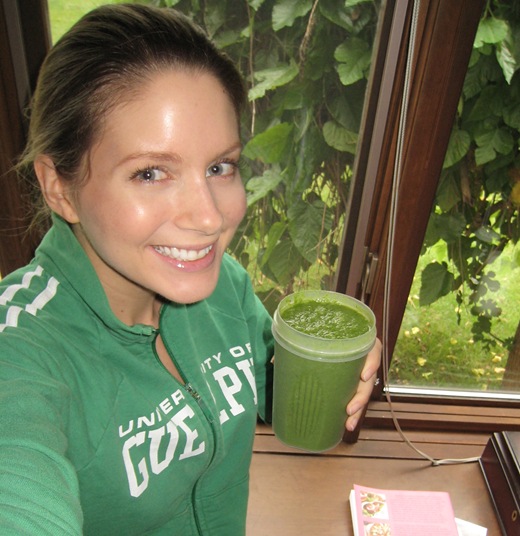 They always make me GLOW!
~~~~~~
Knee Sleeve Rash Update:
The other day Eric says to me, 'You know you should really get that rash checked out, it is getting worse." This is coming from a guy who never goes to the doctor when he is feeling sick. But, he was right. I needed to make the time to visit my doctor to get it checked out. I am the type of person that tends to put off doctor visits until I absolutely have to go!
Before I go to the Dr's office, I always Google my symptoms first so I am prepared.
This is what the Internet told me it could be:
Eczema
Ring Worm (NOT an actual worm, just a type of fungal infection)
Skin Cancer
Don't you hate Googling things on the internet and you always get one really SCARY result? It makes me so paranoid! I had swollen glands under my arms once and I was convinced it was cancer. I was on edge for 3 days until I could see the doctor!
So anyways, I had my appointment this morning.
One quick look at it Doc said it is eczema!
Apparently my Knee Sleeves have caused the eczema and I now have these red, scaly, highly itchy circles about the size of a dime to a quarter around my knee sleeve zone. It has been driving me crazy the past 1-2 months.
Apparently this steroid cream that he gave me is supposed to clear it up in 10 days (3x daily application!!).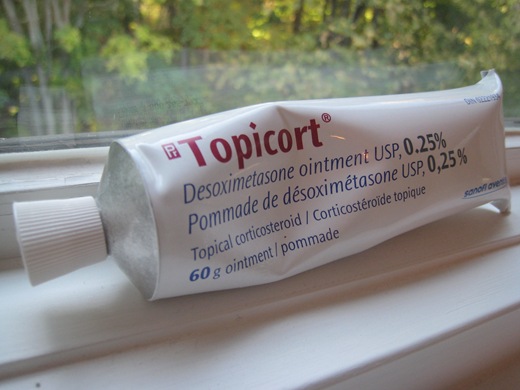 I would have loved to go the Project Natural Glow route with my treatment, but unfortunately the Coconut Oil did NOT help my condition. I was using it for a good two weeks with no relief. Sometimes a prescription is necessary. I can already tell that the cream is helping which is a good sign.
Doc actually suggested that I start taping my knees instead of wearing the sleeves.
As soon as I get some time I am going to make an appointment with a Physical Therapist. I'd like to learn how to tape my knees and hopefully not have to wear the sleeves anymore. Or better yet, strengthen my leg muscles so I don't have knee pain at all!
He also reminded me not to over-train. He was happy with me when I told him that I haven't been running more than 3 days a week most weeks. He said that is the way to go because running is hard on the body as we all know.
Cotton Knee Sleeves:
By the way, I ordered some DONJOY all cotton knee sleeves and they arrived this week. I was sooooo disappointed with them though. They are not even close to supportive enough like my current knee sleeves. In fact, I can barely tell that they are on because they do NOTHING! I have to send these back and get my money back. Which totally sucks because I had to order these from the US and they were NOT cheap!
~~~~
I'm off to work on the online shopping cart for a bit. Friday night will be spent cuddled up with Sketchie, Eric, and some TLC's Say Yes To The Dress. Addicted to that show!!
Tomorrow will be another segment of my grad school saga as well as showing you my pre-race eats, outfit, and race-kit stuff.
By the way, you can follow me during my half marathon LIVE on Sunday! Go to the homepage on Sunday and look for the link. My race bib number "5443". :) Oh and Race Time = 7:30am EST. Anyone going to be awake?? haha.
2 more sleeps, let's hope these legs snap back into action!
Enjoy your night! :)