1,647 people in Ontario are waiting for an organ right now.
Many of them will die before they even come close to the top of the waiting list.
295 people are waiting for a Liver
46 people are waiting for a Heart
1189 people are waiting for a Kidney
53 people are waiting for a Lung
1 person is waiting for a Heart and Lung
19 people are waiting for a Pancreas
4 people are waiting for a Small Bowel
40 people are waiting for a Kidney and a Pancreas
It really puts things in perspective, doesn't it?
There is a campaign going on right now by the Trillium Gift Of Life Network in universities around Ontario encouraging young adults to sign their donor cards.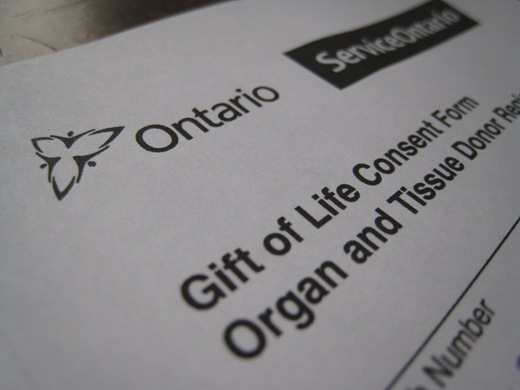 Why Donate?
Everyone is a potential organ and tissue donor, regardless of their age. To date, the oldest Canadian organ donor was over 90 years of age while the oldest tissue donor was 102 years old.
Ultimately the ability to become an organ and tissue donor depends on several factors including the health of the organs and tissue at the time of death.
Recovery of organs and tissue is carried out with respect and dignity. It does not interfere with funeral practices and no one will know about your gift of life unless your family tells them.
Organs and tissue that can be donated after death include the heart, liver, kidneys, pancreas, lungs, small bowel, stomach, corneas, heart valves, bone and skin.
Studies show that donating the organs and tissue of a loved one who has died can provide immediate comfort and long-lasting consolation to family members in their grieving.
There is also the possibility of making a living donation of a kidney or liver.
After watching this news segment, it hit me:
I had not signed my donor consent form.
I will admit, my reason was not a great one.
I was simply afraid to do it.
Plain and simple.
But after I read the statistics, I knew I had to put my fears aside.
I can only imagine how horrible of a feeling it is to be on a wait list and come to the realization that you are not going to have a transplant in time.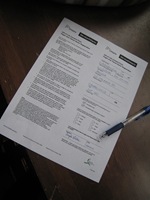 Or being the family member of a loved one who is waiting for an organ.
I went to the Trillium website, downloaded the form, filled it out, and walked it to the mailbox.
When I die, I would hope that something good could come out of it and one (or many) of my organs could potentially save another's life or go towards research and education.
Why don't they have an online form?
As I mentioned, you need to download the form, print it, and snail mail it in. I think that they would be much more successful with getting people to fill it out, if they provided an online submission form. I can see many people 'not bothering' to do it because you have to mail the form in. We are such a technology driven society that it really makes sense to have an online form. It could mean the difference of an extra 1,000 people filling it out, you never know! Just my two cents.
Deciding to become an organ donor is a very personal decision and not one to be taken lightly. I am not here to tell you to fill out a consent form. I am here to help spread the word of this campaign and provide you with the resources to make an educated decision of your own.
I think this is such an important topic that doesn't get enough attention in the media.
For more information visit:
US Donor information: http://www.organdonor.gov/
UK Donor information: Click here
Canadian Info: http://organdonations.ca/

Every man dies. Not every man lives. ~Tim Robbins