Greetings!
I just about froze in bed this morning. Oh my gosh, where did my summer go??? I was an icicle all morning. I kept pressing up against Eric for warmth. He hates when I put my icy feet near him. hahaha!!! My feet are always cold even in the summer. I guess I have OSGmom to thank for my poor circulation! ;)
I am currently writing this post from the car as we are on our way to visit the in-laws. Sketchie absolutely loves the car and he gets a huge amount of separation anxiety when he sees our bags being packed. This morning he sat in his bag by the door and meowed all morning!
Eric agreed to go on a run/bike with me this afternoon and I thought that was a great idea because where the in laws live is so beautiful and will be great for running. So I got to have a lazy morning for a change! We are going to do 6 hilly miles today and that will round out my weekly mileage at 24.5 miles. Next week, I am shooting for a taper week at around 10 miles.
I started off my morning with a shot of Broccoli Sprout juice. My new morning routine is to do a shot of this juice (or wheatgrass) on an empty stomach. Then as that digests, I steep my Sencha green tea and have that afterward. About a half hour later I have my green monster. There is no better way to start the day!!!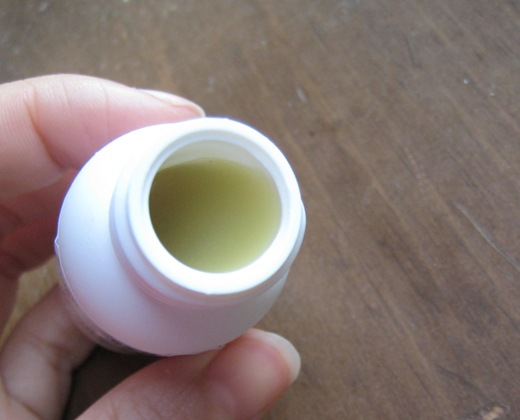 Let me tell you, if I thought the wheatgrass juice tasted bad the Broccoli Sprout juice was absolutely horrible!!! I almost gagged. Luckily it is over very quickly.
Hubby brought home some larger than life dandelion last night. :) I love dandelion in my green monsters!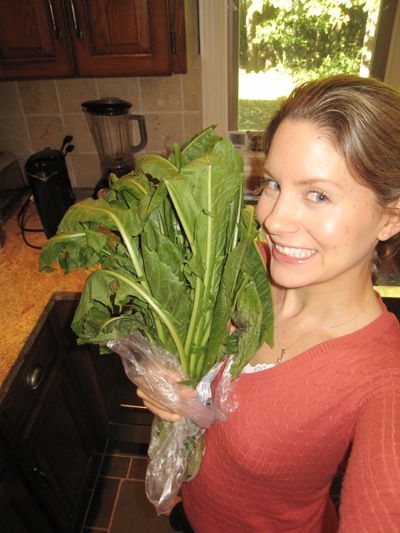 I also have been having something new in my green monsters! I picked up this powder at the natural food co-op (where I also got the wheatgrass/broccoli juice).
Pure Maca Powder: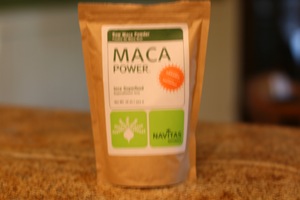 (Sorry for the blurry pic!)
Maca is a superfood from Peru that increases energy, stamina, regulates hormones, increases mental and physical vitality, and boosts libido.
Maca provides the body with many nutrients, including potassium and calcium (it actually has higher levels than milk).
The powder doesn't taste great so a little goes a long way. I am really enjoying it so far. I have have oodles of energy in the mornings! The combo I made this morning was 1 tsp Maca, 1 T chia seeds, 1 cup almond breeze, dandelion + kale, and 1/2 a banana. So delicious and energizing.
After breakfast, I packed up some food to bring with us to the in-laws.
Can you guys tell that this picture wasn't taken with my SLR? I can notice a huge difference now.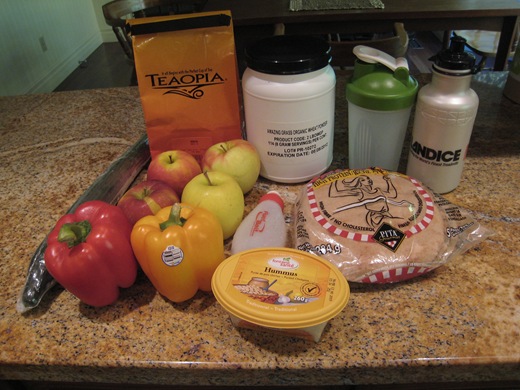 4 apples
1 cuke
2 peppers
1 tub hummus
1 bag high protein pitas
water bottles (for exercise)
Teaopia Sencha green tea (Kristi sent me a huge box of Teaopia last week as a surprise!!!)
Amazing Grass wheatgrass powder (green monster to go!)
Mary's crackers (not shown)
I'm often asked how I deal with visiting others and being a vegan. It can be very difficult to simply eat healthy let alone adhering to a vegan diet when traveling. That is why I bring some emergency foods with me to my in laws. I like being prepared.
They also encourage me to bring things and ask if there is anything I need (I always say no, lol). Because they are now family and we have known each other for 9 years, I feel comfortable bringing food when I visit. However, I can't say that I would bring this if I was visiting someone I didn't know very well. I wouldn't want to come across as rude. It is a tough situation at times!
How do you deal with visiting others and trying to eat healthy? Does it depend on who you are visiting? Do you pack any foods with you or do you just wing it?

Don't forget about the amazing Whole Foods giveaway going on until Sunday! Bree tells me that she hasn't had many entries so the contest is pretty much free for the taking at this point. Just think, you might be able to win a gift card by referring as few as 10 people to the facebook group! You never know…!