I think it is time for some positive visualization to help us feel good about our bodies.
All too often, those negative thoughts can creep into our minds and get the best of us.
I love this book because it has very quick and simple tricks for boosting my body image.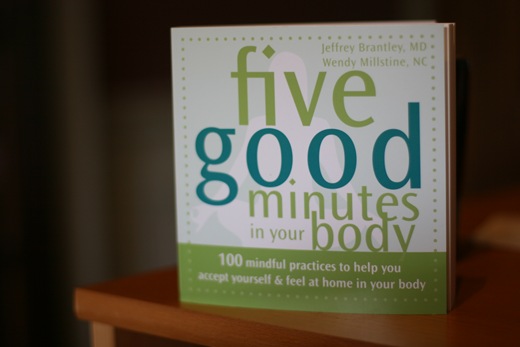 Here is another one of my favourites that I did last night (you can click to enlarge):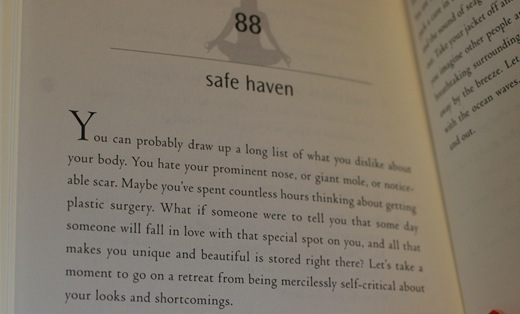 I love this part:
"What if someone were to tell you that some day someone will fall in love with that special spot on you?"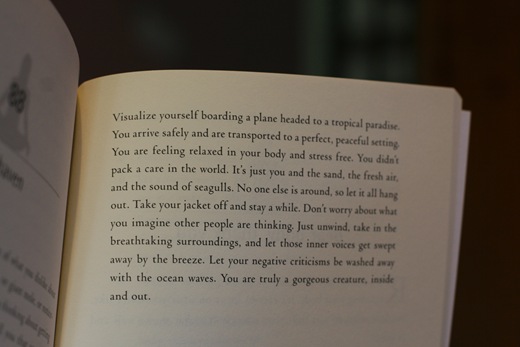 This visualization exercise was so fun to do!
Has anyone ever told you that they loved a part of you that you always thought was a flaw?
One that sticks out for me is my arms.
I used to hate my arms because when I was in middle school a boy I knew teased me about them and told me that they were very muscular (which I interpreted negatively). He would make comments like, 'Holy cow look at those pipes!' and it made me very insecure.
This comment overshadowed how I felt about my arms for YEARS.
That is, until I met Eric.
Shortly after Eric and I started dating he confessed to me that he loved my arms and he thought they were sexy. He said they are one of his favourite things about my body. I was absolutely shocked and it changed the way I viewed my arms for ever! I now see the beauty in my arms that I never saw before.
This visualization exercise is great though because it reminds us that even if we don't have outside validation, we can find it from within.
What about you?

PS- On an unrelated note- if you are running the Scotiabank half or marathon on the 27th, can you send me an email? [email protected]