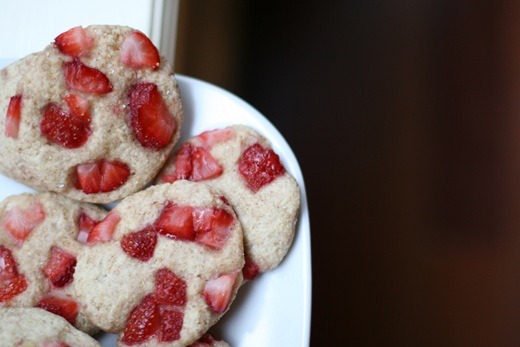 I have never been a big sweet and savoury person. I either want my food sweet or I want it savoury. But combined? I was always a bit skeptical. However, when I set out to test some spelt biscuits (adapted from my spelt tortilla recipe), I decided to throw in some fresh strawberries on a whim. It couldn't be that bad, right?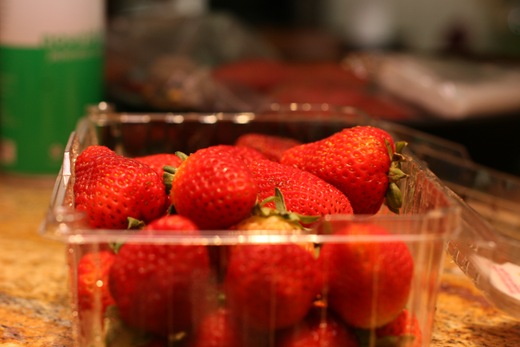 Have I mentioned I love spelt?
Spelt flour has 15-20% more protein than wheat, is rich in magnesium and complex carbohydrates, and is much easier to digest than wheat protein. If you are sensitive to wheat it may be a good option for you, however please note that spelt is by no means gluten-free so it is not advised for Celiac sufferers.
Vegan Strawberry Spelt Biscuits
Ingredients:
1 cup whole grain spelt flour (for a more delicate biscuit use white spelt flour)
1.5 teaspoons aluminum-free baking powder
Pinch of salt (I used fine grain sea salt)
6 tablespoons hot water
3 tablespoons non-hydrogenated coconut oil
1/2 cup diced strawberries
Directions: Preheat oven to 375F and grease a cookie sheet or line with parchment paper. Whisk dry ingredients together and then add water and oil and mix until just combined. Place dough on floured surface or on a non-stick mat and flatten dough until it is 3/4 inch thick. Place strawberries on top and press into the dough. Take a small glass or cookie cutter approx. 2-3" wide and cut out biscuits. Gently peel dough off counter and place on cookie sheet. Sprinkle with turbinado sugar. Bake for 9-10 minutes depending on oven.
Makes 10 tiny biscuits @ approx. 70 calories each.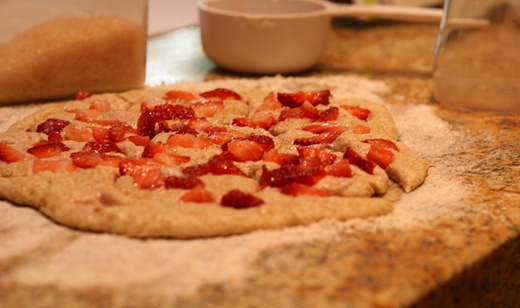 Total prep time was about 10 minutes. Quick and easy.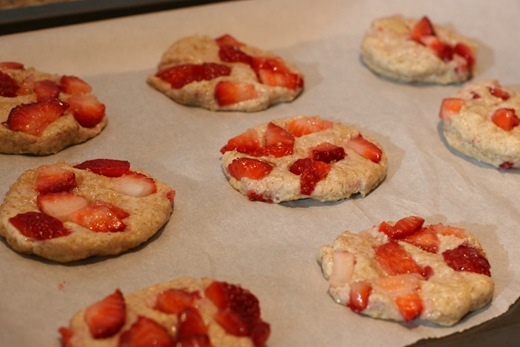 I tried them sandwiched with vegan butter cream icing…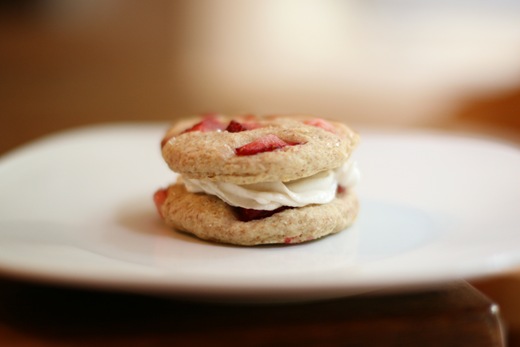 Drizzled with pure maple syrup…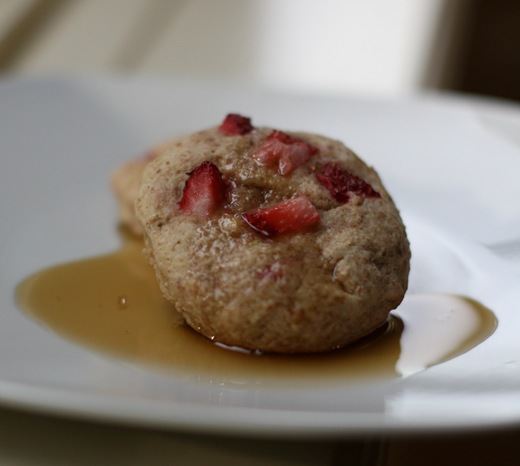 And spread with a bit of Earth Balance vegan margarine. All three were delicious!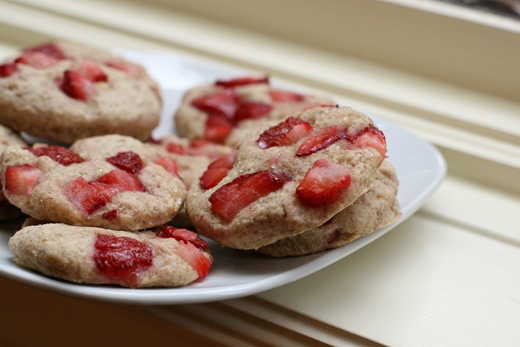 I loved these biscuits, but I think next time I would prefer them with sliced banana on top rather than strawberries. For some reason I just find bananas pair well better with savoury tastes. These would be fabulous with bananas baked into the biscuit and then spread with a bit of peanut butter. I might try that next time!
Eric is already asking when I am making the next batch! ;)
~~~~~~
I'm off to the wedding early tomorrow. I will try my best to get a post up in the morning, but I'm not sure. The hotel has internet access so hopefully I can connect at some point during some down time.
I'm wearing a dress out of my closet that is 8 YEARS OLD if you can believe it. I bought a dress this week, but I am going to return it because I decided to save some money and wear the other dress. It has only been worn once (to my mom and stepdad's wedding reception!) and still fits like a glove so I thought, why not wear it!?
Stay tuned for the full recap of the wedding festivities. I can't wait! :) The weather is supposed to be gorgeous too (we've been having lovely summer like weather all week).
~~~~~~
You can also check out today's awesome hill workout on my run page.
Have a great weekend whatever you are up to! I'm off to pack for the wedding tomorrow and busy myself until Eric gets home from work (sadly not until 8pm tonight!).