Happy Friday!
Wow what a short work week this felt like!
First up- the winner of the second chia seed giveaway!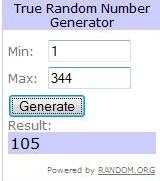 Congrats to Amelia who said, 'those pb&j glo bites look amazing!' Amelia please send me your address and we will get these chia seeds shipped off to you. Thank you to everyone for participating!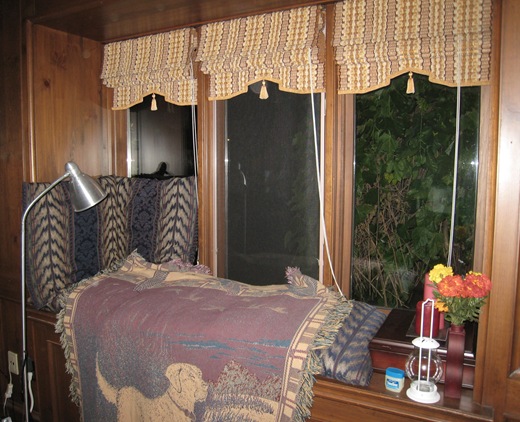 I transformed our window area in the office last night into a 'reading zone'!!! I took all the cushions from our blue couch and put them on the window ledge. Added a blanket and lamp and I'm good to go!
It wasn't as comfy as I imagined it would be, but it did the trick I guess. ;)
I read my newest running book, 'First Marathons: Personal Encounters with the 26.2-Mile Monster'. I just finished the first story tonight and it was so inspiring (see quote at bottom!!).
The book is described as this on the back cover: 'The stories of 37 people- famous or not, young or old, fast or slow- who once ran the marathon for the first time.'
Thank you to everyone who suggested this book to me. And thank you to my sister Kristi for giving me the Chapters gift card. :)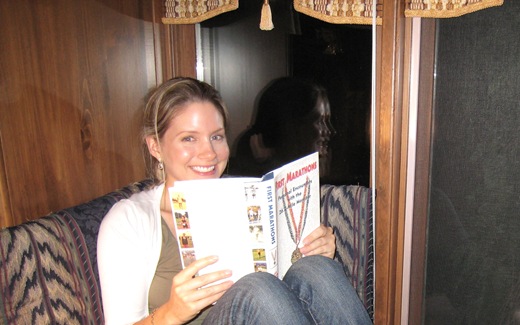 It's the simple things in life…right? ;)
~~~~~
The other day I wrote about an article in my Runner's World about recovery days.
Today I wanted to talk about the article's suggestions for immediate recovery. Specifically, from minutes 0-45 post workout.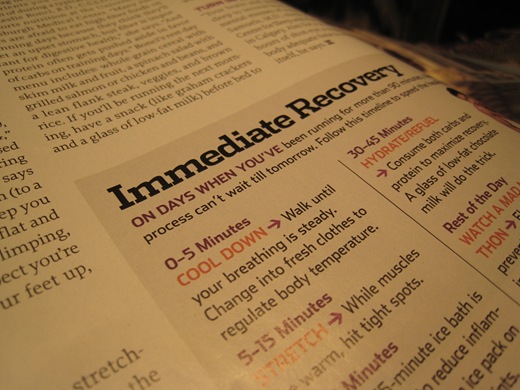 'On days when you've been running longer than 90 minutes, the recovery process can't wait till tomorrow.'
They suggest this post-workout recovery plan:
0-5 Minutes
Cool-down
Change into fresh clothes to regulate body temp
5-15 minutes
Stretch while muscles are warm
15-30 minutes
Ice baths are a great way to reduce inflammation
Put an ice pack on aching muscles/joints
30-45 minutes
Drink + Eat
Consume carbs and protein
They also mention that elevating your feet helps prevent all of the blood from pooling in your legs. Great tip- I never thought about doing that.
Of course, after I read this, I compared their suggestions to my own post-run rituals.
My version:
0-5 minutes
Remove knee sleeves, sneakers, watch, hat, music, hat, sunglasses, moleskin. Whew.
Skip the cool down (I consider the last part of my run to be a cool down because I finish so slow and tired, lol. I probably could benefit from a cool down though!)
Drink protein drink = 10 grams protein (I mix it as soon as I walk into my kitchen). Guzzle drink. Feel better.
5-30 minutes
Tweet about my run (Sad but true!)
Stretch (Though, I admit I don't always remember to stretch)
Mini ice shower

In the shower I turn the water to freezing cold and put it on my sore spots. This is my version of a mini ice bath. I do it for about 90-120 seconds on each spot. Brrrrrr. Followed by lots of hot water.

Wash run clothes + knee sleeves + HRM strap
30-45 minutes
Post run meal
My post run meal tends to include at least 25 grams of protein, healthy fats, and lots of whole grain carbs
Drink more water
Take vitamins (Calcium, Vitamin D, Spirulina)
Make Sencha Green Tea (I need caffeine if I am feeling sleepy!)
While my recovery isn't exactly as the article suggests, I know it definitely works for me and that is what matters. I think the hour immediately following an intense workout is quite important to 'set the tone' for how your body will recover over the next 24-48 hours.
Do you have any rituals following your workouts? What does your post-workout recovery look like for minutes 0-45? Do you eat a special food or meal?
When I do just normal workouts on the treadmill, I don't pay too much attention to my recovery following the workout, but I always make sure to have a healthy snack as I am usually hungry and lots of water.
I'm off to an appointment then baking up a few orders this afternoon! Tomorrow is my brother's wedding!!

"I looked around at all the people who were sharing this adventure together and I nudged Chris and said, 'Look at all these people who are as crazy as we are!' It was so cool to be in the presence of others who shared the same passion, the same drive. For the last six months we'd been trying to explain to our coworkers why we wanted to run a marathon. Now we were in a crowd of people who understood why. There was no need to explain. I loved being a part of them, of their energy. I felt like I belonged here."
~Kim Ahrens (story 1), from First Marathons: Personal Encounters with the 26.2-Mile Monster