Hey guys!
I've had a productive day today. I started off this morning by doing lots of paperwork. I am happy to say that my invoices, expense/revenue tracking, and mileage tracking are all up to date! I have booked a half day each week into my calendar so that I remember to stay on top of this stuff because when I am busy baking in the kitchen, it is really easy to forget!
I also baked up my orders of the day. Zen, Classic, Heaven, and Chi Glo Bars plus two batches of Glo-nola. I also tested out some new Glo-nola, so I am throwing in these free samples into my orders today. You just never know what goodies I am going to toss in! ;)
I never told you what my newest obsession is!
No matter how much I stuck behind my old paper calendar, a couple weeks ago I came to the conclusion that it just wasn't going to cut it anymore. My life is just too crazy to be able to fit everything onto a tiny square each day.
Way back in February, I gave Gmail Tasks a whirl. I wasn't happy with it because it was just a very simple list and I often forgot about it.
Then in March, I tried Todoist. I initially liked it, but after using it for about a month I decided it wasn't for me. I just didn't like not being able to see the calendar in front of me (I believe it lists tasks vertically, list-style). I am such a visual person and I love seeing a full month at a glance (in order of when the events occur!).
After Todoist, I was so discouraged that I went back to my tried and true paper calendar format.
Oh boy. Why didn't any of you try to put an end to this beast!?
How shameful!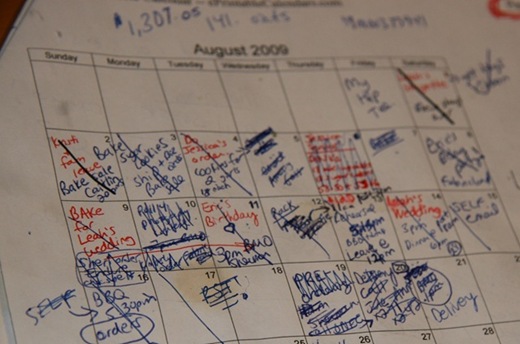 The problem with this pathetic little calendar, I'm sure, is quite obvious. There is barely enough space to write my workout let alone orders and other life events.
After seeing Caitlin's awesomely organized Gmail Calendar, I decided to give it another whirl. I used it briefly in university for a while (I synced my outlook with Gmail calendar) and I had good success with it.
So at the beginning of September, I took the plunge. I made a plea on Twitter asking for help of course.
Many of you came to my rescue, telling me all about the wonderful thing that is G-cal (as I like to now call it).
And because I was so completely confused for the first half hour or so (ok, ok, it was more like a week!) I thought I could provide some step by step instructions on how I started this beast up.
How To Rock G-Cal
Step 1: Get a Gmail account if you already don't have one. It is the best email program out there! I have 7,900 emails in my inbox and I'm not even close to going over my limit. *evil cackle* Remember when Gmail crashed last week?? Yup, that was all me baby.
Step 2: Once you are logged into your Gmail account, click on the Calendar link at the top left of the window.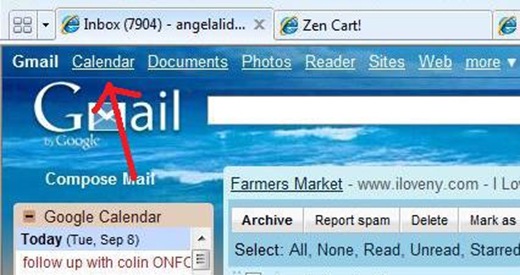 Step 3: Under the My Calendars box, click on Settings.

Step 4: Click on Create New Calendar.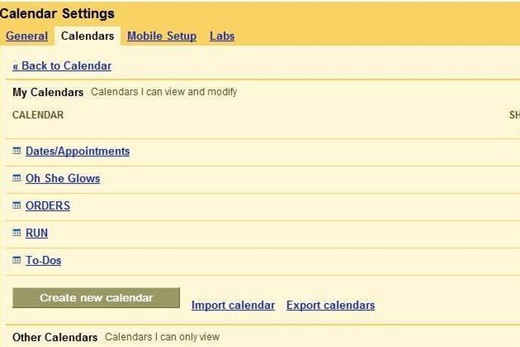 Step 5. Now here is where I got confused. You need to create a separate calendar for each category. Think of each calendar as its' own TOPIC or category. For example, I created a calendar for running, Oh She Glows, Orders, To-Dos, etc.
Add in Calendar Name, description, time zone, country, etc and then click Create Calendar at the bottom. You can share the calendar with someone too. I entered in Eric's email so I could share my dates/appointments calendar with him. He's already told me he is never going to look at it. bahaha. A gal can dream, right?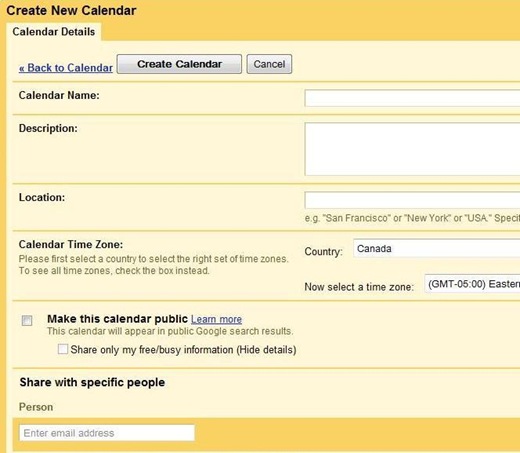 You will need to repeat Step 5, for as many calendars as you want. The best part of all is that Gmail integrates the calendars for you, so all of your dates appear colour coded in one calendar.
Step 6: After you have created all of your calendars (or categories), click on the little arrow beside each calendar to edit the colour you want it. This was the fun part!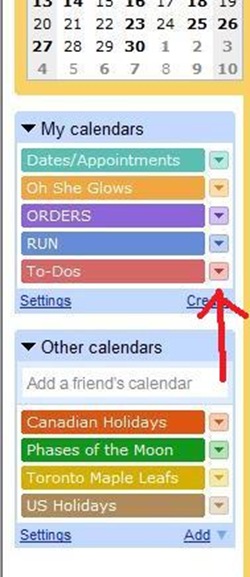 Step 7: Now click on the calendar and add in your to-do's by simply clicking on the date you want. This will pop up:
Fill in the 'What' and then Select what Calendar it is for. You can click on Edit event details if you want to set a reminder that will either pop-up or email you. This feature is very helpful!
I now track all my running mileage + totals, Oh She Glows to-do's, Orders, appointments, and basically anything that pops into my head! ;)
And there you have it.
G-Cal has a new feature that you can add in Sports Schedules, so of course, I added the Toronto Maple Leafs schedule. ;) I also added Canadian + US Holidays and the Phases of the Moon.
Super fun! :)
Any other G-Cal lovers out there???
Sketchie says, 'Best. Bed. Ever.'

See you tomorrow for the chia seed giveaway winner and an exercise fear I got over today!