Good morning!
I. was. tired. last. night.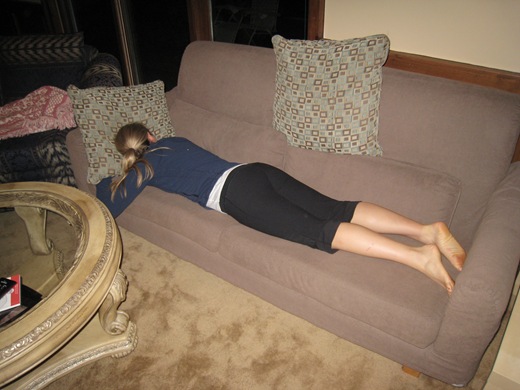 I was so tired I didn't even have the energy to read my Marathon book! I didn't nap, but I just rested my eyes for a bit. ;) I watched Nanny Diaries with Eric too. Anyone else LOVE that movie? It is one of my go-to chick flicks. :) Love it!
It took me a while to fall asleep last night. I ended up having my Glo Bar around 9pm for a snack as I got hungry again. I thought I would be fine until morning, but when I laid down to go to sleep my stomach started growling! It was quite hard for me to get to sleep. I try to avoid eating right before bed at all costs because when I do, I find that I wake up with bad stomach pains. I think I managed to get 7 hours though so I guess that isn't too bad.
I've heard many of you who have run long distances say that your hunger comes and goes in an odd way, and now I finally get what you mean! I ate a lot of food yesterday and that still wasn't enough to tame the beast.
Want to hear some good news though?
I'm not even sore today! It's incredible. Now that I am paying proper attention to fueling before and after my runs, I fully believe 110% that nutrition affects everything from performance to recovery. It is really incredible what the body can do when it is treated with love!!!
Back in the day, I used to rarely pay attention to that sort of thing- and I paid big time for it with injuries and burn-out.
Today I am enjoying a wonderful REST day and I just feel so much better than I ever did before when I was pushing myself too hard.

1) Green Monsters make it big!
Green Monsters were linked from the Sympatico.ca homepage today! Thank you to a tip from the lovely Sharon. Click on 6 Smoothie Super Ingredients. The green monster mention is on the 3rd ingredient (spinach). How exciting!
2) Calendars for a good cause
Looking for a 2010 calendar full of inspiration while supporting a good cause? Check out the Women's Wellness Calendars. A portion of the proceeds goes to support Chi-Ki Childrens' Charity which is a Canadian grassroots charity that helps improve the lives of children living in Laos which is one of the poorest and most war-devastated countries in the world. Last year Chi-Ki was able to build a hospital in Laos with the support of the Women's Wellness Calendar sales. Totally amazing stuff!!!
3) FRESH Meet-up
Fresh meet-up is tentatively scheduled for Sunday October 4th at 2pm (location TBD). Email

[email protected]

for more info!
~~~~~
How is your hunger affected by strenuous workouts? Long runs? Races? Tell all in the comments section! I think this is such an interesting topic. :)
See you later for my thoughts on food blogging! Does it change the way I eat?