At the beginning of August, I started to enter in my mileage into a calendar. Since I was two months away from my half marathon, I wanted to pay closer attention to my training.
This is what the month of August looked like: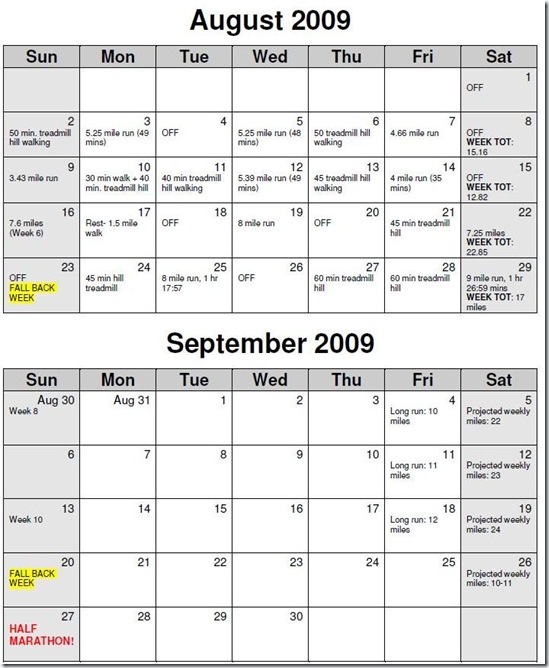 [If you'd like to see my training before August, check it out on my run page.]
Last week I realized that I went way over the 10% increase rule, so I decided to make this week a fall back week, where I would decrease my mileage. So I focused a lot on cross training and stuck to 2 runs.
I have never been one to follow a strict plan, so that is why you don't see much filled in on September's calendar. All that I have planned is my weekly long run goal and my overall total mileage goal. As for what days I will be running those miles, I will decide that when the week comes! ;)
I feel like my training is coming along really well though. Every once and a while I think back to my 2 month long injury and it is almost hard to believe that at one point I thought I may never run again. It was such a sad time for me, but it also taught me so much. I now know that if I treat my body properly and with some TLC, I can do some pretty awesome things.
Fast forward to today.
I will admit, I was not a happy camper this morning. I guess it is the hormones that get the best of me, but I was feeling really blah and just overall down in the dumps. The thought of strapping on all my gear and having a fun run seemed a bit daunting, so I decided to spend the morning working on business stuff and then see how I felt in the afternoon.
Last night I bought some IT Band Wraps at Running Room because I have been having some problems with my knee sleeves lately. They are giving me a heat rash and I am getting red, itchy welts/bumbs underneath the sleeves. It is driving me crazy! So I thought I would give these IT Band Wraps a whirl. I had a gift card for Running Room, so I figured it was a win win.
After I put them on I noticed that my knees felt much lighter, but I wasn't sold on them yet. I brought my knee sleeves in a bag just in case because I didn't want to have to turn around.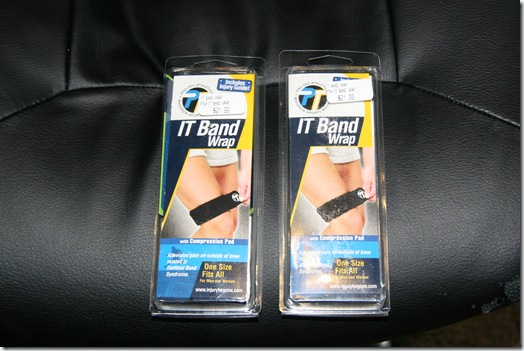 After getting my moleskin, electrical tape, sunglasses, sunscreen, hat, water, gel, etc. We were off!
The run (Murder Hill route):
Distance: 9 miles
Duration: 1 hour 26 mins 59 seconds
Avg pace: 9:38 min/mile
Max pace: 7:34 min/mile (bug was chasing me)
Max HR: 169 bpm
Avg HR: 145 bpm
I decided today that I would only stop and walk when I wanted to and I ended up stopping 3 times for about 30-60 seconds each time. At the 6 mile mark, I had some homemade gel (recipe coming soon) to give me a burst of energy.
The run was pretty challenging today because it was really windy out. I was also doing Murder Hill.
My IT Bands seemed to do ok until the 8:40 mile mark and my right knee started to hurt so I stopped and put my knee sleeve on for the rest of the way. I definitely don't think my problem is my IT Band, I think I just need overall knee support which the knee sleeves give me much more of. I'm not sure what to do about the heat rash though! Do I just have to deal with it? Get new knee sleeves? I'm not sure.
All and all I am quite happy with my run today. Aside from the knee hurting at the end, I felt strong, capable, and well-trained. I know that my cardio is definitely there, so from here on out until mile 13.1 it will be more of a mental game than anything. Last nigth Eric and I were talking about my half marathon (28 days) and I started to get so pumped up! I love the thrill of racing. :)
After my run I immediately gulped down 10 grams of delicious protein: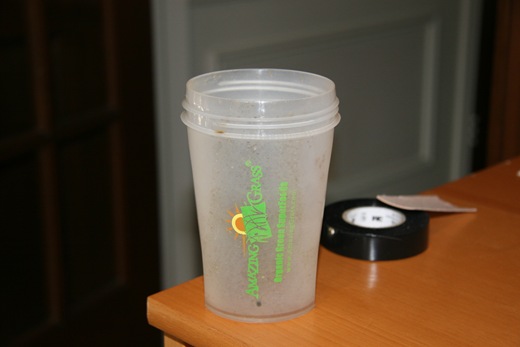 Told you I gulped it!
I also had a huge plate of leftover zucchini spaghetti: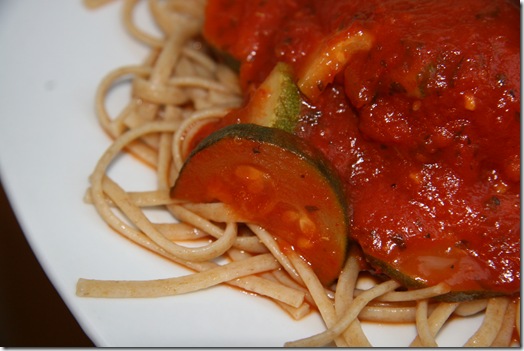 I LOVE spaghetti!!!!!!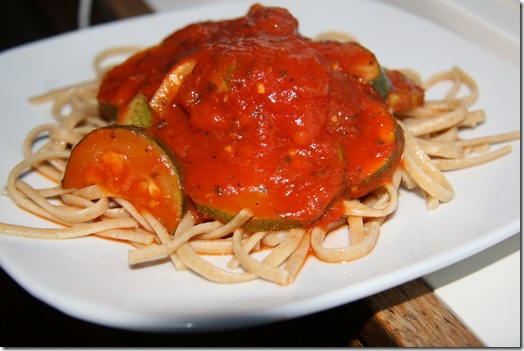 And a Peanut Butter Banana Bomb muffin (sans the bomb- all out!)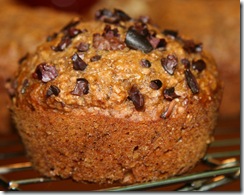 ~~~~~~
Thanks for all of you who wrote your fitness bucket list yesterday. It was so motivating to read and gave me lots of ideas! I keep looking at mine on the wall and it makes me so excited. Sooooo many fun fitness things I want to do in this life!
Coming up on OSG:
I will be showing you my homemade energy gel recipe. It is quick, delicious, and CHEAP!
Wedding Anniversary festivities- We're going out to 2 restaurants this weekend. I also can't wait to show you the gift I made Eric. It was so much fun.
Prickly Pear, anyone?
A new delicious food product review
Today's question:
I am taking Eric to this super fun and highly recommended vegetarian restaurant called Fresh in Toronto this weekend. The only problem is- I can't decide what to get! They have tons of Green drinks, elixirs, wraps, stir-frys. Oh my gosh. I want to have an idea of what I am getting before I go or I will seriously take 30 minutes to decide! Help me choose!

I learned that it is the weak who are cruel, and that gentleness is to be expected only from the strong.
– Leo Rosten