Our grocery shop this week was high in veggies and fruit! Meat was no where to be found much to Eric's chagrin. The new rules are if he wants meat he has to cook it. And since he is lazy in the kitchen, he has simply stopped buying it. lol.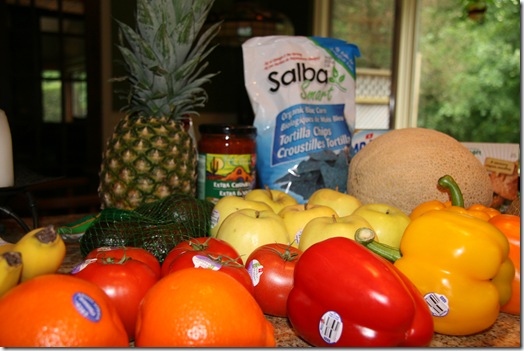 Another new fruit for my EFE: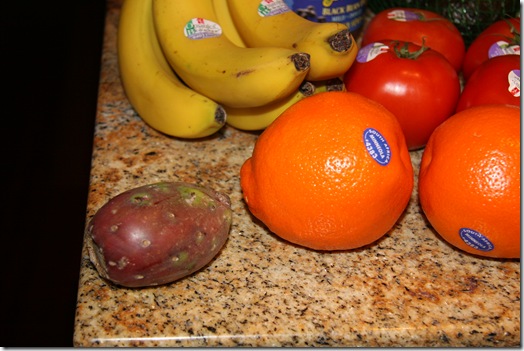 The Prickly Pear (aka cactus fruit) on left.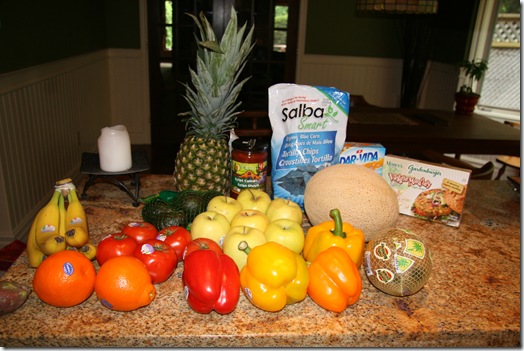 I also picked up my first coconut. Any idea how to open these?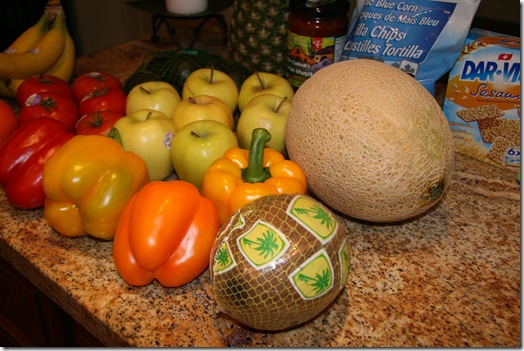 Not shown in these pictures are two bunches of organic kale and 1 large pkg of organic spinach. Eric picked them up for me on his way home last night when he found out my new machines arrrived. :)
I have two new food reviews today!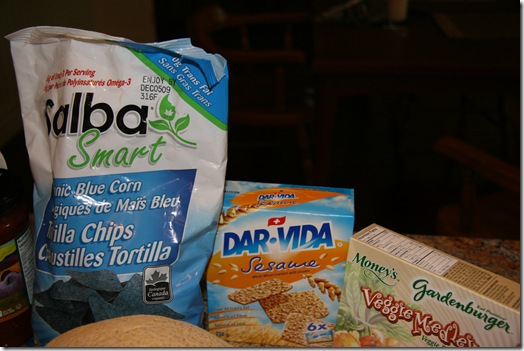 Up first: Salba Smart Organic Blue Corn Chips
This was my first time trying these out after I heard rave reviews about them from a couple readers.
The nutritional stats are excellent!
Some highlights, per serving: 4 grams protein, 7 grams fibre, low in sodium (135 mg), and 0.6 g of Omega 3 Fatty acids. Not too shabby for a 'chip'.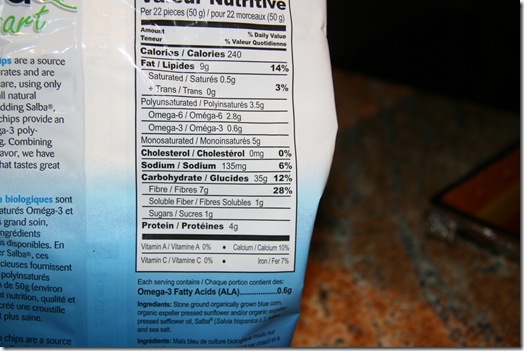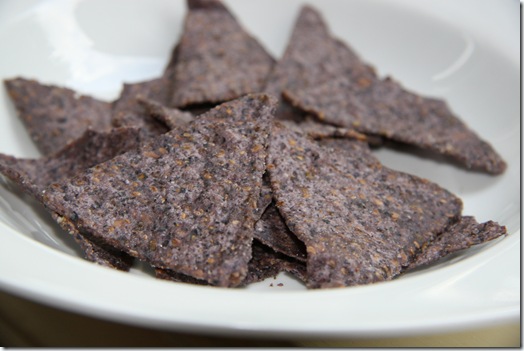 My taste review:
These were crunchy, crispy, and thick- loved the texture!
A bit salty for my liking, however they paired nice with my low sodium homemade hummus
Delicious blue corn taste
Overall, I LOVED these chips. Eric and I were so hungry after our grocery shop we ripped open the bag and ate a bunch on the drive home. We couldn't stop eating these!
Up next: Dar-Vida Sesame Whole Wheat Crackers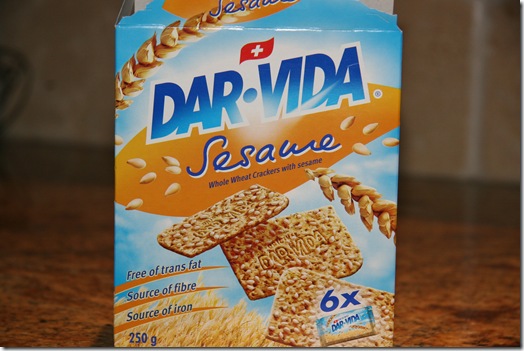 Good nutritional profile: 3 grams protein, 2 grams fibre, 150 mg sodium per 4 large crackers.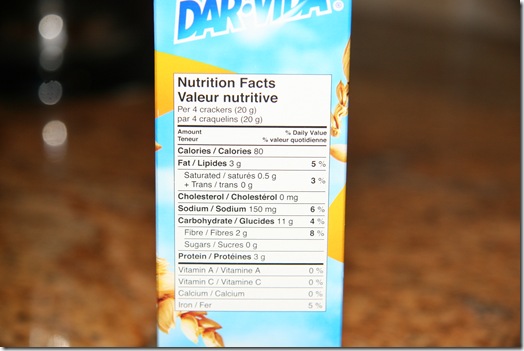 The only thing I didn't like about this product was that it was high on packaging. There are 6 packages of 8 crackers. Since I work from home, I don't really need this kind of grab and go snack, but I could see how it would be really useful for those of you who are looking for a grab and go snack for school or work.
My taste review:
Firm and crunchy
Light and natural tasting
Excellent paired with a dip like hummus, salsa, or bean dip (I tried all 3!)
I am officially addicted to these crackers!!! Mary's step aside, there is a new cracker in town.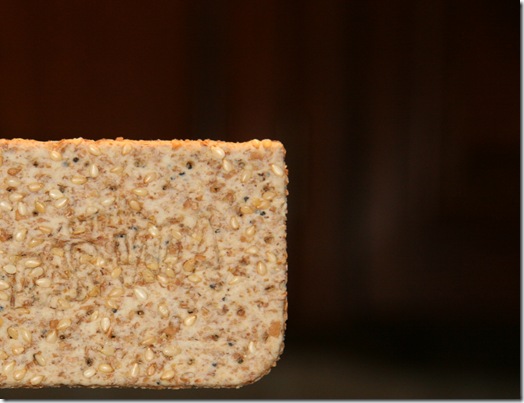 They made an excellent afternoon snack yesterday: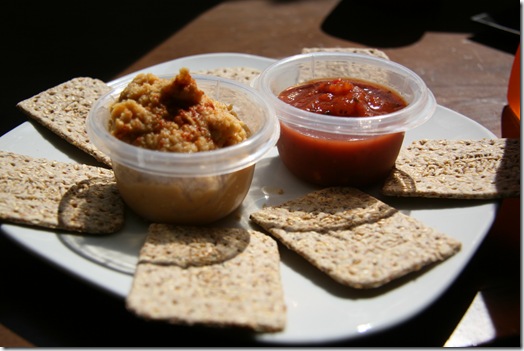 Well, I best get back to work.
On today's agenda:
Working on Shopping cart tool (starting FAQ's, shipping info, etc)
Testing new recipe (and blog it)
Test new food processor (gulp!)
Glo bar order
Go see proof of Eric's Anniversary gift
Sketchie's to-dos:
Sleep
Eat
Catch and eat bugs
Sleep
Frap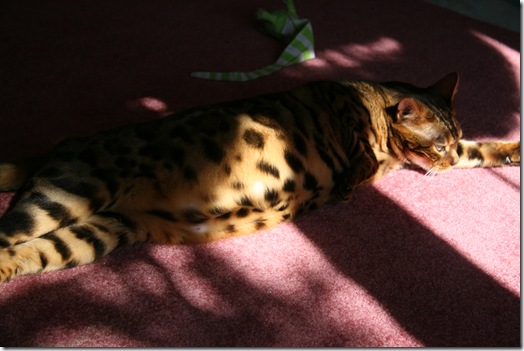 Sometimes your joy is the source of your smile, but sometimes your smile can be the source of your joy.
  – Thich Nhat Hanh
Do you ever encounter a smiling stranger on the streets that just makes your day? Or do you ever smile at people and see them brighten up?
Yesterday, I was climbing Murder Hill and I was struggling. I felt like I was running but staying in the same spot because the incline is so steep. Anyways, I was probably grimacing to myself when this stranger passed on his bike (going downhill) and simply gave a sincere and sympathetic smile to me. It kind of made me laugh and totally brightened the rest of the climb. Sometimes a simple smile can change someone's outlook.