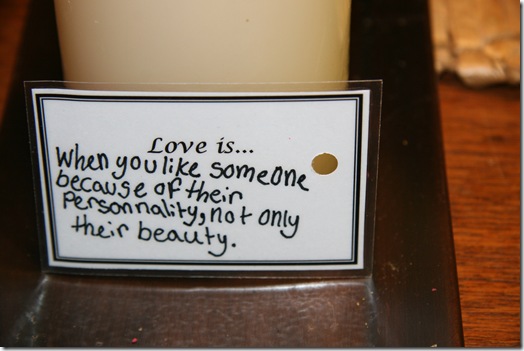 I had breakfast and lunch with a leftover wedding favour tag. :) Words of truth, I tell ya!
Yesterday was a crazy carb day. When I get little sleep (Friday night I only got 5 hours!), I crave carbs in a major way all day long. I pretty much only ate bread, cereal, and crap (cookies!!!!) all day yesterday. So when I got up for this morning's run, I knew my glycogen stores were FULL to say the least! lol.
I had a tall glass of water along with some Swamp Water as I like to call it (Amazing Grass Wheat Grass Powder + H20). Eric laughs, because I asked him to mix me a drink and he asks me what kind, and I say 'Swamp Water please'. :D
It's not gross in a bitter way, just in a 'I'm drinking wheatgrass powder and nothing else' sort of way. The only thing I don't mind about it is that it isn't bitter in the slightest bit. I have been drinking the wheatgrass + H20 concoction for a couple months now so I am really used to the taste and actually prefer it to water! It only has 30 cals per scoop but a load of vitamins and minerals. Eric even tried it and he said it wasn't that bad. He would never drink this though, don't be fooled.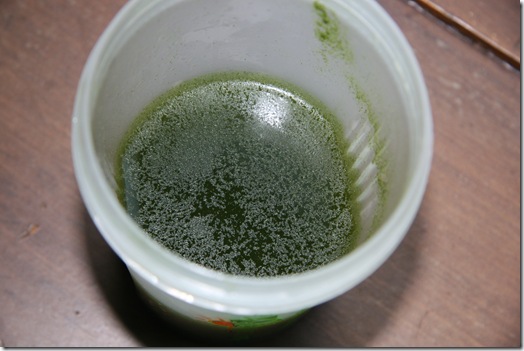 I actually am planning on growing my own wheat grass soon too. Has anyone done this before?
I knew I needed tons of liquids before my run today. It was only 9am, but it was super hot outside and not a cloud in the sky. I brought along a small running water bottle (it only holds 5 oz so it really doesn't do much). I still want to test out a Camelbak water pack…
I also had a homemade power gel concoction that I made which I will be revealing in the next day!
Today was also my long run. My half marathon is in 41 days!!!! That will come up so very soon I'm sure!
The run:
Distance: 7.60 miles
Duration: 1 hour 14 mins.
Max heart rate: 170 bpm
Avg Heart rate: 153 bpm
Avg pace: 9:48 min/mile
This run was a challenge due to the extreme heat. I must have stopped at least 10 times to walk to make sure that I didn't get heat exhaustion. I walk in the shade when I can and it helps me cool down a bit. I was quite happy with my time considering I probably walked 10 minutes out of the entire run. I am actually doing some research on the Galloway Method and I will be doing a hot topic post on it shortly.
My shower felt sooooo good when I got home!
I immediately had a big bowl of Nature's Path Flax Plus Cereal + 2 T Chia Seeds: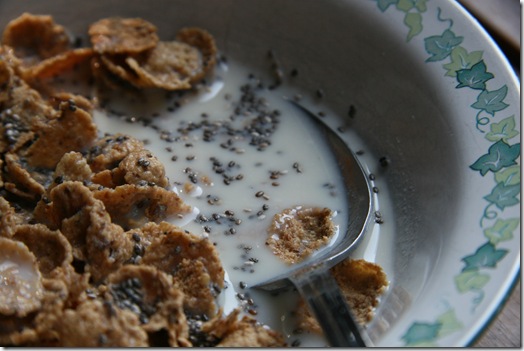 To say that I am obsessed with chia seeds is a huge understatement! At first I was a bit grossed out by the texture of them when wet, but now I love it. Smooth and gel-like! I will be doing a special post on a new chia power gel I made in the next day.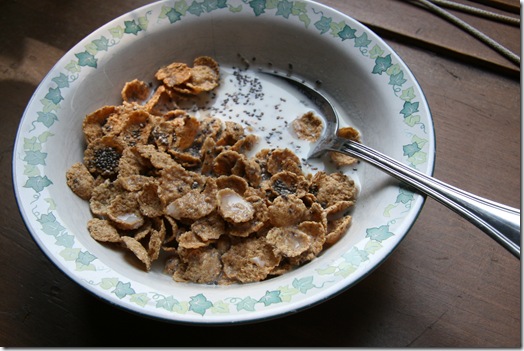 Not long after the cereal, I had an early lunch!
We have next to no food in the house right now since we haven't been grocery shopping yet. I broke down and had a spicy SOL burger (I hate these!). They never crisp up like other veggie burgers do. At any rate, I still managed to scarf it down, haha. I had it with a whole grain wrap, 1 medium tomato and balsamic vinaigrette.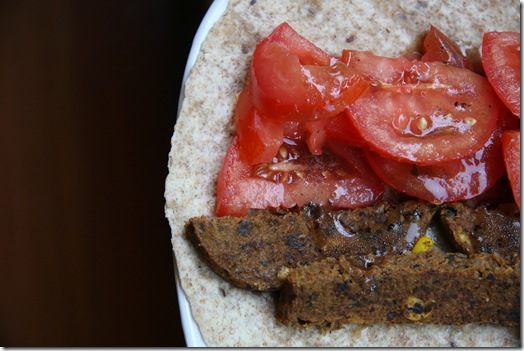 It was messy, but finger licking good!!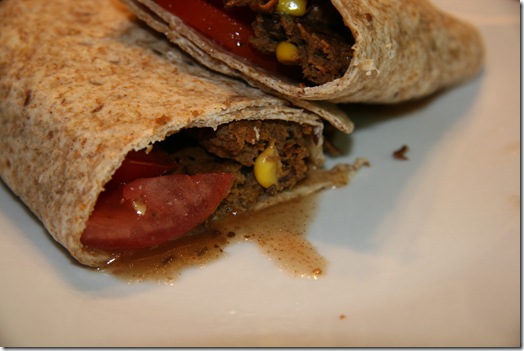 I actually didn't mind this SOL burger much in this wrap. I was OK, I guess.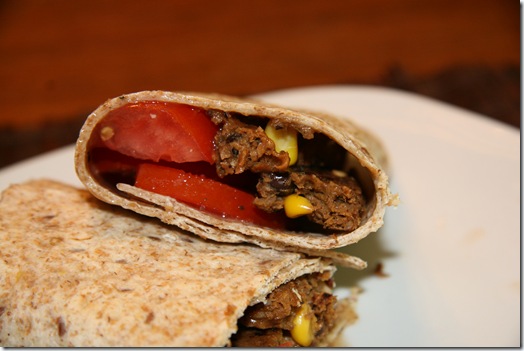 I also tried a new drink that I got on Clearance at Shoppers Drug Mart!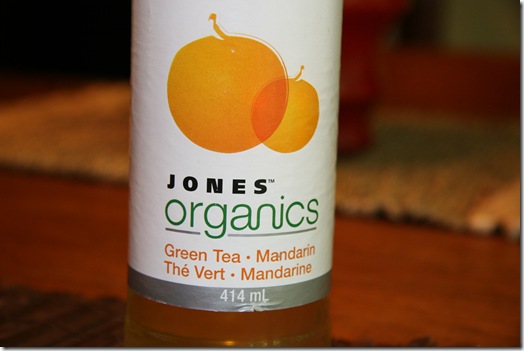 You've probably noticed that I never buy bottled drinks…ever! This one actually had a simple ingredient list though so I gave it a try.
Ingredients: Water, organic cane sugar, natural flavours, organic green tea, citric acid, ascorbic acid.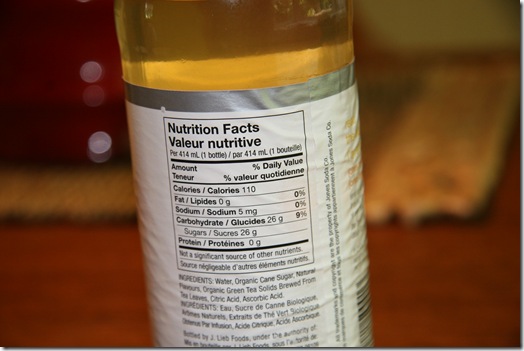 I was SO pleased with the taste of this drink! It had just a tiny, tiny hint of sweetness. My biggest reason why I don't buy bottled drinks is because they have a bunch of crap in them and way too much sugar. This one was a nice surprise! It also only has 110 calories for the whole bottle (not just a 1 cup serving). I would definitely buy this again if I saw it on the road.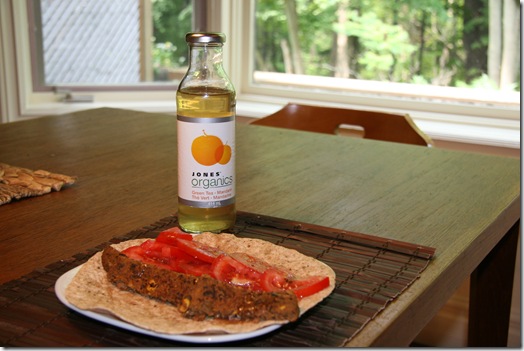 Now I am enjoying a peach and a Sencha loose leaf green tea + Tazo Green Tea: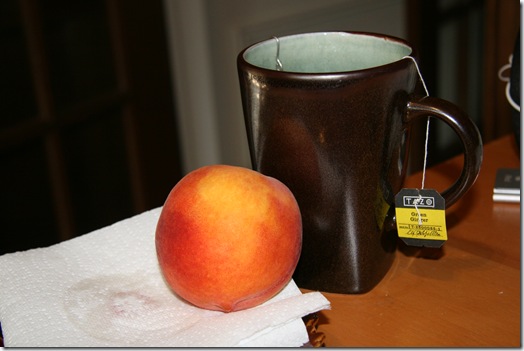 Eric and I have been busy working on the Zen Cart + Canada Post shipping tool/Shopping cart. Man, it is so much work!!! We are currently testing out the shipping tool to make sure that it is properly integrating with my Venture One account with Canada Post. I am getting so excited because we are getting SO CLOSE to US shipping I can almost taste it!!!!!!
I have a couple orders to bake today and then we are celebrating Eric's birthday with the family tonight. We're going out to Kelsey's for dinner. It will be fun to spend some time with everyone! Stay tuned for all the pictures.

I'm thinking about getting a new cell phone (I have an ancient blackberry right now)- any suggestions on what I should go with? iphone? Blackberry Curve?