Good morning!
Last night I put my running clothes out for motivation!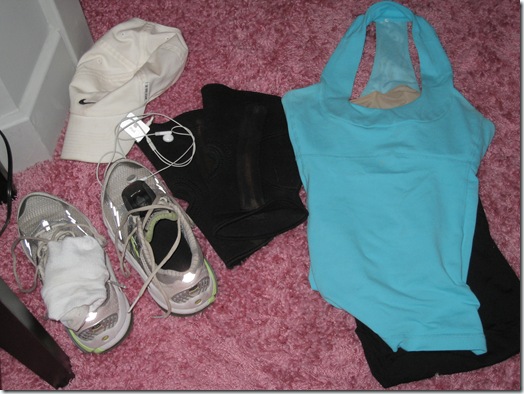 This trick typically never fails me.
Although I had a VERY restless sleep (soft bed). Eric and I missed our extra firm bed! I was wide awake around 5am. When our alarm went off at 6:30am the room was an ice cube. We were so excited to get A/C for free we cranked it last night I guess. Oops. It was so hard getting out for my run, but I finally made it around 7:20am. And guess what? It was hot, hot, hot. Today is going to be scorching!
Oh and I had my green monster before heading out. :D
I quickly showered and then I committed the cardinal sin of up-dos. I washed my hair the day of! I figured that was better than the alternative- a hot, knotty mess!
It was so much fun running in a new city!!!
The run:
35 mins
Max HR: 175 bpm
Avg HR: 162 bpm
Avg pace: 8:50 min/mile
Distance: 4 miles
Unfortunately I forgot my moleskin so I got a blister on my right foot. I called Eric to see if he can buy me some bandaids on his way home from golfing or it will be a long night in 4" heels!
My dress steaming while I showered to get the wrinkles out..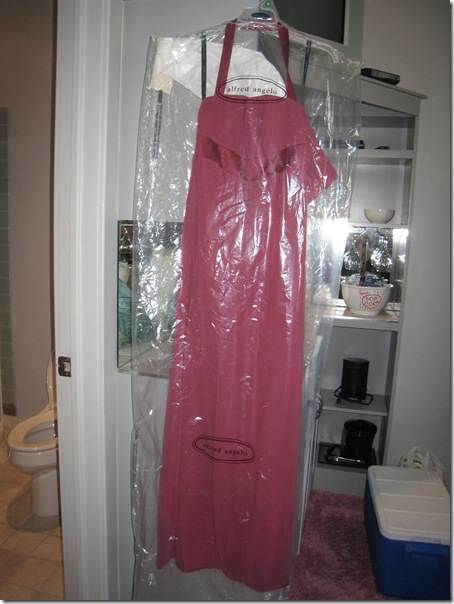 Now I am fresh faced and getting ready to head next door in a few minutes. About 8 of us ladies will be getting hair and make-up done, so I am sure we will be tied up right until the ceremony at 3pm!
I will be snapping pictures of everything from the food Leah ordered this morning to the Samosas that Carley is making….to my hair…makeup and toaster radio! lol. Should be some funny pictures.