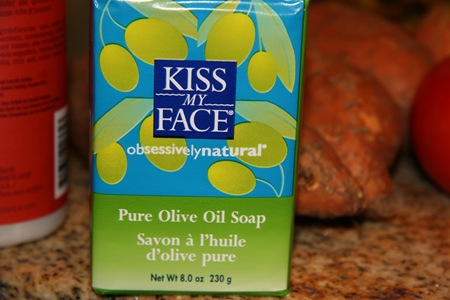 This is the second Project Natural Glow Product Review I am doing. You can find the last one here!
I got this Kiss My Face Olive Oil Soap at my Loblaws grocery store in the natural food section. It cost me about $3.95 CAD for this very large block of soap. I figured that it would be worth the cost seeing as it will probably last me a very long time!
I spent a while reading the various soaps and I was sold on this one because it had the shortest ingredient list and no perfume added to it. Much like my food, I like ingredients lists that are short and that I can pronounce! :) It contains no animal ingredients, has not been tested on animals, and has no artificial colours.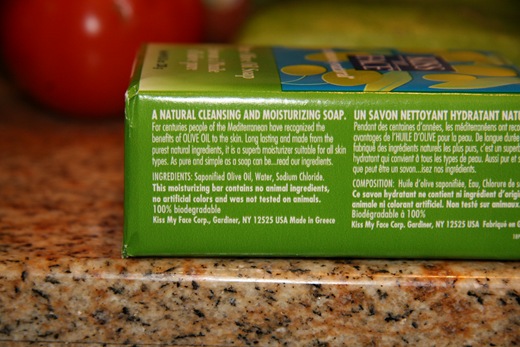 Here's the massive block: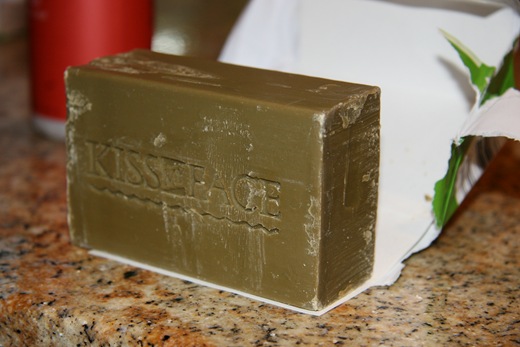 It's huge!
Because of the soap's size, it was difficult to hold. I popped it into our soap holder and it was so much better.
Not the actual holder, but you get the idea: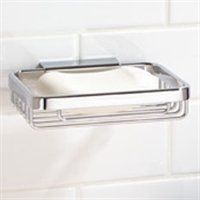 And then I use an exfoliating glove on my hand, and I rub the wet soap with the glove (or I also use my shower puff too). This way I am not trying to hold the large soap block and have it fall all over the place.
What I thought of the soap:
Right away I noticed how moisturizing this soap was. Which I guess is not a huge surprise given that it is made from olive oil! It was like no other soap I have used. I guess I was used to the cheapie soaps my dad used to buy. ;) This soap felt great going on and lathered quite a bit. The only downside is that it gets quite gooey when wet, and I noticed a bit of buildup on the shower. So I have to be extra careful to rinse the shower after each use. The first time I used it, I didn't put any moisturizer on (coconut oil) because I wanted to test to see how my skin would feel with just the olive oil soap.
To my surprise my skin felt so smooth and soft after my shower. It wasn't dry or tight feeling unlike my skin using other bar soaps.
While I don't like how gooey this soap gets, it is a factor I am willing to overlook because I honestly feel so great using this all natural product. It is very similar to my coconut oil as a moisturizer, because I know exactly what I am putting on my body.
This bar will probably last me a very long time…and I mean for under $4 bucks CAD I would say it is definitely worth it. The large sized bar also cuts down on packaging too. I like that the company doesn't put the soap bar in a box, which contributes to further waste.
I also used the olive oil soap on my face for about 4-5 days in a row to see how it was. It made my face very soft, but I think it may have caused a few small pimples on my forehead. I really don't know for sure though, I mean it could have been from anything, right? Maybe the oil clogged my pores or something. I guess I will stick to using it on my body for now.
So there you have it, my first experience with a Kiss My Face product. :)
It is funny, I have only been doing this challenge for a week now, and I already feel so much better about what I am putting on my skin. It makes me happy each time I use a natural product because I know that I am not harming myself or any animals in the process. :)
~~~~~~~
A reader named Natalie also sent me this very helpful email about ingredients in our common cosmetic products:
"This link might help explain the confusing list of ingredients you see on bottles of shampoo, body wash, conditioner, body lotion etc.

http://www.ewg.org/chemindex/list

I keep a card in my wallet that came with a Burt's Bees purchase which indicates which ingredients to avoid such as:

cleansers: sodium lauryl sulfate, sodium laureth sulfate, sodium myreth sulfate

petrochemicals: petrolatum, mineral oil, parrafin

preservatives: parabens (all of them), DMDM hydantoin

chemical sunscreens: oxybenzone, avobenzone, octinoxate

moisturizers: propylene glycol, butylene glycol, polyisbutene

I hope this was helpful!"
Thanks Natalie! I printed the pocket guide and have it in my purse for easy reference when buying future products.
My next big all natural purchase is probably going to be FOUNDATION! I love foundation and I am not willing to give it up. I have a feeling it is going to be a difficult process to find a good natural one though. Any suggestions?