Last night, Eric and I went for another bike-run outing! I was so proud of us for going because we were feeling quite tired after a long day of working.
When we left there was a big dark cloud off in the distance. We decided to take our chances and see how far we could get. About 15 minutes into the run we heard some faint thunder. And then a couple drops. And then lightening. That was motivation enough for me to sprint all the way home. So the beginning of my run was slower (9:30-10 min/mile) and it ended fast (7:30-8 min/mile).
The run:
Duration: 32 minutes
Distance: 3.43 miles
Avg pace: 9:24 min/mile
Max pace: 7:23 min/mile
Max heart rate: 168 bpm
Avg heart rate: 150 bpm
I stopped and walked for a couple minutes during the run. Not even 5 minutes after we raced home we had the craziest, intense thunderstorm ever!!! The power was going on and off for over 1 hour. I was wrapping cookies by candlelight for a bit! Never good, I know!
I was decorating cookies most of the day yesterday until about 10pm. Then of course I had to do a deep kitchen clean and all the dishes, so I didn't wrap up until about 11:45. I sure slept like a log last night.
~~~~~~~
It was so nice to come down to such a clean kitchen this morning though! Everything was sparkling.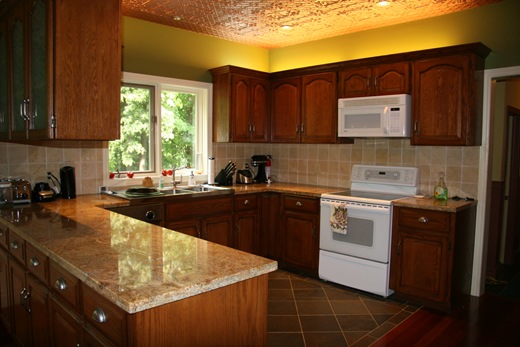 And then it was time for a green monster!
We picked up a few groceries yesterday. Superstore had blueberries on sale- almost 1000 grams for $4.99. Not too shabby. Of course they weren't organic, but after I saw the organic price ($5 for 450 grams) I just couldn't justify paying the organic price when it was more than double the non-organic.
So now that we have 3-4 days to eat up our food (we leave for Leah's wedding on Thursday), I knew I had to use up lots of berries in my GM today.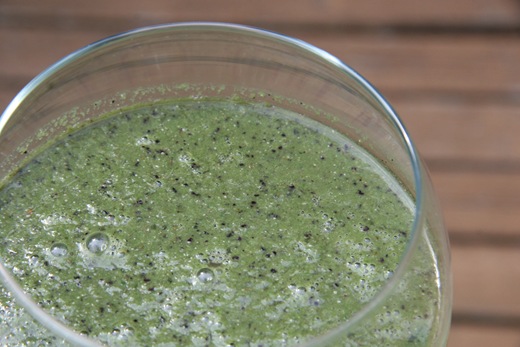 Just Dandy! Blueberry-Kale-Dandelion Green Monster
by Ohsheglows.com
Ingredients:

5 large sprigs of dandelion
1 large kale leaf
1/2-3/4 cup blueberries
1 T chia seeds
1 cup soy milk
ice
Kyolic Garlic extract
Print Recipe
Mmmmm. Dandelion! We went to a different Superstore yesterday and I was delighted to see that they carried dandelion! I hadn't had any since my birthday Whole Foods trip in May! Holy Moly, time sure flies eh? Doesn't it just feel like yesterday when I was reviewing my 1st trip to Whole Foods?
Dandelion Benefits include:
It is a gentle diuretic
It can purify the bloodstream and liver, and it can stimulate the manufacture of bile
It can decrease the amounts of serum cholesterol and uric acid
It can maximize the performance of the kidneys, pancreas, spleen, and stomach
It is very beneficial to menopausal women
Cleanses skin and eliminates acne
It is effective in treating abscesses, anemia, boils, breast tumors, and cirrhosis of the liver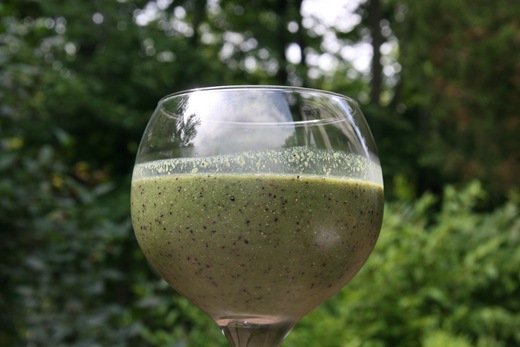 Despite not having any banana, this green monster still tasted fabulous and had a hint of sweetness to it from the berries. Blueberries act quite strange in GM's though. They sort of 'gelify' and create this strange mousse like substance along the top of the GM. Does this happen to anyone else? I find it helps to stir it up just prior to drinking it. I highly recommend trying dandelion in your GM though- it is such a superfood with so many health benefits.
~~~~~~
Tomorrow I have to return my defective Kitchen Aid Food Processor and Blender, which means that I am going to be out of a green monster maker for 1-2 weeks! eek! What's a girl to do? Well, I will show you later on just what I am going to do in the meantime to carry me through this difficult time. ;)
~~~~~~
OSG/Glo Bakery:
Yesterday Eric spent a lot of time helping me set up my Shopping Cart for Glo Bakery. He's so good at this stuff. :) He set up the shipping tool (wooot!) but then we realized that I had to purchase a dedicated IP Address specifically for this process to be set up. Once I purchased the D-IP, we experienced some problems with OSG (long story), so I apologize if you experienced anything wonky last night. Between that, packing cookies, and the power/internet going out, I was not having a great night! Hopefully today things will run more smoothly.
Today's agenda:
Fabricland- get thread for MIL to alter my Bridesmaid dress Tuesday
Buy Eric's gifts (Home Depot + Sporting Goods store) + Birthday card (his b-day is tomorrow!)
Bake 5 batches of Glo Bars + cookies, package, invoice, ship
Bake 110 wedding favour cookies (Part 1 today, Part 2 Tues, Part 3 Wed)
Go to my bank appointment to set up Glo business account + credit card
Workout
Blog 2x
Confirm hotel reservation for Thurs/Fri nights
Prep food for the week
Enjoy your Monday!

It is very simple to be happy, but it is very difficult to be simple.
– Rabindranath Tagore